What Is Inclusive Access?
Inclusive Access (IA) is an enhanced educational experience that leverages various interactive learning platforms by converting print content from top publishers into digital content.
Inclusive Access is more than just an e-book; it is an interactive learning experience that goes beyond just reading the text. It may include video and audio presentations and animation, adaptive quizzes and homework, and even digital flashcards. Your increased interaction with the content can lead to greater success in your courses, and with on-the-go access, you'll never leave your materials behind.
---
What Are Students Saying?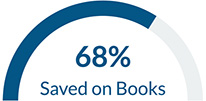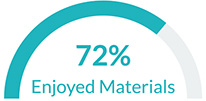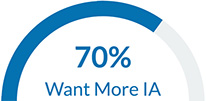 55,772 students surveyed. Inclusive Access Post-Course Survey, Liberty University 2017
---
What Should Students Expect?
Students should expect to access their materials on the first day of class in Canvas. Since all materials are integrated into the course, there will not be any shipping delays, backorders, or incorrect versions. Further instructions on where and how to access these materials will be provided through your Canvas course.
Through Inclusive Access, students will review the following benefits:
Students will have a better user experience through using their Liberty account, enhanced learning activities, and grade book synchronization.
There is no cost to LUO Undergraduate students. For Graduate students enrolled in an Inclusive Access course, the costs are lower.
Students have access to their digital textbooks and learning activities at any time, at any place, and is compatible on most devices.
---
Technical Assistance
If you're experiencing issues with your course, please contact Liberty University's IT Helpdesk.
---
Faculty Support
Faculty, if you are experiencing any issues with your course, please contact the Center for Academic Development.
CAD@liberty.edu
Demoss Hall 3014
(434) 582-3032
---
Vendor Assistance
If the Helpdesk is unable to assist you with resolving your issue, please contact the corresponding vendor below.
---
Additional Resources