Wind Symphony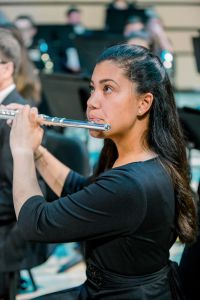 The Liberty University Wind Symphony, Liberty's premier wind band, is a select instrumental ensemble comprised entirely of musically advanced residential students. Repertoire includes original and transcribed exceptional wind symphony works from all eras, including exploration of new sounds and rhythms by contemporary composers.  Directed by Dr. Stephen Kerr, this fabulous ensemble has enjoyed critical acclaim from audiences, composers, and peer review.  Each year, the Wind Symphony records an album, performs at least 8 times on campus, and travels on an extensive spring tour, where they perform multiple concerts at a variety of prestigious venues, including multiple performances at the CBDNA Southern Division Conferences.  The Wind Symphony is proud to perform advanced works from the finest composers writing for wind bands, including John Mackey, Steven Bryant, Philip Sparke, David Maslanka, Mason Bates, and many others.  In addition, the Wind Symphony regularly participates in commissions of new works for wind band.
---

News
We will be traveling on our annual Spring Tour March 14-22, 2020!  Please follow the 'Wind Symphony Tour' link below for detailed information about this year's performance schedule in the Southern United States.
Following our return from Spring Tour, we will be presenting our Spring Concert entitled 'Locomotion' here on our campus, in the brand new Grand Concert Hall of the School of Music.  This concert features pieces surrounding the theme of dance repertoire, and will include standard collegiate band repertoire.
Spring Concert: Thursday, March 26, 2020 at 7:30 p.m.
---
Auditions

The Liberty University Wind Symphony is offered during the Fall and Spring semesters every year. Membership in the Wind Symphony is by audition.  Please contact Dr. Kerr for more audition information right away!
---
Tour Host Resources

If you are hosting the Liberty University Wind Symphony, here are a few resources available to you for advertising.
Wind Symphony & University Band Concert, November 13, 2018
Wind Symphony Concert, October 11, 2018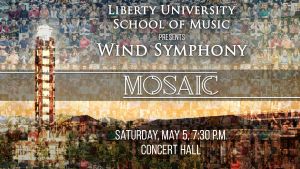 ---