Wind Symphony
About Us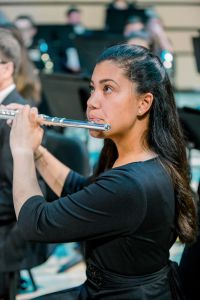 The Liberty University Wind Symphony, Liberty's premier wind band, is a select instrumental ensemble comprised entirely of musically advanced residential students. Repertoire includes original and transcribed exceptional wind symphony works from all eras, including exploration of new sounds and rhythms by contemporary composers.  Directed by Dr. Stephen Kerr, this fabulous ensemble has enjoyed critical acclaim from audiences, composers, and peer review.  Each year, the Wind Symphony records an album, performs at least 8 times on campus, and travels on an extensive spring tour, where they perform multiple concerts at a variety of prestigious venues, including multiple performances at the CBDNA Southern Division Conferences.  The Wind Symphony is proud to perform advanced works from the finest composers writing for wind bands, including John Mackey, Steven Bryant, Philip Sparke, David Maslanka, Mason Bates, and many others.  In addition, the Wind Symphony regularly participates in commissions of new works for wind band.
Dr. Stephen Kerr, Director
Dr. Stephen P. Kerr, former principal trumpet player at Liberty University, has been a band director for 38 years and is in his 30th year at Liberty University. He received his B.S. degree in music education from Liberty University in 1982, and holds an M.E. degree from Virginia Polytechnic Institute and State University. Dr. Kerr holds the PhD in Music Education with a minor in research from The University of North Carolina at Greensboro. He serves as Chair of the Department of University Bands, supervising all band ensembles, Director of the "Spirit of the Mountain" Marching Band, Director of the Wind Symphony, and teaches Instrumental Conducting, and Marching Band Techniques.
---