Flight Teams
The Liberty University's School of Aeronautics is a member of the National Intercollegiate Flying Association (NIFA), and our flight team has taken part in annual competitions on both regional and national levels since 2002. The team has won their regional competition (Region X) for the last fourteen years, most recently at the Region X 2018 competition hosted by Liberty University.
About NIFA
"The National Intercollegiate Flying Association exists as a forum for collegiate aviators to expand their studies and further their careers by participating in competitive and non-competitive events, networking with industry and contemporaries, and applying themselves to go above-and-beyond their ordinary curriculum."
Accomplishments
Won the Regional (Region X) Competition for the last 14 years
Awarded the Loening Trophy at the National Competition May 2017 & May 2018
American Airlines Safety Award for the past three years
Past Region X Competitors
Averett University
Guilford Community and Technical College
Elizabeth City State University
Caldwell Community College and Technical Institute
Hampton University
Lenoir Community College
United States Naval Academy
Flight Team Advisor
Director of Flight Training Jerry Wangberg serves as the LU NIFA team advisor and Katie Wagner serves as the team's head coach. Both staff members accompany the team to all competitions to provide support for flight and ground events.
Upcoming Events
NIFA National Competition 2019
May 13 – May 18, 2019
Janesville, WI
---
Liberty Belles Flight Team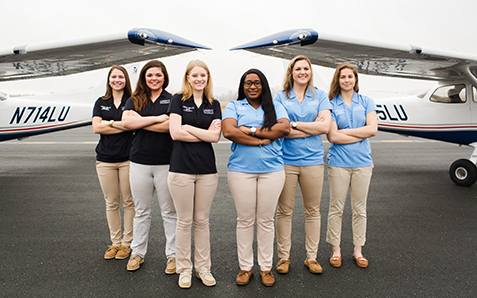 Air Race Classic (ARC)
The Air Race Classic is an all-female cross-country flight competition that tests the skills of female pilots from across the country. Each summer, 50+ participants compete in the four-day race usually comprised of a route spanning the United States.
The Liberty University School of Aeronautics' team, the Liberty Belles, are current SOA students or instructors. They go through a rigorous selection process to be nominated as SOA's racers. The School of Aeronautics has competed in this historic competition since 2012.
---
Flight Team News
Liberty Belles to champion women in aviation at annual Air Race Classic
2016
November 10, 2016: Liberty University News Service