School of Aeronautics takes win at regional competition for 15th consecutive year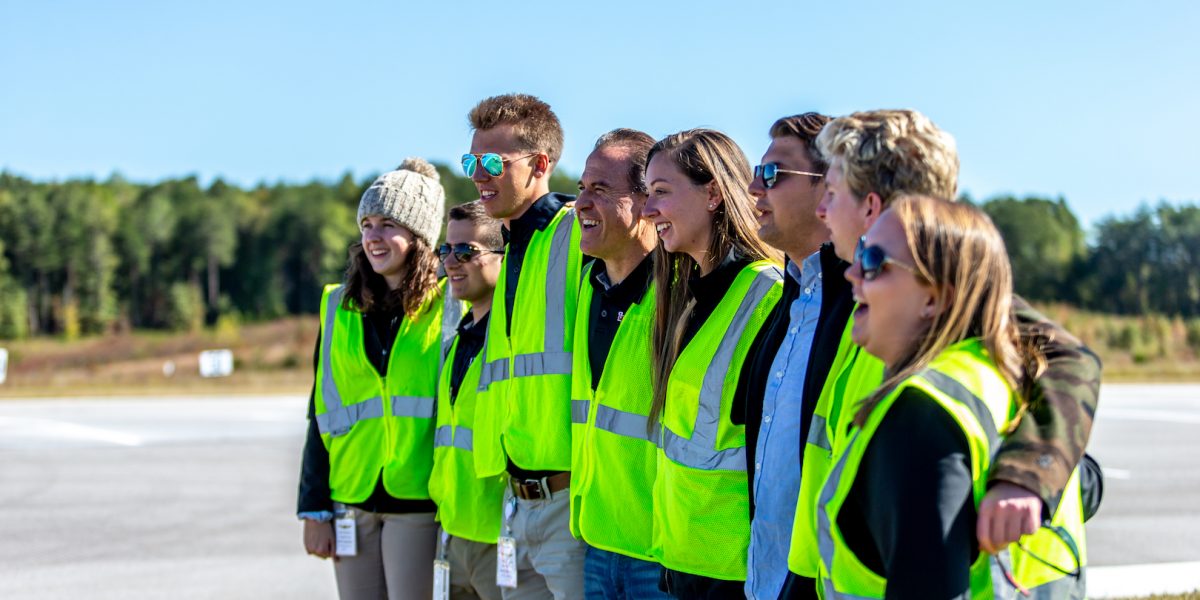 After two days of fierce competition both on the ground and in the air, Liberty University's School of Aeronautics won its regional competition in the National Intercollegiate Flying Association (NIFA) for a stunning 15th year in a row. The team, coached by Katie Wagner, went up against several schools from neighboring states such as the United States Naval Academy, Hampton University and Averett University, who hosted the competition at the Danville Regional
Airport.
Andrew Reed, a junior commercial/cooperate aviation major saw the benefits of joining a team to compete in such a prestigious event in the aviation community.
"I played baseball in high school, so I've always had that competitive mindset, and flying is a passion, so I get the best of both worlds," Reed said. "If we know how to do this crazy intricate stuff, then everything else that goes on is going to seem so much easier, and we're going to have so much experience as well."
The precision involved in some of these events is hard to overstate. In one event, a team member must use a standard aviation tool called an E6B to plan the trajectory of a flight that includes paying attention to wind resistance, fuel expenditure and aircraft type in order to make the needed calculations. In the air, another event has teammates flying an aircraft on a precise path, all while spotting landmarks and meeting their fuel usage calculations to the nearest one-tenth of a gallon.
Chloe Cady, who enjoys seniority in her second year on the team, believes her placement on the team to be a huge networking opportunity for her future. Connections she has made with her competitors could potentially lead to job opportunities in the future.
"Last year at nationals, we were pretty close with Central Texas (College). We just became pretty good friends. (Through the process), we have contacts in Texas," Cady said. "It's widening our view of places we can go with aviation."
On the Wednesday before the competition, the entire traveled to Danville on a rainy afternoon to practice what they could and to meet with the other teams. Wagner was disappointed that they couldn't practice in the air due to the weather, but felt grateful that the team had the
opportunity to even compete.
"I believe in the program (NIFA). It gets really into putting their skills to the test. For me, building a team and building the camaraderie together and learning from each other is one of the best things to see," Wagner said. "They've all worked so hard to get to this point and we're just here to do what we do on a normal day now."
Wagner has captained the team for three years, but in her time at the helm she has seen its evolution while maintaining a long streak of regional championships. Liberty University now has part or full ownership in almost 65 flight schools across the country, as well as three Loening Trophies which are given to collegiate aviation programs that present outstanding achievements.
"It's definitely a way to bring recognition," Wagner said. "When we go out to competitions and events, (a lot of people) don't even know that Liberty has a flight school."
With its 15th straight victory at regionals, the team will move on to compete in the national competition in Wisconsin next semester.