Finding Images For The Web
By Diane Austin
Your web page is almost perfect! You just need an image to catch the eye and set the tone. But where will you find that perfect image?
Here's what you should NOT do: Google it and download the first image that you like. It might seem like a fast and easy solution, but don't do it! You could go to jail! You could be fined thousands of dollars!
Copyright laws
Well, you probably won't go to jail, but the copyright violation fines are real, and stealing is just plain wrong. In most cases, whoever made the image owns it. The Jerry Falwell Library has excellent information about copyright laws, such as how the law applies to multimedia use, including online photographs.
Your #1 resource
If you need an image to go on Liberty's website, an excellent place to start is with the University Marketing Department. Our professional photography department may have already captured the perfect image for your needs. Your marketing project coordinator can help you find the image or schedule a photoshoot, when appropriate.
Option 2: DIY
At other times, you might be able to use your own photographs on Liberty's web pages. If they are of good quality and represent Liberty well, that might be all you need. We would be happy to take a look at your photos and advise you if you are unsure.
3rd choice
But what if neither of these options work? We don't recommend using stock photography on Liberty's websites, but there are limited exceptions. For instance, if it's for a blog post, you might need something beyond what you or Liberty photographers can provide. This is when people are sometimes tempted to download whatever they like from the web. Remember, if you didn't take a photograph, you need to have the creator's permission to use it.
The good news is there are plenty of sites that offer free photographs that you can use on the web. Many don't even require attribution. The bad news is that the photo you choose might be on someone else's website too, so use stock photography sparingly. Here are a few sites you can try: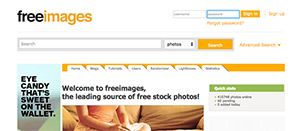 If none of these suit you, there are plenty of blogs and other websites that have compiled their own list of free stock photography sites. Here's a sampling:
Final touches
After you've found the perfect image to complete your web page or blog post, be sure to follow best practices for optimizing, naming, and adding alt tags. See our blog post on Getting the most from your images for details.