Dr. Thomas Eldredge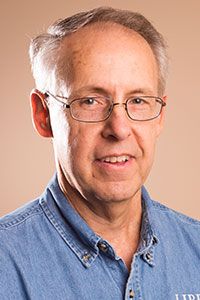 Associate Professor of Mechanical Engineering
Education
Ph.D. in Mechanical Engineering, University of Tennessee
M.S. in Mechanical Engineering, University of Tennessee
B.S. in Mechanical Engineering, University of Tennessee
Biography
Dr. Eldredge is a professional engineer, licensed in the state of Connecticut. He has over 20 years of experience in the power industry – performing combustion optimization and boiler tuning for achieving maximum boiler efficiency, while maintaining emissions within acceptable limits, firing a variety of fuels. As a result of the boiler tuning process, significant boiler efficiency improvements were achieved.
He is also experienced in burner design for firing natural gas, various waste gases and waste oils, heavy and light fuel oils, and coal.
Dr. Eldredge has over 25 years of experience in computational fluid dynamics (CFD) modeling. The primary focus of his CFD modeling has been related to NOx and CO emissions predictions for boilers, air heaters, and thermal oxidizers, firing a variety of fuels and using CFD for the design of combustion systems. Additionally, Dr. Eldredge has also developed customized software for calculations involving fluid flow, heat transfer, combustion, and chemical kinetics. A number of these programs are currently used in industry for modeling and design of combustion systems.
---
Research Activities
Fischer Tropsch Reactions and Reactor Vessel Design
Design and Development of LOW NOx Combustion Systems
Improved Methods for Combustion Modeling and Prediction
Improved Methods for Heat Transfer Prediction
---
Participation in Patent Grants
"Method for in-duct urea injection for selective catalytic reduction on small boilers and combustion sources", Patent number 8815196, Date of Patent: August 26, 2014
"Dual injector system for diesel emissions control", Patent number 8109077, Date of Patent: February 7, 2012
"Methods and apparatus for reducing emissions in diesel engine," Publication number WO2007142899
---
Reviewed Publications
Baukal, C. (editor), Industrial Burner Handbook, CRC Press, contributed to two chapters on physical and CFD modeling, October 2003
Khan, M. (editor), Advances in Clean Hydrocarbon Fuel Processing, Woodhead Publishing, contributed to Chapter 18, "Process Modeling for Hydrocarbon Fuel Conversion", 2011
---
Professional Memberships