Monday, March 31, 2014
Mon, 31 Mar 2014
Liberty University School of Law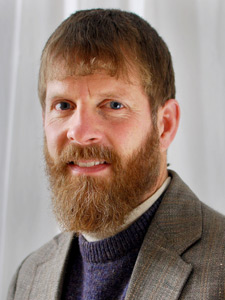 A Liberty University professor has been awarded a Fulbright grant to teach in Romania.
Philosophy Professor Michael S. Jones was granted the award by the J. William Fulbright Foreign Scholarship Board earlier this month.
Jones said he plans to teach courses in ethics and philosophy of religion at the University of Bucharest, and involve himself with Baptist churches in the area.
He added he will also follow up on a project he began after his first Fulbright award: translating the last book of late Romanian philosopher Lucian Blaga into English.
"This grant will be a blessing to us academically, and we plan to use it as a ministry opportunity as well," Jones said.
"There are many, many ministry opportunities for a Christian scholar in Romania. We are thankful that we can be there to champion the cause.
Jones joined the faculty of Liberty University in August of 2005. He is specifically interested in comparative philosophy and philosophy of religion.
Jones began his professional teaching career in Romania, where he taught theology and philosophy. He has traveled there on short-term mission trips and has also participated in philosophy conferences. He lived in Romania for two years while teaching at Babes-Bolyai University and researching his doctoral dissertation on Blaga, which formed the basis of the 2006 book, "The Metaphysics of Religion: Lucian Blaga and Contemporary Philosopy."
Jones also serves as an executive editor for the online Journal for the Study of Religions and Ideologies, and serves as the faculty advisor to Liberty's chapter of Invisible Children, the Care for Creation Club, LU Fencing and Liberty Jiu-jitsu.
Jones and his wife, Laura, have been married since 1986 and have two sons.
The President of the United States appoints the 12-member Foreign Scholarship Board (FSB) to establish worldwide policies for the program and to select Fulbright recipients.
The U.S. Congress appropriates funds for the grant, which are often supplemented by partner countries or private contributions.  About 300,000 people have participated in the Fulbright program since its inception over 60 years ago, according to program officials.
"Developing international understanding requires a commitment on the part of Fulbright grantees to establish open communication and long-term cooperative relationships," said Board Chairman Tom Healy in a letter to Jones.
"In that way, Fulbrighters enrich the educational, political, economic, social and cultural lives of countries around the world. We expect that you, too, will become involved in the community while on your Fulbright exchange. In so doing, you will demonstrate the qualities of service, excellence and leadership that have been the hallmarks of this Program for more than 60 years," Healy said.
The Fulbright Program at Liberty University is administered through School of Law Dean Mathew Staver's office. Staver has established a 12-member Liberty University Fulbright Committee. Edna Udobong, Assistant Professor of Law, is Liberty University Fulbright Advisor and can be reached at eudobong3@liberty.edu.