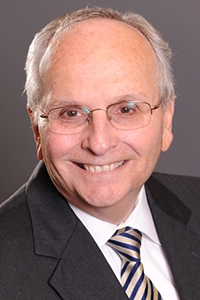 Professor of Law
Education
LL.M., University of Virginia School of Law
J.D., University of Missouri-Kansas City School of Law
M.A., Missouri State University
B.S., Evangel College
Areas of Interest/Teaching
Contracts, Business Law, Administrative Law, Criminal Law, Civil Procedure
Experience
Full-time faculty member, Liberty University School of Law, 2009
Part-time visiting faculty member, Liberty University School of Law, 2007
Served on the Missouri Court of Appeals

Served as an appellate judge
Served as the court's chief judge, 2000-2002

Served as a Missouri administrative law judge
Served as chief counsel of a division of the Office of Missouri Attorney General and supervised 17 attorneys in defending and prosecuting various state agencies and officials, including the Governor
Taught constitutional law and business law courses as an adjunct professor at Westminster College, William Jewell College, and Webster University
Authored a chapter titled "Judicial Review" for the Missouri Bar publication Administrative Law
Called upon by the Supreme Court of Missouri to chair its educational program for Missouri's appellate judges and its commission on judicial resources
Served as a member of Missouri's judicial records committee and was a frequent instructor and speaker at judicial seminars and fora
Biography
Judge Spinden served 17 years as a judge on the Missouri Court of Appeals.  While an appellate judge, he authored nearly 1,300 opinions involving virtually every aspect of civil and criminal law, including issues of federal and state constitutional law, administrative law, family law, business and contract law, and employment and labor law.
While serving in the Missouri Attorney General's Office, Judge Spinden headed prosecution of the structural engineers held to be responsible for the worst building failure in United States history, the collapse of the Kansas City Hyatt Regency atrium walkways on July 17, 1981, in which 114 persons were killed.
Prior to his appointment to the Court of Appeals by then Missouri Governor John Ashcroft, Judge Spinden served for six years as a Missouri administrative law judge. He presided over hundreds of adjudications involving some 50 state administrative agencies, first with the Missouri Department of Transportation and then with the Missouri Administrative Hearing Commission. While serving as chief of the Administrative Hearing Commission, the agency received the Governor's special commendation for eliminating a two-year backlog of cases and reducing the average time for decisions from nine months to 27 days.
While in law school, Judge Spinden was an associate editor of the UMKC Law Review, editor of the student newspaper Obiter Dicta Secundum, and vice-president of the Christian Legal Society. Prior to law school, he was an investigative reporter for a small daily newspaper in Springfield, Missouri, and, prior to that, he did on-air reporting of news and sports for Springfield radio and television stations.