Alumni Highlight
Kelly & Jesse Perry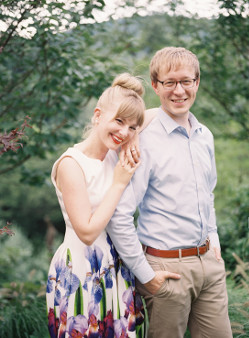 Kelly (B.S. in Family and Consumer Science Education) and Jesse Perry (B.S. in Marketing) are 2010 graduates who left Liberty with a dream for an exciting life of entrepreneurship together.
The couple has founded two businesses in the floral industry — Philosophy Flowers, a floral design studio (2012), and Team Flower, a worldwide floral community and education platform for flower industry professionals (2014). Philosophy Flowers creates floral arrangements inspired by the garden for life's special occasions. Kelly sees her job as an opportunity to help her clients connect to the present moment and celebrate today. Philosophy Flowers has been featured with Martha Stewart Weddings, Brides, The Knot, Southern Weddings, Once Wed, Style Me Pretty and more.
Team Flower produces and sells online courses and in-person events and offers a free podcast, video tutorials, and weekly articles published on the Team Flower blog. One step at a time, Team Flower is helping professional florists innovate and move forward in their work while reminding them of the deep meaning and importance of their work with flowers. Team Flower reaches an audience in all 50 states and 98 countries and will hit the million dollars in revenue mark this year.
Advice to Students
From Jesse: Want to be an entrepreneur? Start a business now. Want to get into real estate? Start pursuing your license now. Want to get into financial services? Start investing now. Use the amazing resources at your fingertips to build something. It might last a year or a lifetime. It doesn't matter. Getting started helps you identify what questions to ask, and will make your college education investment worthwhile. You aren't too young. Be courageous. Write down the dream. Refine it. Make the phone call. Send the email. Start.
From Kelly: I have a simple practical tip — follow up. Put the ball back in your court when you are writing emails. For example, "I'll check in on Friday unless I've heard from you first." Give yourself permission to follow up and do it faithfully. If you're emailing me, I'll reply on that second reach. College students email each year. The ones who follow up get my attention. I want to know you're serious and committed to your inquiry.
---
Tom Cirbus
Tom graduated in the Class of 2013 with a Bachelor of Science in Finance and a Bachelor of Science in Accounting.
I started my career working for KPMG in NYC in their deal advisory/transaction services group, a position which I secured after interning with the group in the summer between my Junior and Senior years at LU. In transaction services, I spent the majority of my time helping to provide buy side M&A due diligence for both Corporate & Private Equity buyers. This entry by entry diligence provided clients with confirmation as to appropriate financial metrics they would use when evaluating an asset. Eventually, I transitioned to join KPMG Corporate Finance, which is essentially KPMG's in-house investment banking arm, doing healthcare and technology M&A. During my tenure with the group, I learned the foundations of the investment banking world and truly garnered a passion for the industry. Nearly a year after joining KPMG, I was offered an opportunity to join Wells Fargo Securities in their Equity Capital Markets group also in NYC, which I decided to take advantage of. Today, I spend every day working in the middle of the equity markets on large-scale IPOs, Follow-on and other equity-linked products for Consumer and Retail issuers.
Had you told me the day I walked into Liberty that I would be working on "front of the Wall Street Journal" type transactions right out of college, I would have told you you were insane! My successes to date only highlight the value of the education I received at Liberty University. I truly believe that the bonds I formed across a wide range of people and experiences during my time at Liberty have propelled me to the place I am today. Had it not been for many of the professors, coaches, leaders, and friends I met during my college years, I don't think there is any chance I'd be sitting where I am today. Liberty offers an education unlike few others in the world, and I am forever grateful for my time there.
Advice to Students
Chase the lion. That is, find something you can be passionate about, really get to know your professors, and take advantage of the many unique opportunities that Liberty has to offer. Most importantly, Proverbs 3:5-6: "Trust in the Lord with all your heart, and do not lean on your own understanding. In all your ways acknowledge Him, And He will make your paths straight."
---
Brett Houlihan
Brett Houlihan graduated in the class of 2016 with a B.S. in Marketing and a B.S. in Project Management.
The Lord has blessed me in so many ways at Liberty as well as in my career. My career began as an intern for PepsiCo in-between my junior and senior year.  This is where I got to see what working for a Fortune 50 company was really like and an opportunity to put into practice all that I was learning in school. I was offered a job after graduation to work in marketing and sales. My work consists of a lot with design of how our products look in stores as well as obtaining and maintaining contract customers. I've also been assigned to projects that help to reduce waste with our products.   My current position is one of leadership that many at a young age have a hard time transitioning to, and I for one am not ashamed to admit that I did have a hard time at first. There were failed sales calls, opportunities for better presentations and many long 12 hour days. I learned quickly though that it was about how much you can take and keep moving forward all the while learning from your failures. It's ok to fail, and fail often, as long as you learn from it. But at the end of every one of those long days, big presentations or failed sales, there was one person that has always been there for me to lean on, Jesus Christ.
Advice to Students
I will give the typical advice to students at Liberty that other students at colleges also get, such as get good grades, be a part of the extra-curricular clubs and activities, go after the competitive internships, etc. But, what is going to set you apart in the workforce is your character and Christian worldview that you bring, and our world desperately needs it. This may mean at times that you be unselfish, when you really don't want to be, and stay longer at work to help another department. Or, when your coworkers are really upset from business results for the period, you stay a positive light in the office. There will also come a time when a difficult business decision comes that may not be the most ethical, and you have to look at it as how Christ would. These are all things that your future bosses will look for. Practice Christian leadership now in all of your relationships at school, and you'll be ready to work for anyone, including yourself.