Joey Wright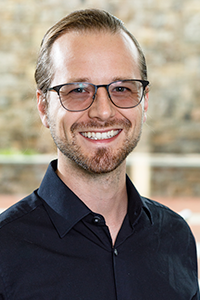 Instructor, SCA
Graphic Design
(434) 582-2251
jwright6@liberty.edu
Education
MFA in Graphic Design, Liberty University. Thesis Title "Application of Narrative Principles to Effectively Communicate Story Through Graphic Design"
BS in Visual Communication Arts; Graphic Design, Liberty University
Biography
Joey Wright serves as an instructor at Liberty University and is the Subject Matter Expert for ARTS 380 Digital Publication. He began his career in graphic design and has specialized in this area with a focus on interactive/web design & visual storytelling. He has since worked as a graphic designer with clients and non-profits such as Stimulus Advertising, Framatome, Prototype Advertising, Movida (international non-profit), and The Good Story. After several years of graphic design experience, Joey transitioned into a faculty member. Today, Joey enjoys teaching students new technology, sharing real-world field experience, and reminding his classes that they are created in God's image.
Professional/Notable Memberships
Edited Works
Lynchburg Living Magazine. Photography appears on pages 12, 78, 79, 85-87, 89-92, 95-96, 101-102, 106, 108, 110-112, 116-117, 119-120, 122, 139 . July, 2015. Print.
Lynchburg Living Magazine. "Best of 2013" Design & Photography work appears on page 34. January 2014. Print.
Lynchburg Business Magazine. Photography appears on pages 40-41. December 2013. Print.
Research Interests
User Experience
Interactive Design
Graphic Design as Narrative
Courses Taught
Art Appreciation
Introduction to Graphic Design
Mobile & Interactive Technology Applications
Vector Illustration
Digital Imaging
Graphic Design I
Digital Publication
Interactive Design I
Interactive Design II