Liz Lustig
The traditional heart of a New England town is its library. Typically a Neoclassical building bedecked with narrow, wood-paneled halls and the scent of old stories, it marks the intersection between tangible history and fictional worlds. For a young dreamer, it makes the invisible real.
Libraries lured Liz Lustig ('18) with the bait of books as well as movies: "I would say, growing up, that a big part of my love for film involved watching documentaries and dramas. I really enjoyed being able to see the humanity of people from different walks of life and being able to follow them through all of their triumphs and failures." Curiosity about the human experience motivated Lustig to make home videos with her brothers, like the time she portrayed a weatherman contending with a hurricane; they created wind effects in front of a green screen.
As Lustig entered Liberty University, she considered its various programs of study, but her excitement over film school made the right choice clear. She entered the program eager to learn all aspects of moviemaking. She says school grew her love for the art of film, stretched her capabilities, and encouraged her creativity.
Lustig learned by exploring ideas, even if some were unsuccessful. She says the first mini project she directed with classmates did not turn out as good as she had hoped, and she worried that classmates would not be enthusiastic to help her with her senior thesis project. Professors Danny Carrales and Doug Miller encouraged her that if she would let them see her passion for her thesis concept, they would be attracted to her idea and support it. Lustig entrusted her thesis to God and learned to follow His lead. She reached out and collaborated with classmates who helped shape the film and grew her confidence as a filmmaker, resulting in an impressive short film that explored the impact of Alzheimer's disease on a parent/child relationship.
With her faith increased and her compassion ignited, Lustig realized she wanted to use film to minister to people. "I wasn't sure what to do after graduating college, so I felt the Lord lead me to get down on my knees and pray. When I looked up, I saw a pamphlet lying on the ground for the Samaritan's Purse documentary about the Ebola crisis. I felt strongly burdened towards helping them with filmmaking somehow." Eventually opportunities led her to intern with their sister ministry, the Billy Graham Evangelistic Association. The BGEA's mission involves evangelism through multi-media content and social media platforms. Lustig was assigned to edit social media pieces. Because of her thesis achievement, her supervisors allowed her to help edit a short documentary.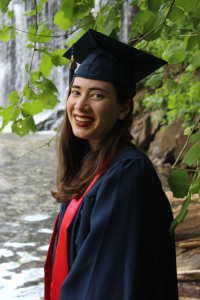 Now Lustig works for BGEA on a freelance contract that renews annually. Her duties have expanded to include production assisting. "All I can say is that God is faithful to keep His promises. . . He gave me the will to use film for Him, and He gave me the opportunity to actually be able to do that and give it back to Him, which is amazing."
These days, Lustig relates more closely to the story heroes she met through her library. She understands the transformation process characters like Walter Mitty (The Secret Life of Walter Mitty [2013]) endure, and she offers her own experience to fellow students: "Your life can be an adventure if you just say yes to God—like so much better than if you try to hold control of your dreams—but if you give up your life to Him, it's amazing how beautiful your life can be."