Josh Kirkland

Watching Spider-Man (2002) swing through a city and defeat villains typically impresses eight-year-olds. They see that an ordinary person could become somebody's hero. Or that movies can make anything possible. Or both.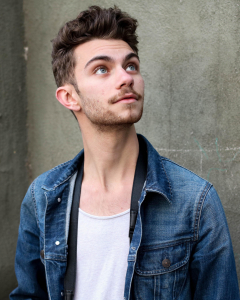 Young Josh Kirkland ('17), bitten by the Spider-Man bug, became curious about how to tell video-based stories. He experimented with cameras and recordings, eventually making videos for his church's youth group. By graduation, he was registered for film school at a nearby university, but a special phone call offered him a Liberty University scholarship. He toured Liberty's Cinematic Arts Department and fell in love with its program and facilities.
In his freshman year at LU, he took a course under Professor Chris Nelson about directing actors. Initially, he felt intimidated by the learning curve, but Prof. Nelson encouraged him that his goal was within reach. As Kirkland took opportunities to meet upper-class film students and act in their projects, his knowledge and network grew. In his junior year, he began practicing filmmaking with a cohort of classmates using industry-standard equipment and techniques: he was finally making movies.
But heroes like Spider-Man do not fulfill their potential until they are transformed within. Kirkland found himself fighting against his own education, sometimes arguing with professors instead of submitting to the process. Looking back, he says he missed some opportunities for growth and achievement.
His saving grace came in the form of a child. For his thesis film project, Kirkland's script included a child actress. "Getting to direct a child actor . . . taught me so much about humility and how to see the world more positively because children, I feel like, often see the world better than adults." That experience plus the contributions of peers and faculty helped him understand how collaborative filmmaking is, marking his film, Fitzgerald, as the highlight of his academic experiences.
Since then, Kirkland has put his learning to practice in multiple ways. Two weeks after graduation, he was hired on to a production which taught him how to work without the safety net of failure that school allows. He moved to Atlanta, Georgia and picked up jobs for TV and film. Twice, Cinematic Arts invited him to train students on film crew jobs. Being a trainer, he says, was humbling because whenever students encountered a problem on set, they looked to him to troubleshoot and provide answers. It also felt redemptive because faculty reinvested in him and treated him as a colleague.
Today, Kirkland understands the value of character over technical skill: "I try to be good at my job, but I try to be someone who makes the [set] experience better too." That attitude earns him more gigs. Kirkland witnessed the same character in Director Joanne Hock (Redneck Roots, Purple Dreams, Wednesdays at the Gem) on the set of When We Last Spoke. She treated her child actors as co-workers and knew how to draw the best out of people. Once, Hock saw Kirkland listening to and playing with the children on set and remarked, "That's how I'm going to remember you." Kirkland realized that is ultimately what he wants to be remembered for: kindness, empathy, and encouragement.
Meanwhile, his short film, Fitzgerald, has been earning awards in the film festival circuit and is scheduled for release later this year. Kirkland knows the secret to its success: "Humility is something I've had to learn multiple times in a variety of ways, and it's a journey I'm still on", but friends and faith have made it a blessing. With such wisdom and support for his quest, this filmmaker is destined to become somebody's hero.