Monday, September 21, 2020
Liberty University School of Law, hosted an important and timely panel discussion on September 14, 2020, in the law school's Supreme Courtroom.
Moderated by Dean B. Keith Faulkner, this forum focused on criminal law reform in Virginia and highlighted recent events which have brought about needed dialogue. The panel featured Dean Ron Miller, Helms School of Government Online Dean; Bethany Harrison, Lynchburg Commonwealth's Attorney; Aaron Boone, Lynchburg Public Defender; and Ryan Zuidema, Chief of Police for the Lynchburg Police Department.
"This event is the first in a series of panel discussions which will serve as a foundation for future conversations throughout the year," said Faulkner. "The goal is for our community to gain perspectives and understanding of recently enacted and proposed changes to criminal law statues and the criminal justice system in Virginia and to discuss what criminal justice reform nationally could entail."
The panel of experts discussed recently passed and proposed criminal justice reform legislation coming out of the Virginia General Assembly during the most recent special session. Topics included pretextual stops, sentencing guidelines, jury trials and sentencing, and mandatory minimum sentences.
When asked whether the criminal justice system needs reform nationally or on the local level, Dean Miller was the first to address this overarching question, commenting that it is an issue that needs constant examination at every level. He recalled that there were "flashpoints" in the 1990s where issues, similar to those faced by our country today, forced people to go into their "camps" on the matter. Miller explained that after an initial reaction to events, particularly the Rodney King police brutality trial, many became entrenched into positions supporting or opposing reform. Miller believes that the criminal justice system needs to be examined as a whole from top to bottom. "We need to be intellectually honest," he said.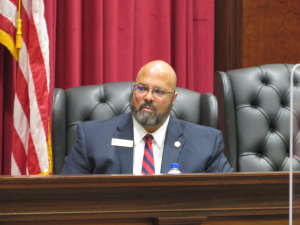 When asked if the public's reaction will lead to long-term and sustainable change, Miller said he believed it would. Joining Miller in this thought, Boone said, "I think change is here to stay. I think it will be sustained."
Boone also noted that there is a need for greater diversity in how we approach criminal justice. He stated, "We are trying to do things with the Commonwealth's Attorney's office that are more holistic to get at root causes that manifest themselves in criminal conduct. Lynchburg's drug court allows prosecutors and defense counsel to work together for better outcomes for our community and defendants, and we've discussed establishing a mental health docket. These are two examples of what we're doing on the local level to find common ground." Boone added that the younger generation will continue to break down barriers and expect social justice.
Harrison also agreed that the system needs constant reexamination. "Self-reflection is always very important. A change in how we address these issues is warranted." Harrison continued by explaining that "changes need to be data driven" and that funding must be part of any legislative reform.
Chief of Police Zuidema agreed with the other panelists. "The criminal justice system needs to reflect the people that we serve," he added. "There needs to be constant self-reflection and examination. Reform needs to occur from top to bottom in the criminal justice system."
Zuidema stated, "I'm happy to report that we have local policies that address the majority of the major changes coming out of Richmond and have for several years." He added, "To understand the context you need to understand American law enforcement and policing." Zuidema went on to discuss how policing in America is primarily local, noting that there are approximately 18,000 law enforcement organizations in this country and that approximately 85% of those have 50 or fewer officers. He continued, "Unlike a lot of other countries where there is a national police force where one [set of] regulations is broadly applied, it's up to the individual localities, or in some cases the state, to mandate certain [policies and procedures.]" He added, "Much of what is Richmond is doing by passing sweeping mandates is to attempt to bring the various localities onto the same page to provide a level playing field."
Chief Zuidema summarized the comments of other speakers well in saying, "We can't let emotions overrule thoughtfulness." He noted that despite a predisposition of many to dismiss the experiences of others, "We need to listen to and recognize the reactions other people have based upon their background and experiences…if we're ever going to get anywhere as a society, we need to start with our commonalities and work backward."
All of the panelists indicated that their departments and organizations undergo implicit bias training as one of many means to better understand the totality of the communities that they serve.
"The Liberty Law community benefited greatly from this timely and important conversation about criminal justice reform in the Commonwealth," said Faulkner. "Understanding of the complicated history of the evolution of our criminal justice system and its impact on our communities can only be gained through respectful dialogue and active listening. Liberty Law wants to be a venue for such conversations as we produce the next generation of lawyer leaders."