The 2020-21 school year brought many unique obstacles, but Liberty faculty, staff, and students rose to the challenge
When campus opened last fall, there was a sense of excitement even amid the social distancing, mask mandates, and other changes put in place to ensure students' health and safety during the pandemic. While a COVID-19 Task Force was formed to monitor the situation and a campus operating plan was rolled out with guidance from the CDC and the Virginia Department of Health, "Champions Together" became the catch phrase for Liberty's cooperative effort to guarantee that the same vibrant campus environment that the university is known for would continue.
Attending classes, eating in campus dining venues, and participating in sports, recreation, and student life activities may have looked a little different, but the Liberty family supported one another and was determined not to let the 2020-21 school year be defined by the restrictions. While adhering to the guidelines, students still built lasting friendships, enjoyed an engaging lineup of Convocation speakers, and joined in creative campus events. Professors and coaches still focused on becoming mentors, and students excelled inside and outside the classroom.
It was a year of challenges, but also much growth. A look back at the accomplishments of this past year will affirm that God is faithful and that His blessings continue to flow on Liberty Mountain. 
---
Spiritual Development
From Franklin Graham's visit to Convocation early last fall to Tim Tebow's end-of-the-year 2021 Commencement address, this past school year was filled with an abundance of spiritual wisdom and insight.
Beginning with weekly community group gatherings on each of Liberty's residence halls and expanding to larger events such as Wednesday night Campus Community and twice-a-week Convocations, Liberty prioritized students' spiritual well-being by presenting them with the opportunity to be immersed in godly encouragement and biblical teaching.
Campus Community began in Williams Stadium in the fall but was moved to the School of Music's Center for Music and the Worship Arts, Concert Hall as the weather turned colder. Students reserved spots each week for the limited seating or watched online. The sermon series "Deeper" led students to a greater encounter with God, seeking to know Him more intimately. In the spring, students enjoyed the sermon series "Playlist," which took them on a journey through the Psalms. At the beginning of February, Campus Community was the first large event to take place under a new Vines Center roof after the arena had been closed for construction for 11 months.
Graham's Convocation message at Williams Stadium in September was followed by virtual Convocations for much of the year, with guests speaking in person from Liberty's broadcast studios or joining virtually from their homes and workplaces across the country. Convocation also moved to the Concert Hall later in the year, with a socially distanced audience, and it eventually returned to the Vines Center on April 30 — the first Convocation in the arena since February 2020 — with world-renowned worship leader and Christian music recording artist Chris Tomlin.
The opening virtual Convocation featured President Jerry Prevo and Thomas Road Baptist Church Senior Pastor Jonathan Falwell, who were followed on the stage each week by spiritual leaders from many different walks of life.  Among them were pastors Andy Stanley, David Platt, and Levi Lusko, political and cultural influencers Ted Cruz, Lee Strobel, Jackie Hill Perry, and Voddie Baucham Jr., and ministry leaders Cissie Graham Lynch, Will Graham, and Emmanuel Ntibonera. The spring semester lineup kicked off with Kirk Nowery, CEO of Hope Partners International, before showcasing pastors from various regions of the country, including Mark Batterson from Washington, D.C., Bryan Jarrett and Jonathan Pokluda from Texas, Tyler Staton from New York, and Matt Brown from California. The spring panel also showcased NFL Hall of Fame running back Marcus Allen, best-selling author Annie F. Downs, and award-winning recording artist Steven Curtis Chapman and his wife Mary Beth, who reminded Liberty's student body of the peace the Lord gives His children in times of trial and tragedy. 
Some special guests joined both Campus Community and Convocation this year, including award-winning songwriter and recording artist Phil Wickham.
Liberty also offered other spiritually focused concerts and opportunities, including the School of Music's  14th Annual Night of Worship in April, featuring university partner Michael W. Smith, who was joined by music students on stage for a passionate worship service.
---
Service
Throughout this school year, Liberty students continued to build off the university's longstanding tradition of serving those in the community and beyond, from meeting the needs of hurricane victims to holding public health fairs. During these various volunteer opportunities, Liberty's mission of Training Champions for Christ is consistently lived out in the Lynchburg area, across the nation, and around the world.
Last fall, students partnered with LU Serve and Operation Blessing to pack buckets of supplies for homeowners directly affected by hurricanes. Almost 300 students gathered in the LaHaye Event Space over the span of six hours to pack 540 buckets.
Weeks later, in the midst of the holiday season, Liberty students set aside their personal agendas and ventured south to Lake Charles, La., with LU Serve's disaster relief team, LU Send Now, and Samaritan's Purse to repair properties damaged by hurricanes. In April, LU Send Now once again sent a team south, this time to aid Newnan, Ga., residents whose homes had been ravaged by tornadoes.
While service and outreach trips are consistent throughout each semester, the school's heartbeat for helping is exemplified and on full display during Liberty's annual Serve Lynchburg event, a two-day spring service blitz where faculty, staff, and close to 1,500 students blanketed the community with Christ's love. Volunteer activities included mulching around the Eagle Eyrie Baptist Conference Center, painting at the Free Clinic of Central Virginia in Bedford, clearing debris at area cemeteries, assisting local churches in repairs, and beautifying nearby museums and Blackwater Creek Trail, to name a few.
The Liberty student body is active on a weekly basis, serving through CSER (Christian Community Service) and volunteer opportunities. CSER is a requirement for all residential undergraduate students (20 hours each semester), but students often surpass those hours. Their volunteer time enhances their educational experience, fosters personal transformation, promotes community engagement, and helps them learn valuable skills and life lessons that they will take with them into their careers. LU Serve, in partnership with the Alumni Office, honored four students (one per class) with the CSER of the Year awards. This year's recipients, Gabriela Hayes, Lauren Gutierrez, Audrey Lambert, and Rachel Smith, were recognized for their love and care for teens, students, orphans, and individuals with autism. This spring, the School of Law participated in the Volunteer Income Tax Assistance (VITA) Program, where students helped community members, one-on-one, with filing their taxes for free.
The Journey, a Liberty-owned radio station, and its listeners collected more than 1,300 baby items for the Blue Ridge Pregnancy Center's annual "World's Largest Baby Shower." 
Liberty's healthcare students have been involved in numerous community outreach events. As an ongoing community partner in combating the COVID-19 pandemic, osteopathic medical students and nursing students have volunteered to assist with the vaccine rollout at community clinics. 
Students from Liberty's Department of Public & Community Health were afforded valuable field experience and a platform to serve the local underserved Hispanic population with medical screenings at a health fair at La Iglesia de las Americas church in Lynchburg.
In March, nursing students provided clinical care, taught proper health practices, and shared their faith during two separate trips to Kenya and Rwanda.
---
Academics
Students' top-tier performances in the classroom and in academic competitions this year have shown what being a Champion for Christ looks like, excelling in their respective fields for the glory of God.
For the first time in program history, a moot court team from the Helms School of Government beat out 99 of the best teams in the nation to win the American Moot Court Association National Tournament, and two Liberty Law students took first place at an international competition in negotiation against teams from the U.S., Europe, and Asia. 
In January, a team of engineering students led by Dean Mark Horstemeyer claimed second place in the NFL's 1st and Future competition for a new football helmet design. Mechanical engineering professor Dr. Hector Medina and his research team made an awe-inspiring and beautiful discovery last fall of microscopic rose-like crystals while viewing the results of a study on using acids to create rough surfaces on the metal titanium for use with dental implants. Their work was featured in an issue of Advanced Science News magazine. Two drone-based projects that were developed out of the School of Engineering's robotics research lab won prizes in prestigious competitions. One was designed to assist with aerial imaging for COVID-19 social distance monitoring at sporting events and other outdoor gatherings, and the second is an agricultural monitoring system that can increase farmers' crop yields.
In March, student-doctors from the Liberty University College of Osteopathic Medicine (LUCOM) experienced a virtual Match Day in which they found out where they'll spend their residencies, culminating in a 98% match rate. 
Multiple academic programs made changes to their curriculum this year to reflect our increasingly digital world, including a new Church Ministry in the Digital Age specialization under the Master of Arts in Religion and the Master of Divinity programs in the John W. Rawlings School of Divinity. The Department of Digital Media & Journalism also unveiled nine new degree concentrations that include sports journalism, church media production, and music recording, among others. 
The Department of History has continued its archaeological survey efforts at the university-owned properties in the historic town of New London, uncovering one of only five known arsenals from the American Revolution and a Native American spear point that archaeologists have confirmed to be over 5,000 years old. Two history students won top awards from the Archeological Society of Virginia Conference for their research in the town.
Also this year, Liberty students were awarded internships with NASA and the U.S. Embassy in Panama while others were recognized by the Kennedy Center, Virginia Academy of Family Physicians, Virginia Nursing Association, and international honor society Kappa Delta Pi. 
Six students and four faculty members were named semifinalists for 2021-22 Fulbright grants.
---
Athletics
Headlined by the football team's first AP Top 25 ranking and second bowl victory, 10 NCAA conference titles, and a third consecutive national championship for the ACHA Division I women's hockey team, Liberty University's Athletics and Club Sports teams shined brightly for Christ in a year of many obstacles.
Coming off a first-ever FBS bowl victory in the 2019 Cure Bowl in Orlando, Fla., Flames Football took its game to the next level this past fall, defeating two ACC opponents on the road (Syracuse and Virginia Tech) en route to an impressive 9-1 regular-season record. That attracted a second Cure Bowl invitation, this time against undefeated Coastal Carolina, a longtime Big South Conference rival. The thrilling back-and-forth battle culminated in a 37-34 overtime triumph over the No. 11-ranked Chanticleers.
Liberty's men's basketball team became only the second team to be crowned ASUN Tournament champions three seasons in a row when it defeated North Alabama 79-75 in the ASUN final on March 7 at UNF Arena in Jacksonville, Fla. With a 23-5 overall record, the Flames punched their third consecutive ticket to March Madness and received a No. 13 seed in the Midwest Region. Liberty led No. 4-seeded Oklahoma State at halftime of its opening-round game at Farmers Coliseum in Indianapolis but was eventually eliminated by the Cowboys 69-60.
In the Spring 2021 semester, all but one of Liberty's 20 NCAA Athletics programs (football) competed as the university packed in almost a year's worth of scheduled events into one "Super Spring" season. And it was "super" in many ways. Liberty Athletics donned its highest number of ASUN Conference Championship crowns in history, taking titles in men's indoor track & field, women's cross country, men's basketball, women's soccer, men's golf, men's tennis, softball, and men's and women's outdoor track & field. The women's swimming & diving team also captured the CCSA Championship in a meet that it hosted in the Liberty Natatorium.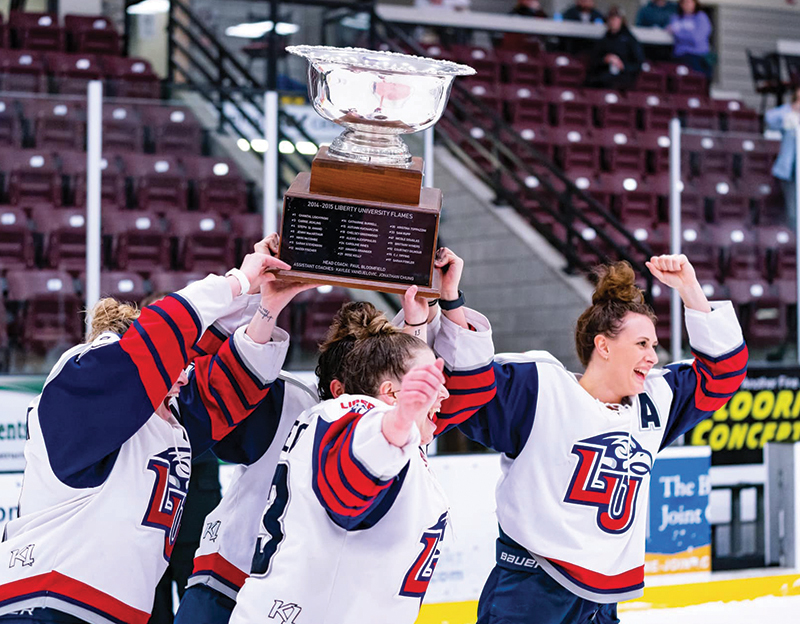 Before being eliminated by Old Dominion in the BIG EAST Conference tournament semifinals to finish with a 13-3 record, Liberty's field hockey team reached new heights this spring when it ascended to No. 6 in the nation, the highest national ranking in Liberty NCAA Athletics history. 
On the ice in mid-April, Liberty's Division I men's hockey program reached the ACHA National Championship semifinals for the first time since 2008 while the Lady Flames further established their dynasty on ice, defeating Lindenwood University 3-1 in the ACHA Division I women's hockey finals at Maysa Arena in Minot, N.D.
While Liberty's student-athletes showcased outstanding season performances, Liberty Athletics also opened the doors on two new beautiful facilities — the Liberty Arena, home to the basketball and women's volleyball teams, and the Liberty Indoor Tennis Center. The university recently announced plans for a new 75,000-square-foot Liberty Multipurpose Center set to open next summer.
---
Campus Life
While abiding by COVID-19 mandates, the Student Activities and Campus Recreation departments, as well as the Student Government Association and student clubs, all worked diligently and creatively to offer students a year filled with exciting social activities and camaraderie with friends and classmates. From movie nights on the lawn to weekend concerts, Coffeehouse, intramural sports, the Hydaway Outdoor Center, the campus bowling alley, year-round ski and snowboarding slope, fitness centers, and much more, students enjoyed a break from their studies and engaged in special times of fellowship.  
---

A SPECIAL THANK YOU
This year could not have been a success without Liberty's dedicated employees who took on extra tasks to help protect the health and welfare of students, faculty, and staff. From the planning and monitoring by the Health & Wellness Initiatives office and the care provided by the Liberty University Health Center, to the facilities crews who implemented additional cleaning and sanitizing measures across campus and dining staff who ensured safe food service, the Liberty community is grateful for their valuable roles in helping the university rise to the challenge.
---
LU plans to open with normal operations this fall
In March, President Jerry Prevo announced that the university would open the Fall 2021 semester without COVID-19 restrictions.
"As our leadership teams plan for the 2021-22 academic year, we want to share some joyful news: Liberty plans for a return to normal operation, as things were pre-pandemic," he said. "With national and state data showing suppression of the spread of the virus, we are encouraged, foremost, that our prayers are being answered. If the data continues on this positive trajectory, and as local and state guidelines continue to be lifted, our campus will welcome students back in the fall — and we will do so
without restrictions."
The majority of Virginia's COVID-19 restrictions were lifted on May 28.
"We will continue to keep the health and safety of our students and the entire campus community a priority," Prevo explained. "We have a solid, dedicated team whose job is to make sure our students have all the resources they need to thrive in their educational pursuits, and that includes a safe learning environment. We will still be encouraging the campus community to form healthy habits and look out for the health and safety
of others."
Information on the university's COVID-19 response and health and safety measures will remain available.
Residential classes begin on Aug. 23. The university is on pace to welcome its largest residential incoming class in school history this fall.