Strategic & Personal Communication
Get the Right Message to the Right Audience
Enter the marketplace with skills that enable you to craft messages and content that resonates with our world.
With hands-on experience and real-client interaction, the Department of Strategic & Personal Communication (SAPC) prepares you for a successful career in the competitive field of communication.
Understand how and where to tell your brand's story while catching your audiences' attention across the wide variety of today's communication channels: social media, digital advertising platforms, top-earned media strategies, and more.
Whatever your calling is, gaining the soft skills needed to effectively communicate and clearly relate to others is essential in the workforce. Communication majors can be found in a variety of career fields, including business, law, medicine, ministry, and the arts.
A Christian Strategic & Personal Communication Experience
Learn from faculty members who embrace their Christian faith and are experienced professionals specializing in many areas such as journalism, social media management, public relations, public speaking arts, crisis communication, interpersonal communication, and mass communication. Our strategic & personal communication programs teach students how they can use media to impact the culture for Christ.
---
Communication Degrees
Take your career to the next level with a Doctoral Degree in Strategic Communications. Enrich your understanding of personal and digital communication as you pursue your Ph.D.
Looking for the next step in your communication career? Take your digital tool belt to the next level with one of our communication master's degrees.
Study the marketplace and learn how to craft and deliver effective messages that will ignite action with your target audience through our communication bachelor's degrees.
---
Other Academic Programs in Strategic & Personal Communication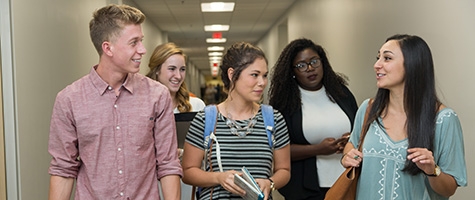 Prepare for your career with a minor in Communication. Learn about public speaking, communication theories, persuasion, and interpersonal communication strategies.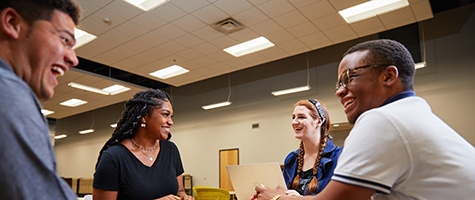 Advance your career with a graduate or post-graduate certificate in Communication that can be completed online. 
---
Got Questions About Your Degree in Strategic Communication?
---
Experiential Learning Outside the Classroom
Be part of an award-winning team of talented and driven students. Sharpen your public speaking skills as you increase your confidence and poise.
Gain practical experience and network in the field of public relations with one of our student-run PR organizations.
Help bring an advertising campaign to life. Hone your creative research and campaign design skills as you prepare your pitch to advertising professionals.
---
Explore Strategic & Personal Communications
Persuasion
Learn communication principles and strategies to amplify the growth of an organization's image. Discover the persuasive application of story-telling and techniques.
Crisis Communication
Study modern crisis communication while you practice gathering and analyzing information. Gain the oral and written communication skills needed to handle crisis situations.
Communication Research
Identify, explore, and measure the factors that surround the field of communication. Challenge yourself to grow in your knowledge of new communication strategies.
Organizational Communication
Understand communication patterns within an organization. Learn what it takes to achieve successful relationships and image-making both inside and outside of an organization.
Media & Culture
Examine the many ways digital communication impacts and influences culture. Learn how to understand and apply new forms of digital media personally and professionally.
Social Media Writing 
Successfully write persuasive content for various social media platforms to complement a marketing plan. And discover techniques you can use to build brand loyalty.
---
Where Our Students Have Interned
Learn more about SAPC internships.
Fox News Channel—Fox & Friends
The Hershey Company
Focus on the Family
Verizon Wireless (Tampa, Fla.)
New Venture Media Group
The O League
Altitude Marketing
Thriveworks, Thrive Counseling
Prototype Advertising
Orchard Hill Church (Pittsburgh, Pa.)
Where Our Alumni Have Worked
Amazon
Fox News
McDonald's (corporate)
Chick-fil-A (e.g., marketing directors of franchises)
Samaritan's Purse
Duke University
Lockheed Martin
Christian Broadcasting Network (CBN)
Taco Bell (corporate)
Nordstrom
Octagon
The Greenbrier Resort
---
Instagram Feed