Caleb Natale

High schoolers can have high hopes in futures they cannot see. While some may eventually feel disillusioned, Caleb Natale ('17) found a way to turn his illusions into a successful career. The key, he says, is to recognize inspiration and capitalize on it.
Inspiration first came to Natale when he was a kid watching ABC's TV show, America's Funniest Home Videos. That show introduced him to the fascinating concept of amateur videomaking and entertainment. At age 10, he received a camcorder and explored videography. He taught himself how to edit with common software programs such as Windows Movie Maker and iMovie. Inspiration visited him again in high school when he discovered a love for magical illusion and began performing tricks for family and friends. Soon, a new idea dawned on him: he could combine his two interests into one art form by creating video illusions.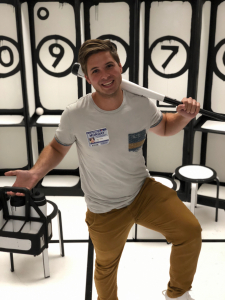 Seventeen-year-old Natale established a social media channel for his videos, where his content and viewers proliferated. He was a natural entertainer, both in front of and behind the camera, offering the gift of wonder to his online audience. He even garnered the attention of companies seeking ad placement on his channel, which earned him money for his efforts. That success spurred a new thought: maybe he could make videos for a living.
Seeking to balance his passion with his faith, Natale pursued a Cinematic Arts degree at Liberty University. He enjoyed getting his hands on quality filmmaking equipment and state-of-the-art facilities, and he was edified by faculty and peers who shared his passion. He especially appreciated the tutelage of editing instructor Won Novalis, who taught him how to organize and create a workflow for media while they edited the department's theatrically released feature film, Extraordinary. Natale says those lessons still inform his professional work today.
Natale applied his learning to his digital videos which continued to profit him in college. By graduation, he realized his professional niche was social media rather than feature film. He considered getting a day job as he further developed his social media skills, but the success of his current platform encouraged him to invest in his passion full time.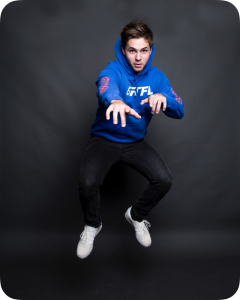 The gamble has paid off well. With over one million followers on one of his accounts, Natale is a social media influencer, creating videos for brands while freelancing film projects on the side. Most of his clients connect with him via word-of-mouth recommendations and his videos that "go viral" (rapidly accrue views). He has created videos for actor Will Smith, Disney, Go Pro, Butterfingers, Red Bull, and Hulu. Recently, he was featured in a Business Insider article.
Occasionally, Natale has to turn down a job opportunity because it conflicts with his moral convictions. In those moments, when he faces an uncertain outcome, he reaches for the same courage he has relied on throughout his vocational journey, a divine source of strength he encourages film students to draw upon as they venture into their professional futures: "Have I not commanded you? Be strong and courageous! Do not tremble or be dismayed, for the Lord your God is with you wherever you go" (Joshua 1:9). Such faith comes naturally for the young illusionist who understands that not seeing is still believing. And God has rewarded him.