Tuesday, March 29, 2022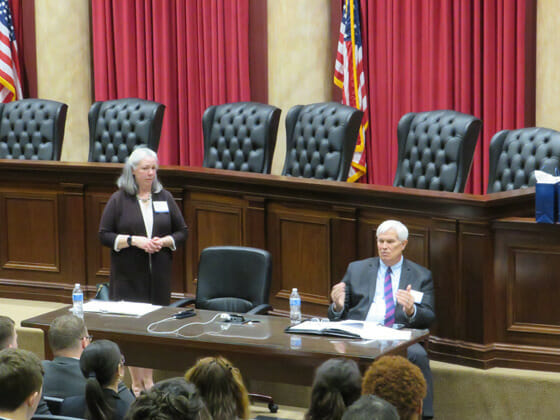 On March 10, the Liberty University School of Law Center for Career & Professional Development (CCPD) welcomed the Virginia State Bar's Standing Committee on Professionalism and the VSB Education of Lawyers Section.
Every year, these two organizations conduct this program at each of the eight Virginia accredited law schools, focused on enhancing professionalism and civility beginning at the student level.
This year's presenters included Susan Butler of Shoun Bash P.C. in Fairfax; Robert Byrne, Jr. of MartinWren, P.C. in Charlottesville; Hon. Charles Dorsey, Presiding Judge in Roanoke County Circuit Court; Zachary Kitts of K&G Law Group, PLLC in Fairfax; Kai Memmer of Glenn Robinson Cathey Memmer & Skaff PLC in Roanoke; and Bryan Grimes Creasy of Johnson, Ayers, & Matthews P.L.C. in Roanoke.
The professionalism event began with opening remarks by Susan Butler, Esquire, the Co-Chair for the Professionalism for Law Students program followed by remarks from Mr. Byrne and Judge Dorsey.During Judge Dorsey's remarks, he asked our students, "Why do we do this,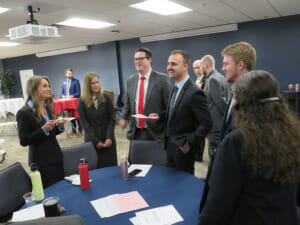 go to law school, become attorneys and practice law? Because it is essential, vital, and overwhelmingly important to our society."
Faculty members and students then met in smaller groups to review and discuss hypothetical fact patterns involving issues of legal ethics and professionalism. Following the event, the VSB hosted a reception in the law school's Mountain View Room where students and VSB members could network, discuss the legal field, and continue discussing the hypotheticals.
"Liberty Law highly values the concepts of professionalism, civility and legal ethics, and begins focusing upon these issues during our students' first year of law school," said Kristine Smith, Director of CCPD. "We are grateful to have Virginia attorneys and judges visit our school to share their wisdom and perspective on these issues. I am proud that my colleagues from the VSB praised our students for their engagement during the breakout discussions and expressed their excitement for our law school's success on bar passage and employment rates."
To learn more about Liberty Law's career services, visit our website or call (434) 592-6068.