Byron wins second at Martinsville Speedway and the Society of Automobile Engineers team sees NASCAR firsthand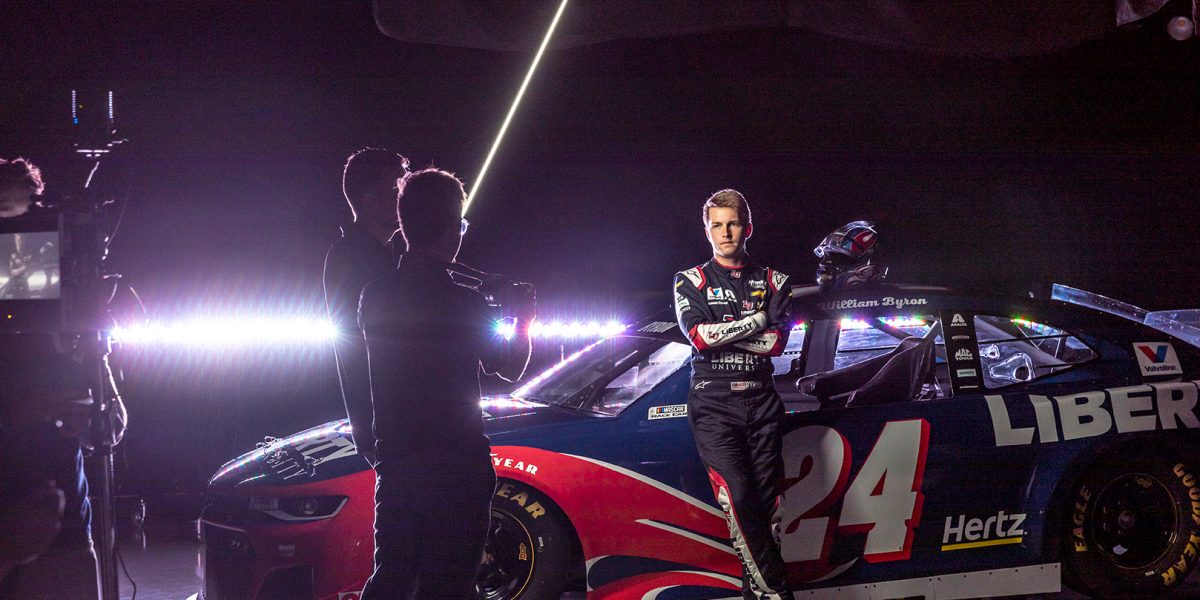 NASCAR driver William Byron cruised to a second-place finish Sunday, Oct. 27 at Martinsville Speedway.
The Liberty University Online student and second-year Monster Energy Cup Series driver battled Martin Truex Jr. for the lead during the final 24 laps of the First Data 500. Truex won the race, securing his spot in the next round of playoff races.
Byron began his third Cup Series race at Martinsville in 11th place. Steadily climbing through the field, Byron reached sixth spot by the end of the first stage and maintained a top 10 spot until the end of the race.
The 21-year-old driver from Charlotte, North Carolina wove through lapped traffic, passing his competitors with the skill and poise of a veteran driver. 
"(Sunday) I had the most fun running at a track that I grew up going to as a kid," Byron said in an email. "It's one of the toughest places we go to, so to run up front was a big deal for us."
Although Byron relished racing at the front of the pack on a track that had previously been difficult for him, he was not satisfied with a second-place finish.
"I think we just needed to find a way to take the lead and control the race," Byron said. "Whether that came on a restart or pit road, if we could've done that, I think the win would've been possible. At this level, guys don't make mistakes, and it takes everything to win."
Behind Truex and Byron, Brad Keselowski finished third in the First Data 500, Denny Hamlin finished fourth and Ryan Blaney finished fifth. Of the top five drivers, Truex, Hamlin and Blaney are still in the playoffs.
According to NASCAR.com, Byron raced his way into the playoffs for the first time this NASCAR season, his second season as a Monster Energy Cup Series driver. Byron was eliminated from the playoffs after the Oct. 20 race at Kansas Speedway, where he finished fifth.
Although his finish at Martinsville was not quite the win Byron hoped for, he faces the last three races of his sophomore NASCAR season with confidence.
"I hope that we can continue this momentum," Byron said. "We are putting ourselves in position each week so now we know what we need to do."
Byron's teammates on Rick Hendrick's Hendrick Motorsports team include Chase Elliott, Jimmie Johnson and Alex Bowman, according to Byron's website. Liberty University sponsors Byron's No. 24 car, and Byron has a close relationship with the school, where he is a junior business communications major in the online program.
Hendrick Automotive Group's partnership with Liberty University and the School of Engineering allows engineering students to explore educational opportunities with the team and see firsthand the intersection of engineering, the automotive world and NASCAR racing.
Senior mechanical engineering major Emrik VanderMark is a captain of the Liberty Motorsports Formula SAE (Society of Automobile Engineers) team and is grateful for the opportunity the partnership that Henrick provides his team. VanderMark has recently developed an interest in NASCAR because of Liberty's partnership with Hendrick that opened his eyes to the engineering aspect of racing.
"I never thought in a million years I would be interested in NASCAR…," VanderMark said. "But I would say it's an engineer's sport. You really can't even compete if you don't have the top-of-line engineers… it's a really exciting place for an engineer."
The Liberty Motorsports Formula SAE team's partnership with Hendrick Automotive Group gives engineering students the chance to have educational opportunities with Hendrick's headquarters in Charlotte, North Carolina and the motorsports team. VanderMark said the partnership is "the best experience you can have as a college student" because of the unique experiences Hendrick provides the team, such as flying them to Detroit to visit GM or working with the engineers in the Charlotte headquarters.
"(The partnership) is a springboard for students to basically get this experience, get this opportunity and take this into the industry to be the best you can be," VanderMark said.
The School of Engineering's Formula SAE  team is working on electric car technology and is in the process of building their own electric car, according to Liberty News Service. 
VanderMark attended the Oct. 27 race in Martinsville and had the opportunity to meet Byron and his team and visit pit road before the race began. Being able to cheer on Byron on pit road as the race began was a feeling like no other, VanderMark said.
"I thought it was the coolest thing in the world… I love racing because there's so much anticipation before," VanderMark said.
In Sunday, Nov. 3's AAA Texas 500 race at the Texas Motor Speedway, Byron
placed 17th out of 40 drivers, according to NASCAR.