Gaining real world experience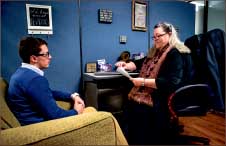 Liberty's Career Center counsels current students on how to land an internship
For college students who are approaching their final years in school, the summer months become less about relaxing with free time and vacations and more about gaining the experience necessary to land a job after graduation.
Application season for summer 2016 internships has already begun, and the Liberty University Career Center is available to assist students each step of the way. Director Richard Glass said employers often require job applicants to have relevant experience in the industry before graduation, and the summers between semesters give students that opportunity.
"One of the things that employers are looking for is your experience," Glass said. "Often you'll see on a job application … the required degree and then one to three years of experience for a new graduate. How do you get that one to three years of experience? You do it through internships."
Employers are already filling positions for their summer interns, and Glass recommended students visit the center as soon as possible.
"For an internship, it's very important that students come to the Career Center and meet with a counselor and explain what they are looking for," Glass said. "Together, (we) will help them do the right things in preparing their cover letter, their resume and any other part of the application process."
Debra Saucier, a career counselor at Liberty, said students should first learn more about the companies they want to apply to and then come to the Career Center to have their resumes critiqued. She said a resume is "marketing material" that should give a picture of the student's professional qualities.
"You don't want to simply list the places you've worked and give a simple list of tasks you've done because listing tasks is not telling them about the kind of professional and individual you are and how you did your work," Saucier said. "(You want) something that tells (the employer) all about the person so they have an idea of who you are and why they would want you to work for them."
In addition to a resume, most hiring managers require a cover letter, which provides students another chance to stand out among other applicants by providing a more personalized way to connect with the company. It also serves as a writing sample. Saucier said the letter should contain three paragraphs explaining why the student wants the position and why he or she
would be a good fit.
"In the opening paragraph, introduce yourself and state the position you want to apply for and what you love about the company," Saucier said. "In the second paragraph, elaborate a little bit more on your skills and how they match that position. … The third (paragraph) is thanking them for their time and (saying) you're looking forward to hearing from them."
Another useful resource for Liberty residential and online students and alumni is the LU Network, an online service that connects Liberty talent with employers who are specifically looking to hire from Liberty. Kathleen Welch, an employer relations coordinator at the Career Center, said there are more than 7,700 employers on the network.
"On LU Network, we have all disciplines and all geographic regions, so there is something out there for everyone," Welch said. "We sometimes get up to 100 new job postings and internship postings a day, so if there's not something on there today, it could be there tomorrow."
Though summer is still many months away, Glass said students should try to land an internship earlier in the school year instead of waiting until the spring to start sending in applications while also finishing up the semester.
"If they are interested in an internship for this upcoming summer, they need to start looking and applying now," Glass said. "It's a great feeling to know that you've got a job lined up when classes stop."
Clarke is a copy editor.