Optional Practical Training (OPT)
Optional Practical Training (OPT) is a 12-month period in which international students who are currently enrolled or have graduated from a U.S. college or university are given special work authorization. OPT can be authorized as pre-completion or post-completion. OPT is designed to allow students to gain valuable working experience in the area of their most recent degree.
Pre-completion OPT can be authorized while a student is still attending school and pursuing a degree in higher education. If a student chooses to engage in pre-completion OPT, he or she may not work more 20 hours per week while school is in session but may work full time during his or her annual vacation and other times when the school is not in session. In addition, the student's eligible period of post-completion OPT will be reduced by one month for every two months of part-time pre-completion OPT when he or she graduates.
Students on OPT may not enroll in classes, including online courses, at another education level. Enrolling in classes at another educational level, part-time or full-time results in automatic termination of OPT.
Post-completion OPT may be used following the completion of a student's degree. The student is still considered to be of valid F-1 Status by the U.S. government for the duration of their post-completion OPT period. A student is eligible for one period of OPT per degree level (Associates, Bachelors, Masters, Doctorate).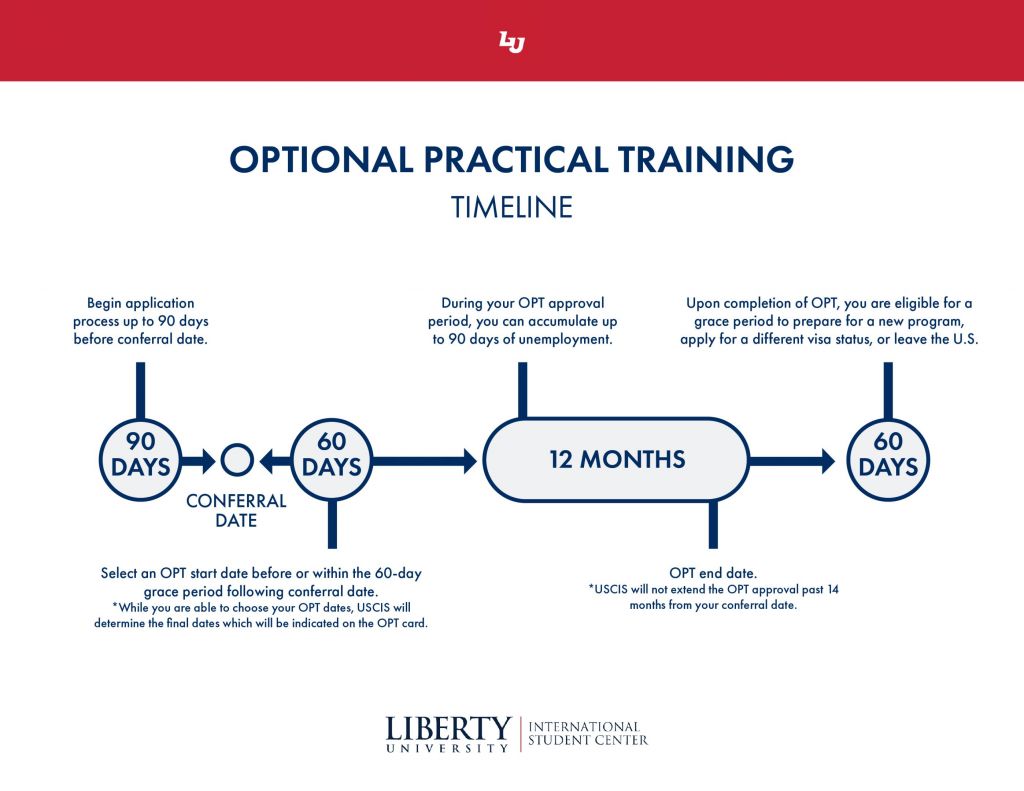 Please note, directions provided by the ISC office are meant to help you in completing your application but should not be considered legal advice. The US Citizenship and Immigration Services (USCIS) ultimately provides the decision on your OPT application. It is your responsibility, as the OPT applicant, to ensure that your OPT application is accurate and complete before you submit it to the US government. Incomplete applications could result in a delay in processing time or denial. Liberty University in no event will be responsible for any delay, denial, or mistake on your OPT application.
Step 1 – Sign up to watch the OPT video at the International Student Center (ISC) and pick up the OPT application packet.
For pre-completion OPT, schedule an appointment with your International Student Advisor (ISA).
Step 2 – Prepare all required documents and complete OPT Application.
Step 3 – Submit the items listed below to your International Student Advisor for review:
Completed Application for Employment Authorization (Form I-765). To avoid technical issues completing your required forms, we highly recommend NOT editing the form in browser. Rather, download and "open with" free version of "Adobe Acrobat Reader".
Color Photocopies of Student's Form I-20 (including all previous I-20s ever issued)
Color Photocopies of Student's Passport (visa and photo page)
Color Photocopies of Student's Form I-94 (White card usually stapled inside the passport. Copy both the front and the back side of the card.) OR a copy of I-94 stamp inside the passport AND electronic copy.
Money Order for $410.00 made out to U.S. Department of Homeland Security or completed Form G-1450.
Two photographs (Must meet US CIS Color Photograph Specifications). Quality photos must be less than 30 days old and can be taken at Liberty University ID and Campus Services Office.
Any previous Employment Authorization Documents (If a student has received work authorization in the past, make color photocopies of any previous work authorization.)
Completed Form G-1145 for electronic updates on your petition.
Step 4 – Pick up new OPT I-20 two business days after meeting with your ISA.
Step 5 – Mail OPT application within 20 days of the date OPT was recommended in SEVIS to the below address if you are mailing from Virginia. If mailing your application outside of Virginia, please check the USCIS website for shipping address www.uscis.gov/i-765. 
| | |
| --- | --- |
| For U.S. Postal Service (USPS): | For FedEx, UPS, and DHL deliveries: |
| USCIS | USCIS |
| P.O. Box 660867 | Attn: NFB AOS |
| Dallas, TX 75266 | 2501 S. State Hwy. 121 Business |
| | Suite 400 |
| | Lewisville, TX 75067 |
*We recommend copying your application before sending and sending your packet with tracking information.
Step 6 – After you are approved for OPT, you are required by Federal Regulations to report to your ISA for the duration of your OPT. Your requirements are listed below.
You must find employment or a volunteer position within 90 days of the start date of your OPT. You are required to notify your ISA of your employment or volunteer position as soon as you find one. If you plan to apply for a change of status while on OPT, you must maintain active F-1 status. Violating the terms of your F-1 status may affect your change of status application. In addition to submitting the following information at the start of your OPT period, any changes must be reported to your ISA within 10 days.
Change of name, personal address, phone, and email contact information
Employer name, address, and EIN (not required but highly recommended).
Termination/change of employment
Frequently Asked Questions
Can I enroll in online classes while on OPT?
OPT is automatically terminated if a student enrolls in courses at another educational level. This includes part-time or full-time, online or residential courses.
Can I travel while on OPT?
F-1 Regulations allow students participating in OPT to travel abroad, but there may be additional risks and/or additional documentation to prepare. Liberty University is unable to guarantee that students will be granted admission by a Customs and Border Protection (CBP) upon return to the U.S or that the Consulate will renew an F-1 visa at a consulate abroad. Although not common, there are reports of students on OPT having problems at ports of entry as well as being denied visas or experiencing significant visa delays. The decision to travel abroad must be made by the individual student with an understanding of the preparations that should be made and the risks involved. If travel must be done while on OPT, F-1 regulations require that the student present the following documents to CBP upon reentry:
Passport valid at least 6 months into the future from the date of reentry
Valid F-1 Visa stamp
I-20 containing the OPT recommendation and a travel signature less than 6 months old. Unexpired EAD work permit
Proof the student is returning to resume employment. This can be in the form of a job offer letter or a letter written on letterhead from the student's supervisor confirming employment. However, a paystub or other documentation showing intent to return to work may be sufficient for a CBP officer.
What if I can't find a job?
Unemployment is allowed while you are on post-completion OPT. However, you may not exceed more than 90 days of unemployment. Unemployment rules do not apply for pre-completion OPT.
What counts as time unemployed?
Each day (including weekends) during the period when OPT authorization begins and ends that the student does not have qualifying employment counts as a day of unemployment. Authorization begins on the employment start date shown on the student's EAD card. Vacation does not count towards your unemployment days.
Can I still have my International Student Health Insurance while on OPT?
All though you are not automatically enrolled in the policy you can contact the International Student Center to sign up. You must complete an enrollment form and pay via check, money order, or credit card.
What is the minimum amount of hours I am required to work each week?
Students are required to work a minimum of 20 hours per week. You may work for two employers to meet the 20-hour requirement.
Does my employer have to be in the E-Verify program during my 12-month standard OPT period?
No. However, to be eligible for the 24-month STEM extension your employer is required to be an E-Verify employer.
Do I need to continue to update my personal address while on OPT?
Yes, you must continue to report your address inside the U.S. Your address is where you physically live and cannot be a PO Box or your company's address.
What type of work is allowed on standard post-completion OPT and which documents should I have to prove employment?
You are allowed to work in a paid or unpaid/volunteer position that relates to your most recent major of study. You may also work for a company or be self-employed. If you choose to be self-employed, be sure to record all hours work and follow the regulations on the Internal Revenue Services website for self-employment.
My employer has asked me to take a business trip outside the U.S. What do I report?
You are not required to change employment information (i.e. the address) if you will take a business trip outside the U.S. Remember, bring all required travel documents for the reentry process.
I work in one location, but my employer's office is in another location. What should I report?
Report the address of the location where you are working.
Can I apply for a change of status while on OPT?
Yes, we advise you to speak with an immigration attorney about your options for staying in the U.S. after OPT. Feel free to contact Arthur Serratelli.
I am applying for a change of status while on OPT, can I travel outside the U.S.?
Students who have/will apply for a change of status to H1B, permanent resident or any other immigration status should speak with their immigration lawyer prior to making travel plans. Students utilizing the Cap-Gap extension should not travel abroad during the period of time between the end of the EAD and the start of the H1B unless they are eligible to return to the U.S. with the H1B visa stamp.
What is the 24 month STEM OPT Extension?
To find out more information on the STEM extension, visit the STEM OPT Extension page.
What is the H-1B Cap Gap extension?
See more information on the H-1B Cap Gap Extension