Student Activities holds After Party to celebrate the end of the school year
Food, rides and live music wrapped together for Liberty's annual After Party, allowing students to unwind before their finals and last few days of class. 
Students enjoyed food and snacks from various food trucks like Domino's and other vendors such as Rookie's. While this food was for sale, those who participated in Liberty's Serve Lynchburg event earlier that day were able to eat for free. The snow cones, however, were a free treat for everyone.
"Student Activities is honored to host the Block Party at the beginning of each year to welcome in the new student body. However, until recently, there wasn't a proper way for us to say goodbye," Cort Comfort, director of Student Activities, said. "We wanted to have one night where we could give students an official send-off and with After Party, we hope to do just that."
In addition to food, Student Activities brought many activities to the LaHaye parking lot Saturday night. The event included classics like a Ferris wheel and swings, while one booth also provided shirts for students to customize. Students even had the opportunity to ice skate for free in the LaHaye Ice Center as part of this event.
Something special that many attendees lined up for was the opportunity to create their own video with friends on the Spin Cam. This experience consisted of the group standing on a small platform while a camera spun 360° around them, recording a video at various speeds.
This event also provided photo opportunities with a custom photo wall to serve as a background for group or solo pictures.
Senior Meghan Williams was grateful for After Party.
"I had fun hanging out with my friends before the craziness of finals and graduation coming up," Williams said. "It was fun, and I was excited to be a senior to get the free water bottle."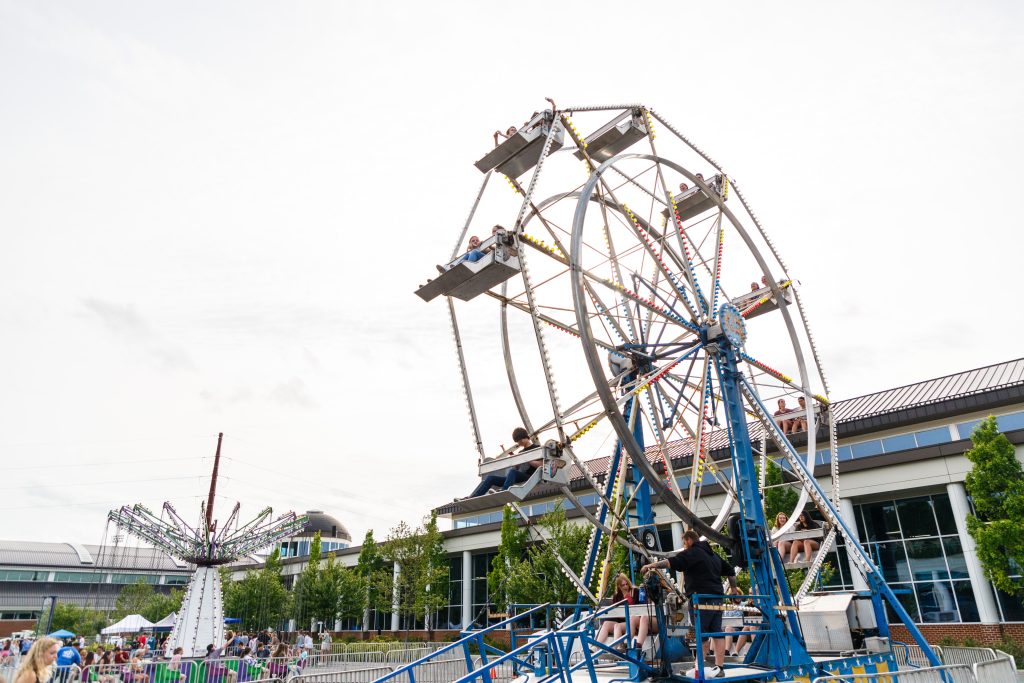 After Party also included a concert with multiple artists. This year's event featured student artists: E41, Jordan Richard and Carlisle played between 6:30 p.m. and 8 p.m., while the band Vacation Manor closed out the event at 9 p.m.
The first 400 graduating seniors had the opportunity to receive a free water bottle at the event as a small memento of their time at Liberty. A chalk wall also provided a space for all students to write things like their favorite memories and reminisce on the fun they've had at college.
"Liberty is such a unique campus in that many students will meet their spouse here, their best friend or find their life's calling. It can be hard to pinpoint when exactly these life moments happen, but with events like After Party, Student Activities aims to create opportunities for the Liberty community to come together," Comfort said.
Williams is a news reporter for the Liberty Champion