Women's lacrosse handily defeats Furman, 19-6
Goal, goal, goal, goal, goal. Repetitive, right? This is how it felt for fans watching Kelly Scott put on an absolute masterclass as she rocketed in goal after goal in the Liberty women's lacrosse victory against Furman on March 25.
The Lady Flames improved their record to 4-5 after a blowout win over Furman with a final score of 19-6. The Flames are now 4-1 against unranked teams, winning all four games handily as they now extend their win streak to two after beating Winthrop earlier in the week.
The Flames saw contributions in big ways on the field against the Furman Paladins as several different players netted multiple goals. Olivia Glaze, Mackenzie Lehman, Tori Banks, Jordan Sheive and Andrea Colavito each scored twice, with Lizzy Ferguson, Brooke Beard and Jenna Burrow each flinging in a goal as well.
Sophomore Celena Kerr picked up her first start and made an instant impact as well, scoring a goal while also notching three assists and six shots. Taylor Gallarello got the win at goalie as she played 45 minutes and had five saves.
The story of the game for the Flames, however, was the career day for junior Kelly Scott. The Georgia native had herself a game, netting five goals, dishing out two assists and tallying seven points for herself, as she was seemingly everywhere on the field.
"We went into the game really confident, and we were all creating for each other," Scott said. "Our offense operated smoothly, and it all just came naturally because of my other teammates working on getting me open."
Scott didn't become a starter until this season. Throughout her first two years on the team, she had only scored three goals in total. Scott matched this number in just the first half against Furman and went on to have her career high in goals in a game (5) and points in a game (7).
"(Kelly Scott) is starting to get more comfortable as she gets more games under her belt," Head Coach Kelly Nangle said. "It's huge to see her growth at this point in the season as we are getting into the meat and potatoes of the season. To see her step up today was huge."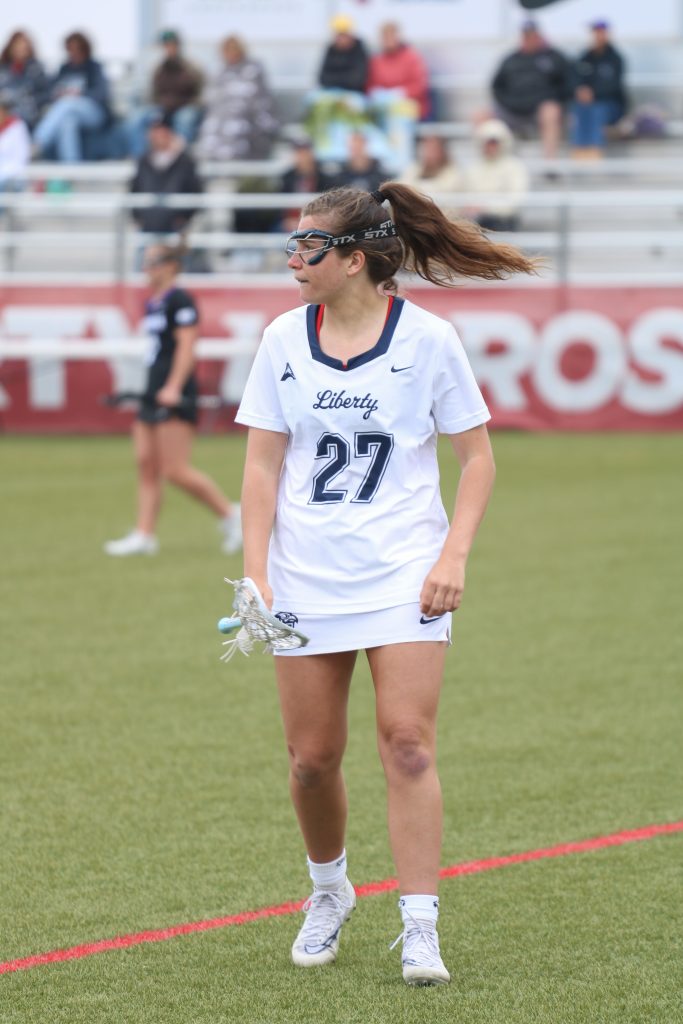 The Flames came out strong in the game as they took a 5-0 lead in the first quarter and never turned back. The Flames had been outscored in the first quarter of games this season (25-30), to which Nangle responded by making it a point of emphasis for her team to start games better.
"(Furman) typically starts pretty fast, and they've started fast against every team they've played no matter the talent level," Nangle said. "To be able to get out fast against a team like Furman is huge and builds a lot of momentum going into next weekend as we start conference play."
The Flames did all the little things right in this victory, claiming the advantage in total shots with a margin of 37-19, notching the lesser number of turnovers 15-22 and winning draw controls 18-10. It also undoubtedly helps when one's goalie makes great saves all game.
After the dominant outing, the Flames look ahead to the start of conference play, which will begin on April 1 at 1 p.m. as they head to the Sunshine State to battle it out with the Jacksonville Dolphins.
Willard is a sports reporter for the Liberty Champion. Follow him on Twitter