Bye Bye Bison! The Lady Flames basketball team advances to the ASUN Finals

On a windy Wednesday night in Lynchburg, the Liberty Flames women's basketball team advanced to the final round of the ASUN Championship after blowing out the Lipscomb Bison, 84-56.
"That's always the goal, to make it easy on us," junior point guard Kennedi Williams said postgame. "But our goal was never to drop our heads and never to let up on anything."
The Flames most certainly didn't let up, as they played their best basketball through all 40 minutes of game time.
In most basketball games, a team can get hot and pull ahead, or a team can go cold and not be able to hit any sort of shot, falling behind. It's the rare occasion that one team gets hot and the other gets cold at the same time that leads to a blowout victory, and that is what happened Wednesday night.
In the first quarter, Liberty scored the first 19 points of the game. For the first six and a half minutes, the Bison were held scoreless while the Flames took a 19-point lead. A pair of timely free throws from Lipscomb broke their scoreless streak, but the damage had been done, and the Flames had taken the lead.
"We wanted to start with a lot of energy, on both ends, offensive and defensive," Flames Head Coach Carey Green said. "They've had to travel; we had rest, and (we were) motivated to get back to the championship."
The first quarter ended with a score of 24-5 in favor of the Flames, and already there had been a record-setting performance. Flames senior center Mya Berkman, known for her presence and efficiency at the rim, had tallied three steals in the first 10 minutes of action, tying her career high that she had set Jan. 2022.
The second period followed the trends of the first, and the Flames were able to keep Lipscomb at an arm's length. The Bison were able to shrink the Flame's lead to 16, which would be the smallest the Flame's lead would get for the rest of the game.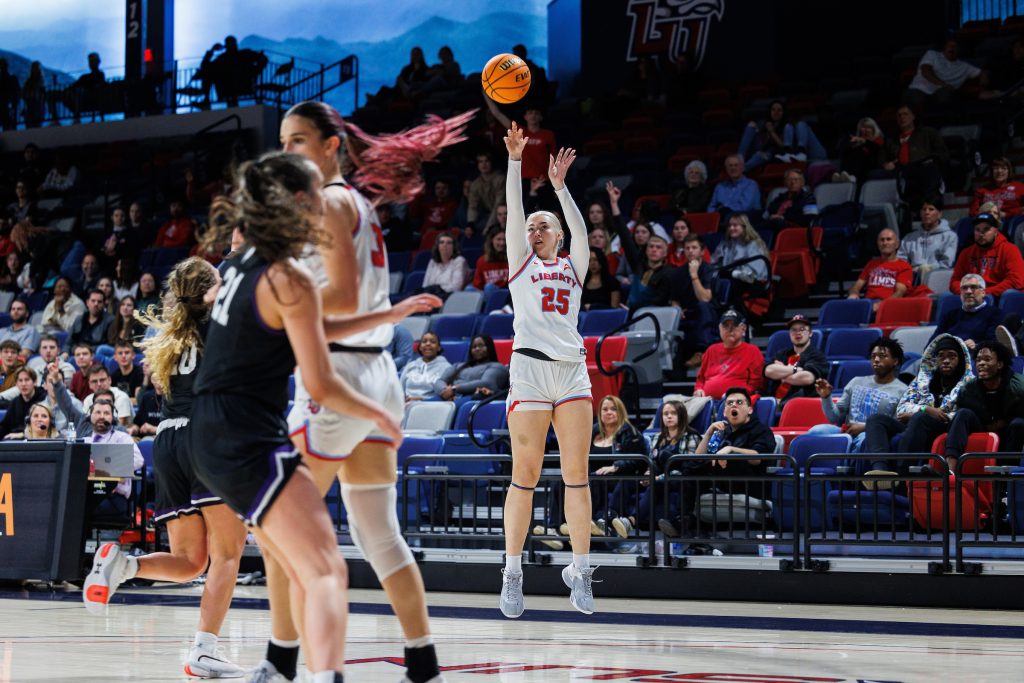 With halftime in the rearview mirror, the Flames kept the same approach through the third quarter, but the fourth was a different story. Near the end of regulation, the Flames pulled the majority of their starters, as one does at the end of a blowout, but the depth of this Flames team was put on full display. Redshirt junior Alice Markova was especially impactful for the Flames down the stretch, as she scored five of her seven points in the game's last six minutes.
The depth certainly played a key role in the Flames' successes Wednesday night, but it was the starting lineup that ultimately notched the win. That starting lineup of Williams, sophomore guard Emma Hess, redshirt senior guard Dee Brown, redshirt junior Jordan Bailey and redshirt senior center Mya Berkman cut through the Bison defense like a hot knife through butter.
In basketball, a statistic called plus-minus tallies how a team performs with a specific player on the floor. If a player's team scores 10 points or more when that player is on the court, then that player will end the game with a +10. The Flames starting lineup ended the day with plus-minus numbers of +18, +18, +26, +28 and +30. For reference, the Bison starters ended the game with -10, -15, -19, -23 and -25.
Kennedi Williams, the point guard and engine of this Flames team, led the team in plus-minus with +30, , and she also led in both points and assists.
"She had an amazing game," Green said postgame. "(Williams) led us in assists, led us in scoring, and she did pretty good on the boards as well. She was very impactful in this game, and I'm really amazed and grateful. But man, she stepped up, and I think she wanted to be in that championship game."
Williams ended the night with 20 points after shooting 7-10 on field goals and 4-6 from beyond the arc. Never before had she hit, or even taken, so many 3-pointers. After this game, she set new career highs in both 3-pointerss taken and 3-pointers made in a game.
"It doesn't say it on the stat sheet," Williams said postgame. "But that happens because of (Berkman)'s presence inside…when she draws so much attention, our job is to reward her for doing that. It felt good just (like) we practice and practice, make open shots and carry on to the game."
Berkman, who still leads the NCAA in field goal percentage, ended the game with 14 points, just 0.7 points below her average of 14.7 points per game. Her presence in the paint opened things up for the Flames beyond the arc for more teammates than just Williams.
Brown, who had a career-high five 3-pointers in the first round of ASUN postseason action, ended the game with two 3-pointers on four shots from deep. Hess, a typical sharpshooter for Liberty, hit three 3-pointerss of her own and ended the game with nine points. Markova and freshman guard Pien Steenbergen both added a 3 of their own to the Flames' final total of 11.
"It's a simple strategy that is used at every level," Green said. "And that is the team that can shoot the most layups, free throws and 3s usually wins."
With that win, the Flames advance to the ASUN Championship game, where they will travel to take on longtime rival FGCU in Fort Worth, Florida. The Flames faced the Eagles once this season, defeating them 88-78 in overtime. That victory was the first in school history against FGCU, who is once again one of the best teams in the nation.
"For us just to be able to be fresh and confident as we go in and just give our very best because they're very talented," Green said postgame, regarding what he's looking for in his team. "Not by chance, they're No. 1in the country shooting threes."
Green is correct. FCGU currently leads the NCAA in made 3-pointers among all women's basketball teams, with 399 made 3-pointers in its 34 games this season, which averages out to 11.7 3-pointerss per game.
"That tells you how talented they are," Green said. "And look at the record. What are they, 31 and 3? They're an outstanding team. We're going to have to play an A game."
"It's a tough match-up," Berkman said. "We obviously know that we've been in this position before, and then, we haven't executed to what we wanted to do. So, I think that now that we got that win, and we actually beat them for once, I feel like (there is) no pressure. I feel the utmost confidence going out there, and it's going to be a great game. We're going to bring our A game, and they're going to bring theirs. And it's whoever is the best that day."
The ASUN Championship game tips off Saturday, March 11 at 7 p.m. on ESPN+.
---
Palsgrove is the Assistant Sports Editor at the Liberty Champion. Follow him on Twitter @AaronPalsgrove