How Liberty's head softball coach revolutionized sports for women
The game of softball is a game of pioneers — women who, no matter the obstacles, have pushed ahead to play the game they love and make their mark on history. 
One of those pioneers resides on the Mountain. Liberty softball Head Coach Dot Richardson, however, views her journey in a different light. What most would see as trailblazing, she sees as a lifetime of seized opportunity.
From an early age, it was clear to Richardson that God had given her the gift of athletics. The problem, however, was that girls weren't allowed to play organized sports in the 60s. So rather than living out her aspirations, she was forced to watch from a distance.
"I would go to bed at night and with my prayers, ask the Lord, 'Why'd you give me so much talent with no opportunity?'" Richardson said. "I mean, I knew it was a gift. I just knew it because I felt alive doing it."
For as long as she could remember, being a Major League Baseball pitcher was her ultimate desire. It was difficult for a young Richardson to understand why she had to take a back seat to her brother as he experienced the joys of Little League Baseball.
She recalls going to her mother with these troubles, asking her why she was unable to compete on the diamond with the other children.
"(My mom said), 'Well, honey, when you strike out all the boys, the parents aren't gonna be able to deal with it,'" Richardson said. "So, it was interesting … the power of words, right? She didn't say, 'Well because you're born a girl.' It was, 'Because you're really good.'"
Those words instilled confidence in the 10-year-old girl with big dreams, and she would keep dreaming, until the day her life changed forever.
Richardson will never forget the afternoon her brother got a brand-new catcher's mitt. Naturally, he needed to break it in, so he took his little sister to the field to play catch. While the two were tossing the ball around, a Little League coach observed from a distance.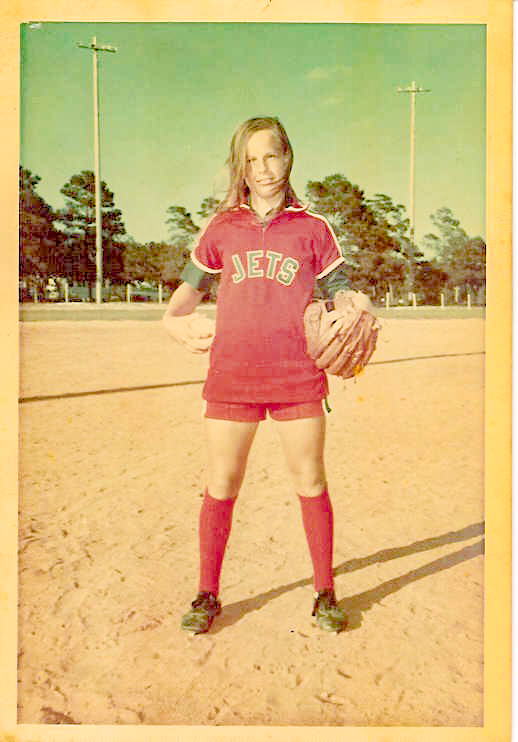 Richardson's talent and arm strength were apparent. The coach approached her, asking the child the question she had been waiting to hear her whole life.
"How would you like to play on my baseball team?" he said to her.
The words that followed, however, were far less exciting.
"In practically the same breath, he said, 'Well, we'd have to cut your hair really short and give you a boy's name or call you Bob,'" Richardson said.
While she wanted nothing more than to seize the opportunity in front of her, something about his offer wasn't sitting well. The 10-year-old ultimately knew that her identity was not worth compromising for the game of baseball.
"I wanted it so badly," Richardson said. "But I realized, wait a minute — I have to hide who I am. It just didn't seem right. So, I said, 'Thank you, but no thank you. I'm tied to who I am, and it just doesn't feel right.'"
After the encounter, Richardson was a bit downcast, but not dejected. After all, she was somewhat used to the disappointment by now. She moved on with her afternoon, going from playing catch with her brother to playing catch with her good friend Sunday Brown.
No more than half an hour later, Richardson was approached by another coach. But this time, it was a woman. The coach immediately complimented Richardson's arm and asked if she had a minute to throw the ball around.
"My first thought was déjà vu because 30 minutes earlier that baseball thing happened," Richardson said. "It's almost like the Lord was rewarding me for not compromising."
Taken aback by the young girl's abilities, the coach asked Richardson if she had ever heard of softball before.
"No, what is it?" Richardson responded.
The coach explained to her that it was practically the same thing as baseball, but with a bigger ball. She then pulled one out and prompted Richardson to go to third and take some grounders.
"And when I (took the ground balls) and fired the softball around, I just felt like I belonged," Richardson said.
The next offer Richardson received was one much more to her liking. The coach asked her if she would be interested in a spot on her fastpitch softball team. Considering, however, that Richardson was merely 10 and the average age of the team was 22, she first needed to get her parents' permission.
After presenting the offer to her mom and dad, they ultimately agreed, but only under her father's one condition — she had to keep the glove in front of her face.
In her time on the fastpitch team, Richardson was hooked to the game. It carried no weight for the young child that she was on a team of adults; she was simply getting her first opportunity to do what she loved.
At the age of 12, Richardson became the bat girl for the Orlando Rebels, a team in the Women's Majors Softball League. And while she didn't get much time on the diamond, the blond-haired kid was awestruck by the icons that surrounded her.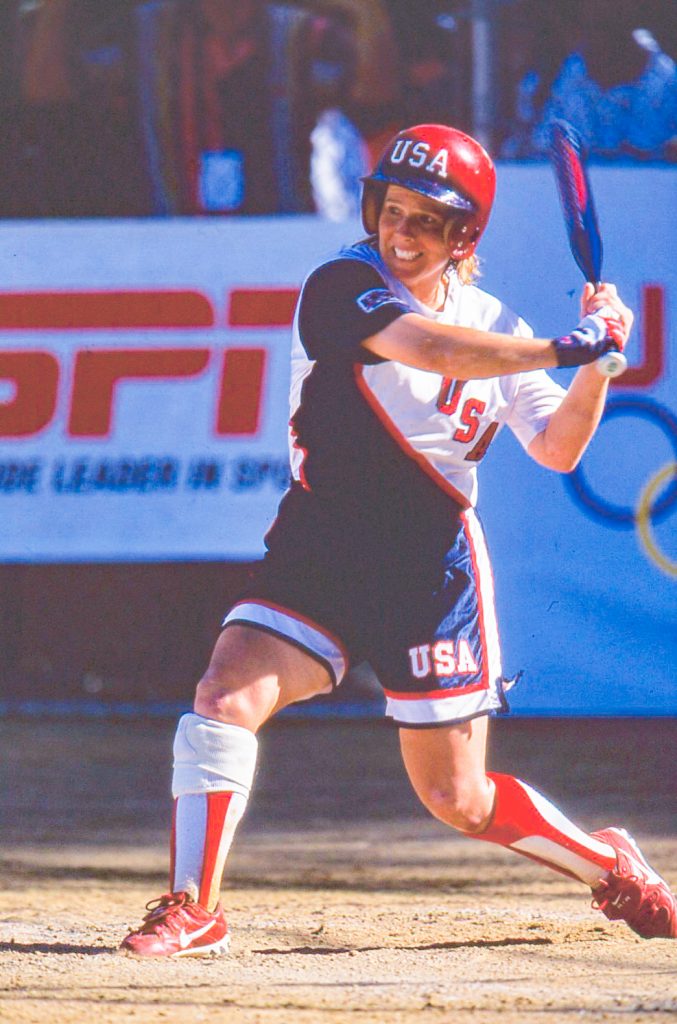 "I'm watching the legends Joan Joyce, Irene Shea, Snookie Mulder, I can go on and on … I am eating it up and just soaking in everything I've learned — how they throw, how they hold the bat, how they swing, how they stride, how they feel the ball, and I got to practice with them."
One day, during spring training, Richardson finally got her chance. The Rebels decided to put her in a game, and she will never forget what came of the opportunity.
"I got up to bat with a runner on second base," Richardson said. "I got a base hit, scored the run and got an RBI. The first base I got to steal, I stole the base. The next batter got a base hit, and I scored a run. In right field, I got a routine fly ball … no big deal. But then I got a line shot one-hopper to me. I scooped it up and threw the girl out at first base to end the game. Just like a movie, dude."
One year later, Richardson would once again have to go to her parents and ask permission to play with those about a decade older than her. Without hesitation, they allowed their daughter to become a member of the Orlando Rebels. Richardson did it in historic fashion, as the youngest woman to ever play in the Women's Majors.
While the story of the young girl desperate to play in a game of baseball and now making her mark on professional softball may seem grand enough, it hardly scratched the surface of what was to come for Richardson.
In the year 1979, at the ripe age of 17, Dot stood at the gate of an airplane bound for Colorado Springs, Colorado. It was there in the Rocky Mountain State that Richardson would try out for Team USA.
"My mom was (at the gate). And she hugs me and says, 'You're gonna make it,'" Richardson said.
And she made it.
"I'll never forget army crawling underneath the fence and running across the street to a 7/11," Richardson recalled. "But I called collect, you know, the phone service way back when. And of course, Mom and Dad accepted the call. And I said, 'I made it.' And they're like, 'We knew you would.'"
Richardson would achieve greatness donning the red, white and blue. She joined Team USA for the first Pan American Games that softball took part in, capturing the first gold medal. Richardson ultimately earned a total of five Pan American gold medals in her career. In the midst of it all, she also played college softball for UCLA, taking home the first NCAA championship to be offered in the sport.
"I saw the first white cleats ever to be worn," Richardson said. "I saw the last wooden bat ever to be used in Women's Majors. I saw an evolution of not just women in our sport and the transition of equipment and the fields, but I was able to see the evolution of women in sports."
So much success had come in so little time for the Florida native. What she couldn't ignore, however, was her passion for the medical field. Richardson left the UCLA Bruins with an undergraduate kinesiology/pre-med degree in-hand. Now, she was ready to embark on a new journey, pursuing a five-year post-doctoral residency in orthopedic surgery.
The very day that Richardson was prepared to hand over her match list for residencies, however, she received word that softball would be making a debut in the 1996 Olympic games. Feeling conflicted with the desire to compete, Richardson handed in her list anyway, matching with the University of Southern California.
"When I went home after matching there, (a letter) was congratulating me for matching at USC and said, 'Welcome to the Olympics of orthopedics,'" Richardson said. "And I was thinking about how I wanted to try out for the Olympics … it was a foreshadowing."
Since the age of 7, Richardson had dreamed of being an Olympian. The dream had never seemed attainable. Now, Richardson had no intention of running away from that desire.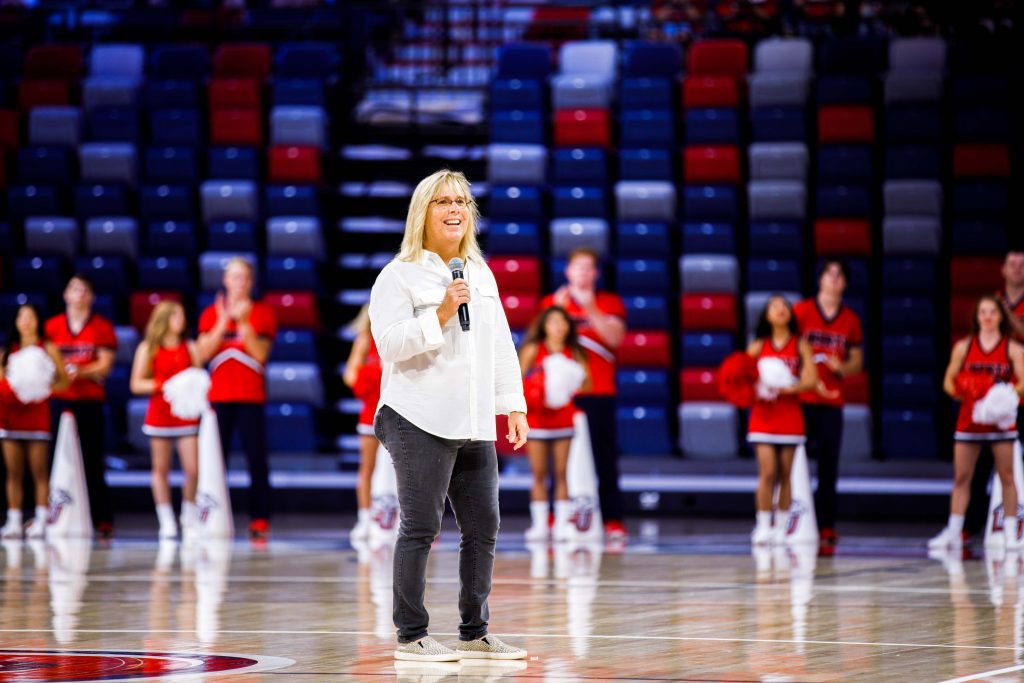 "I secretively tried out for the Olympics," she said.
What she didn't expect, however, was for Sports Illustrated to publish a picture of her throwing a ball at the tryouts in St. Louis. Her colleagues at USC loved Sports Illustrated and discovered her secret with ease. While she made the team, it was no longer under wraps.
"I get called into the chairman's office," Richardson said. "He said, 'The board has made a decision. They're gonna give you a one-year leave of absence to go for your childhood dream of Olympic gold.' And the rest, you could say, is history, you know?"
It most definitely was history. Richardson would not only be a member of the inaugural USA Olympic softball team but would hit the two-run home run to seal a gold medal in the medal game. Four years later, Olympic gold would find her once again in Sydney, Australia.
"When you ask me how much joy (those memories) bring me, it's a dream becoming a reality," Richardson said. "But it's also realizing that the journey, and all of those along the way, shared in the Olympic moment. It's the support I got all around me, from my family … they say it takes a village, you know. But really, it takes a family … and it takes trust in the Lord."
Richardson's trust in Christ has carried her from an imaginative 10-year-old, to a wide-eyed 12-year-old, to a trailblazing 17-year-old, and now, to an electrifying 61-year-old. Richardson has found herself holding title of "leader" for the past 13 years in Lynchburg. But what she defines leadership as has nothing to do with her, but everything to do with Christ.
"The biggest lesson is shown from the greatest leader of all time, and that's Jesus Christ," Richardson said. "He came to serve, not be served. So, I come humbly with a servant's heart. What can I give my players that they need to help them see Christ, grow in Christ and grow in a way to recognize the gifts he's given them?"
Under Richardson, the Lady Flames have done nothing but climb as the years go by. Now, entering the 2023 season, Richardson has led the team to a 304-210 overall record. The team heads into this season following an impressive 2022 campaign, where it made its second regional appearance in the NCAA tournament. What Richardson finds most fulfilling about coaching, however, could never be defined by a number.
"My life, I think, if you could sum it up would be 'seize your opportunities' because I was denied them," Richardson said. "When I look at my players, they don't even realize what they give back to me. It's even just looking in their eyes. When I look into their eyes, I can see a reflection back of God's plan for them … their futures look so bright."
Cory is the sports editor for the Liberty Champion. Follow her on Twitter