Liberty's DII Men's hockey team focuses on each other through team meals and soccer games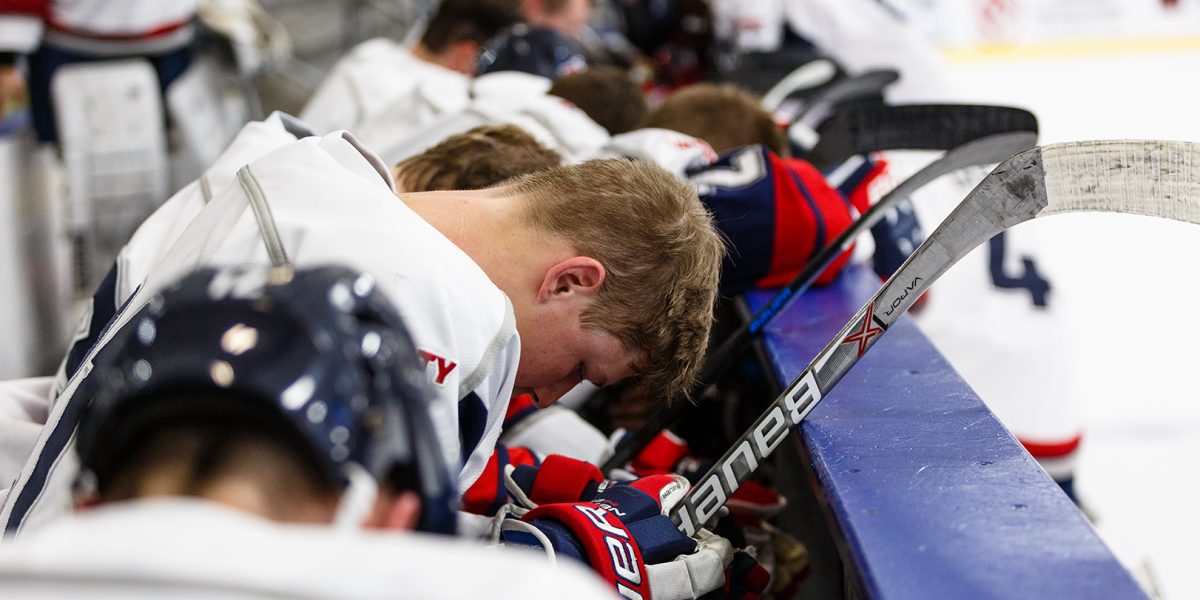 Whether getting Chipotle or playing soccer, the Liberty men's DII hockey team always has a unique way of preparing to hit the ice before a game.
For the 2019 season, the DII team is 13-1-0 in division play, keeping the goal of winning nationals in the back of their mind. While it is easy for a team with their success to become complacent, the team focuses on being competitive in practice and in games.
"Every day before game day, Ryley Richardson and I play soccer," junior Blake Flanders said. "It seems to be a thing everyone does, just getting your feet engaged by playing a little two-touch. It keeps us all energized when we are able to get fired up for a game."
The Flames headed to Lindenwood, Missouri, Oct. 25-27, to take on the top three teams in their division for the St. Louis Showcase.  Playing three teams in one weekend is a large feat, but winning all three games showed the depth of the Flames experience and determination.
"We don't want to be put in the situation we were in last year," sophomore Adam Partridge said. "We didn't make it to nationals, and I think that motivated us to win each and every game (this year)."
While the team enjoys fun and games, they take what they do seriously. Junior Michael Niederer takes pride in his faceoffs, winning 80% of his faceoffs this season.
"I practice faceoffs anytime I can," Niederer said. "After practice or after a game, I want to be the best. It's an easy motivator for everyone when I am able to get the win and pass it to the wings."
With most of the team's returning players, they are able to look back and see how far they have come and continue to grow in consistency and trust. Head Coach Ben Hughes encourages players to push themselves because he knows how good they are.
"They are fast," Hughes said. "That's how we like to keep practice – it adds intensity. This team is special, and it helps having a team with core leadership."
The Flames also have an intramural softball team to encourage teambuilding off the ice, and every player has his own quirks when it comes to his mindset. But embracing those quirks has helped this group of hockey players create a bond, willing to push each other to reach nationals by the end of the year.
"That's our bread and butter," defenseman Drew Crilly said. "Just being able to have a high-tempo practice so that it can show us what a game is supposed to look like."
The Flames next play against Sault College Friday, Nov. 8, at 7 p.m. at LaHaye Ice Center.
"This year with the underclassmen and the upperclassmen, we are all coming together," Partridge said. "It's very neat to see, because we haven't seen anything like this in years past, and that sets us up to be the best."