Four Liberty graduates run for the House of Delegates in Nov. 5 election
Editor's note: 
Four of the candidates running for a seat in the Virginia House of Delegates in the Nov. 5 election graduated from a Liberty University undergraduate program or the Liberty University School of Law. We featured the four Liberty alumni's answers to a series of four questions we asked through email correspondence. Darrell H. "D.J." Jordan, Wendell Walker and Del. Les Adams hold undergraduate degrees from Liberty University. William Wampler received his law degree from Liberty University School of Law in 2016. Del. Adams is running for reelection while Jordan, Walker and Wampler are seeking election for the first time.  Liberty University students vote in District 23. Next week's issue of the Liberty Champion will profile District 23 House of Delegate candidates David Ziles and Wendell Walker, allowing them to explain how they would represent Liberty and the Lynchburg area as a delegate. 
Les Adams
Why do you feel called into the political realm?
When I was first elected to the Virginia House of Delegates in 2013, I was privileged to become the first graduate of Liberty University to be elected to the General Assembly. It was my first run for political office and I did consider it an answer to a call that I was prepared to accept because of my background in law and longtime interest in preserving what is great about our commonwealth and country.
How has Liberty University affected your career and political path?
Liberty played a prominent role in my thinking and development as a leader. While there I majored in social sciences within the history department and minored in government. It was through Liberty that I was first introduced to Virginia government by participating in a summer internship whereby I was placed in the policy office of then-governor George Allen's administration. I was also involved politically while at LU as a member of the College Republicans.
What does being a Champion for Christ mean
to you?
Pursuing that distinction is key for the Liberty student, a point I heard made personally by founder Jerry Falwell many times during my tenure as a student. It means approaching your vocation with a drive toward excellence for the glory of God. It was a very satisfying honor for me when I was presented the "Champion for Christ" recognition in 2015 following remarks I delivered to the LU School of Law at their banquet.
What is the most prominent issue you hope to address, if elected?
There are several matters of importance to the constituents in the district I represent, especially those that can help improve the climate for a better economy, provide good jobs and support the growth of small businesses. Agricultural development is central to that concern, as is quality education for our students and the advancement of our region overall. However, policies affecting the strength of our families may be the most prominent issue that we face.
About Adams:
Delegate Adams graduated Magna Cum Laude with a Bachelor of Science degree from Liberty University in 1996. He earned his law degree from the University of Richmond School of Law in 1999. In his law career, Del. Adams has served as the judicial law clerk for the Danville Circuit Court and as an assistant commonwealth's attorney for Pittsylvania County. He is today a partner in private practice at Adams and Fisk, PLC in the Town of Chatham.
Since 2014, Del. Adams has represented the 16th House District, which includes parts of Henry County and Pittsylvania County and the City of Martinsville. He is seeking his fourth term of service to the Virginia General Assembly this November. A sixth generation native of southside Virginia, Del. Adams lives in Chatham with his wife Melanie, a pharmacist, and their two sons. You can learn more about him and his campaign online at LesAdams.org.
D.J. Jordan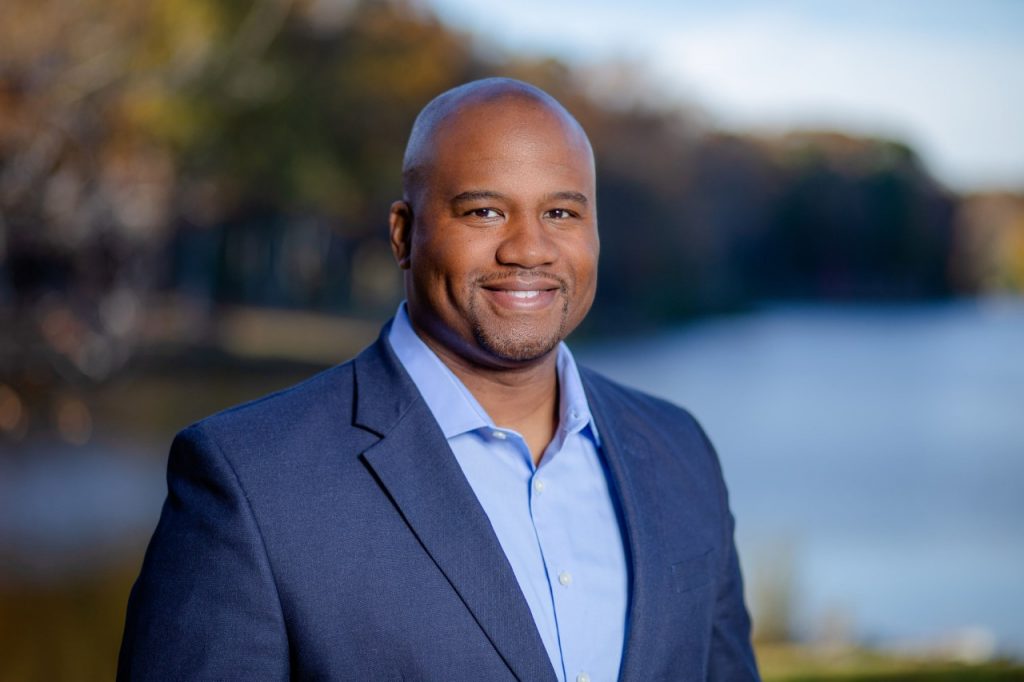 Why do you feel called into the political realm?
I decided to seek political office to apply my experience to public service and public policy. My experiences on Capitol Hill and on the Virginia State Board of Social Services have given me a unique perspective for how policy is made in Richmond. I am running for the House of Delegates in part to build on the work that I championed in the community and on the state Board of Social Services: helping people find quality jobs and ensuring that anti-poverty programs lead to self-sufficiency.
How has Liberty University affected your career and political path?
My undergraduate college experience gave me an opportunity to prepare for a career and provide for my family. The structure of the campus, along with the discipline of the football team, helped to instill within me a strong work ethic.
What does being a Champion for Christ mean to you?
It means that we are to represent Christ wherever we are and do it with excellence. If you are a Christian, loving God and loving your neighbor as yourself don't end when you enter certain industries like politics. Your faith should impact how you treat people, no matter where you are.
What is the most prominent issue you hope to address, if elected?
I want to focus on reducing traffic congestion for Prince William and Fauquier County residents. I have experienced first-hand the stress of traffic congestion and the unnecessary amount of time away from family. I believe government should be limited in its core functions, but what it performs must be done well. Transportation is one of those core functions of government that must improve in Virginia.
About Jordan:
Darrell H. "D.J." Jordan Jr. is running for the Virginia House of Delegates to represent the 31st District.
The Tidewater, Virginia native earned a Bachelor of Science in Communications from Liberty University and played on the football team. He also earned a Master of Arts in Public Management from The Johns Hopkins University.
He worked in the United States Congress for 10 years, as well as in broadcast journalism. D.J. now works for a public relations firm in Falls Church, Virginia. In 2017, D.J. completed a four-year term on the Virginia State Board of Social Services and was elected to serve as chairman.
D.J. and his wife, Glorya, have four children.
Will Wampler
Why do you feel called into the political realm?
After studying law at Liberty University's School of Law, I landed a big job in Richmond, where I worked with the General Assembly on various initiatives. I spent several years in our state capital watching legislators discuss issues such as education, healthcare, economic development and transportation infrastructure, which is a good thing. However, those conversations were typically directed towards fixes for northern Virginia, Richmond and Hampton Roads, not southwest Virginia. So, I'm working to make sure that the needs of southwest Virginians are being met in Richmond.
How has Liberty University affected your career and political path?
At the surface level, I left Liberty University's School of Law with the ability to research, understand and argue the law, which has helped me tremendously in the practice of law and while working with the state legislature. Beyond that personal takeaway, Liberty graduates also inherit a larger community that supports them wherever they go and in whatever they choose to do after school. I think that has a major impact on all of us.
What does being a Champion for Christ mean to you?
There have been times when I have spread good and there have been times when I haven't. Every day we can choose to act on the good impulses we have. I think if you are someone who can consistently act on those over the bad, while also encouraging others to do that themselves, you are on the right track.
What is the most prominent issue you hope to address, if elected?
At one time, southwest Virginia was one of the most economically prosperous areas of the state with its exports of coal, timber, salt and tobacco. Now that those industries have slowed, my biggest priority will be repositioning the SWVA region for new investment, job creation and economic growth. Southwest Virginia is one of the best places in the Commonwealth. I'll be working to make sure everyone knows why.
About Wampler:
Will is 28 years old. He was raised in Bristol, Virginia and attended the University of South Carolina (Class of '13) where he received a B.A. in Political Science. He attended Liberty University School of Law (Class of '16). Will was law clerk to Virginia Supreme Court Justice Elizabeth McClanahan (2015). He worked for McGuireWoods Consulting in Richmond, Virginia (2015-2018). Will is a member of the Virginia State Bar. Will is a partner in his own firm WAMPLER | WYER with offices in Abingdon, Lynchburg and Winchester, Virginia.  
Wendell Walker
Why do you feel called into the political realm?
Like salt used as a preservative, our lives should help others to be preserved from the sin that surrounds us. As lights, we as Christians should be showing truth and life to the world that does not know the way. Contrary to the common thought that politicians are out of touch with these principles, these have been ingrained into my way of thinking for decades.
How has Liberty University affected your career and political path?
While at Liberty University, one of the principles I learned is that everything rises and falls on leadership. I had teachers and professors who modeled what it means to be a good leader, and I have applied these principles in the work I have done over the years in the political arena.
What does being a Champion for Christ mean to you?
Being a Champion for Christ means that I always remember the grace and mercy of our Lord Jesus Christ. I must always live my life as he would want me to live it, in honesty, integrity, kindness and truth. It means treating people with a loving spirit and generosity. Being a Champion for Christ also means that whatever I do, I do it wholeheartedly and with all my strength and effort.
What is the most prominent issue you hope to address, if elected?
I consider many issues to be very important and do not consider myself to be a "single-issue" candidate. However, one issue that is paramount in importance is defending the right to life. The unborn, as well as those at the end of life and everyone in between, have that most basic right from the Declaration of Independence. The first right from our Creator God is the right to life, and it is our duty to
protect this.
About Walker:
I was born and raised in Georgia and came to Liberty Baptist College in 1975. As a student, I spent some of my years with Dr. Falwell and many other students travelling and spreading a message of patriotism woven with the Gospel of Jesus Christ. I became involved with the Lynchburg Republican City Committee in the 1990s and have since served the Republican Party at various levels of leadership, recruiting and campaigning for conservative Republican candidates at all levels, from local to federal elections.