The School of Business' Back to School event showcases opportunities for Liberty students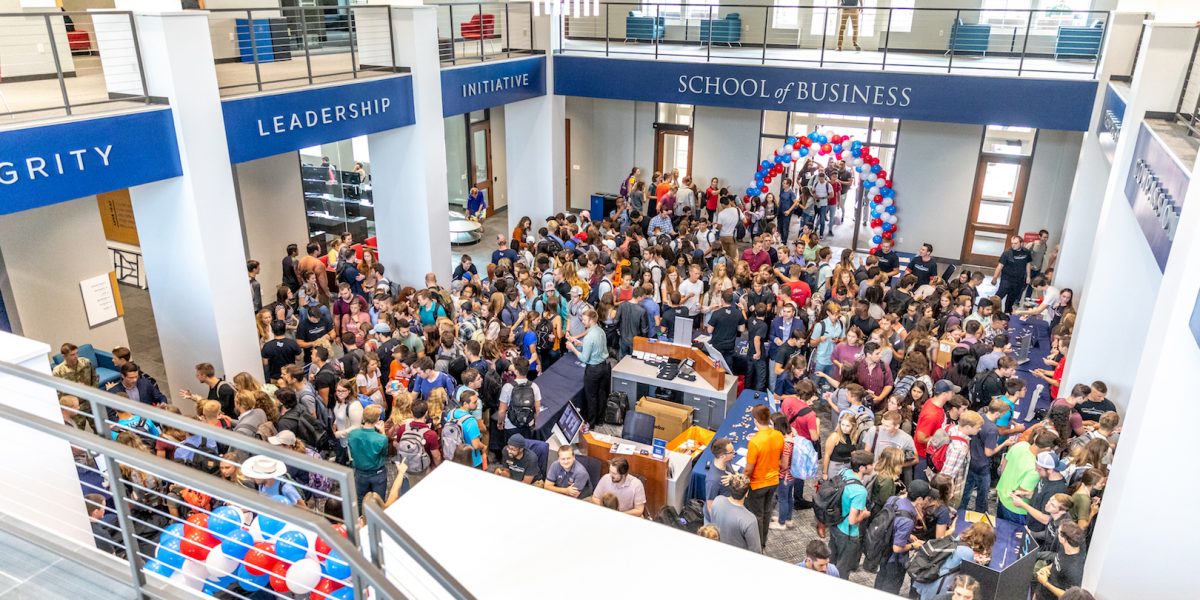 With classes back in full swing, the School of Business hosted its Back to School Bash during the third week of classes in celebration of the new school year. Hundreds of students filled the grand lobby as the event kicked off.
Graduate Student Assistants hosted tables with club organizations where students discovered the variety of clubs offered by Liberty's Business School.  
The Back to School Bash is just the beginning of the events and opportunities that the School of Business has planned for the year. 
The administrators are keenly aware of how important it is to prepare students for life and design the curriculum to provide them with the necessary skills.
"We need to make sure we're paying attention to what's happening out in the business world, so we're aiming our students at the right degrees that aim at the right jobs to help serve firms and our world," Dr. David Brat, dean of the School of Business, said.
Moving forward into the year, Dean Brat explained that they want to continue to show the business world that Liberty students are well-trained and well-equipped. They will succeed out in the field thanks to the valuable real-world experience and applications they are receiving from faculty who have business
experience.
Brat said that the School of Business will be welcoming guests, such as the head of the World Bank, the head of NASA, three world-class public policy leaders from the Heritage Foundation and other CEOs to share their expertise with the students.
Tiffany Towne, the Faculty Support coordinator, said plans to assist students will add to the classroom experience.
"This year our goal is to help students find jobs," Towne said. "We're going to be bringing employers into classrooms, so (students) are getting to talk with people in the field, and they get to learn about the workplace (from professionals)."
Towne noted that the school plans to invite alumni to share their experiences with students through events such as homecoming, Convo Select and classroom presentations.
As the School of Business advances, its leadership hopes to continue to bridge the gap between school and the workplace.
"The business world is taking note of the work ethic, the entrepreneurial spirit and the intellect of our students," Brat said.