Conversations with those who knew Jerry Falwell Sr.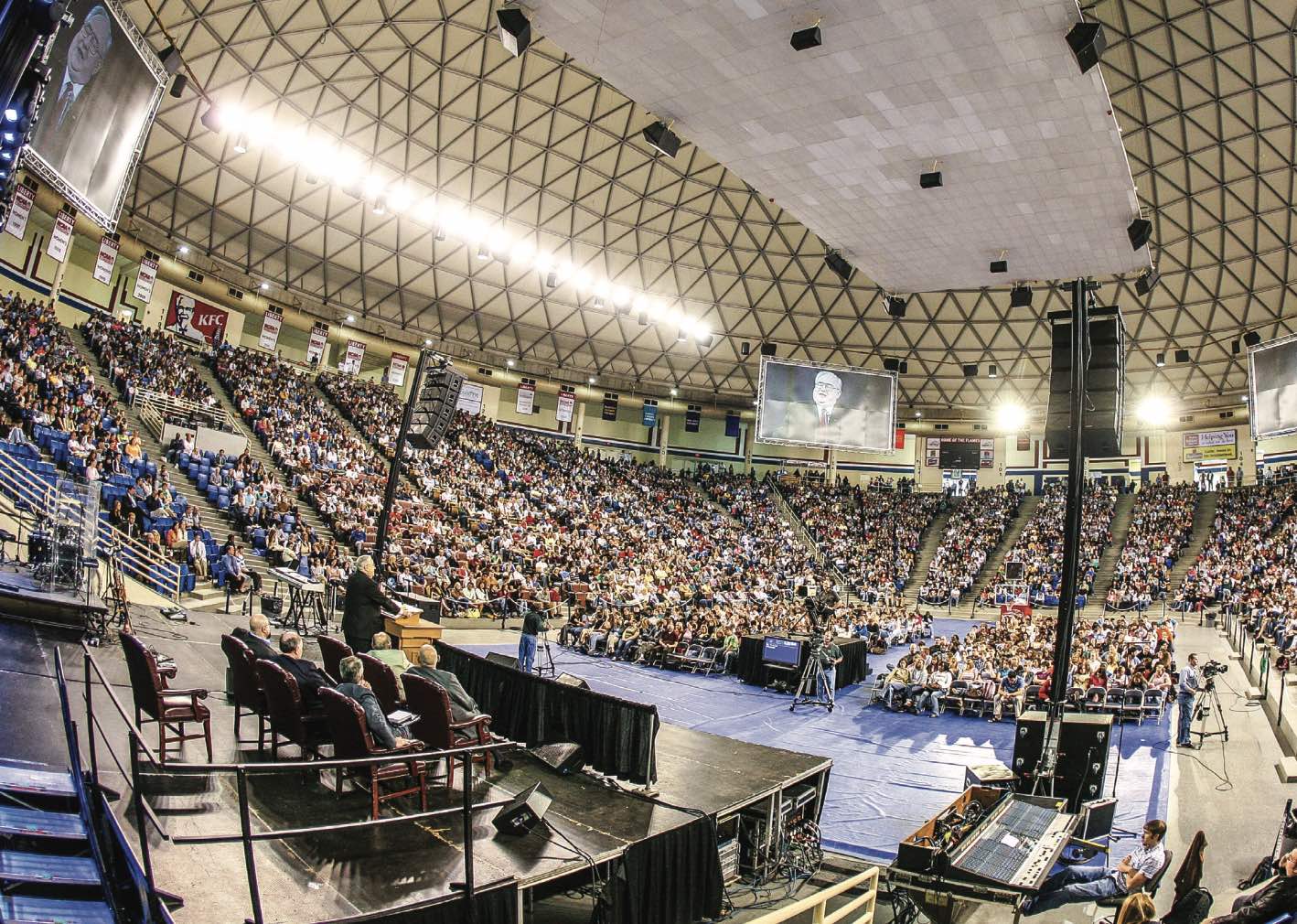 Stories from Ed Hindson, Mark Hine and Ron Hawkins
"Greatest leader that ever lived. He was powerful, strong, challenging, convicting, exciting, interesting, controversial, decisive, never satisfied with progress."
These were Dr. Ed Hindson's first words when asked what it was like to work with Jerry Falwell Sr.
"I remember the first time I met him. He was 39 years old, and he was bigger than life then. Years later, one day in his office, he was on two phones at the same time with Karl Rove, who was the administrative advisor to President Bush at the time, and Charles Stanley, a megachurch pastor in Atlanta. He's talking to Stanley about church stuff on one phone and talking to Rove about political stuff on the other phone. We're waiting to go to lunch, and then he finishes the two calls, walks out in the lobby up at the mansion, and there was a family there who had a high school student visiting Liberty. Jerry immediately changed gears. He went from this high-level dialogue with a leading
pastor and a leading political figure to talking to this kid like he was his best friend. He made everybody feel like he was their friend," Hindson said.
Vice President of Student Affairs Mark Hine has been at Liberty University since the 1970s, and he said that from the beginning, Falwell Sr. had vision unlike anyone else's.
"He used to say bodacious things that would just make your eyes roll like, 'Yeah, that's never going to happen.' And after about five or so years of watching him make these bodacious statements and rolling my eyes, I began to realize, 'This guy's special. He sees things that other people don't see.' He wasn't afraid to say it, and then he stood back and watched it come into existence to the great amazement of everyone around him. And after a few years, when he would say
something, I was taking it to the bank. A lot of people say you can't make a rabbit climb a tree, and he loved to make the rabbit climb a tree. Once he saw the goal, you didn't want to get between him and the goal because you would get run over," Hine said.
Provost and Chief Academic Officer Ron Hawkins said a similar thing about Falwell Sr.'s vision.
"I think working with him was a lot like walking into the presence of Christ in many ways. He was a man who had unusual vision, and he was able to draw you into that vision. The greatest strength Jerry Falwell Sr. had was his ability to envision what wasn't and see it as though it actually existed. He had an amazing capacity to draw you into his vision and to get you to believe that what he was seeing was actually going to happen. We loved working with him and dreaming with him. Even when we doubted, we didn't say so because his faith overwhelmed our doubt. His was just that kind of presence," Hawkins said.
Hine recalled an encounter he had with Falwell Sr. the week before his passing.
"The Friday before he passed on a Tuesday, I was coming back from lunch, and I came by the conference room down in the corner of the building. I saw Doc sitting in the conference room at the end of the table, and he was alone. He was never alone, so I came around the corner, walked into the conference room, 'Hello, Mark,' he said. I said, 'Hey, Doc,' and we had a brief conversation. He stood up, and he was telling me all of the things that were going to be. I had no idea that eternity was so close. I don't know if he did or not. He said, 'Mark, someday there's going to be a medical school up on that mountain.' I'm not sure we were even thinking about a medical school, and he's telling me where its going to be. So from the beginning in the early 70s all the way to the end, he was speaking the vision. And guess what? There's a medical school up on the mountain. It was a brief encounter, but I view it as a precious gift from God for one last personal encounter with the man, humanly speaking, who's responsible for what we see on this mountain. God has always used people in his economy, and there was a person who was willing, faithful, and he just worked. He was a hard worker for God's kingdom," Hine said.
Hine said the thing he misses most about Falwell Sr. is the occasional phone calls he would get when Falwell needed something. Hindson said he misses Falwell Sr.'s bigger-than-life personality.
"It was always fun hearing what he needed and then going after it to accomplish it for him. And, in my position in Student Affairs, there were many occasions when he was reaching out and speaking on behalf of some student that was in trouble. He'd call and say,'Mark,' and I'd say, 'Yes, sir,' and he'd say, 'Is there anything we can do short of dismissal for this student?' And then I'd say, 'Yes, Doc there is. I will make that happen.' They weren't frequent. It wasn't a weekly occurrence, but I miss that big, booming voice on the phone. It was certainly an honor that he trusted me. He would seek my input, and those phone conversations I definitely miss," Hine said.
"(What I miss most is) his gregarious, decisive spontaneity, that he could make big decisions quickly, with a smile on his face and make you glad about it," Hindson said.
Hawkins said Falwell Sr. felt an overwhelming sense of responsibility not just for the university and its
students, but the country as well.
"We were walking up from Vines toward the dedication of Reber-Thomas. I was standing beside him, and he turned around, looked at the young people and said to me, 'Ron, what an awesome responsibility,' and I never forgot that. It was like a private moment between the two of us, and I realized the weight of what he felt — the pure weight of all those young people, this university and the country. Moral Majority was formed because he felt a responsibility for the
country. He believed the country was going in the wrong direction, and in those days for an evangelical, Protestant minister to become engaged in politics, that was an absolute no-no. He had been raised up to believe that preachers didn't get involved in politics. They got involved in missions and evangelism and building churches, but not politics. So when he felt that responsibility, he created the Moral Majority, which became responsible for the election of presidents,"
Hawkins said.
Hawkins and Hine both said that after his relationship with God, nothing mattered more to Falwell Sr. than his family.
"When you look at Dr. Falwell and you see what he did, you wonder, 'How in the world did he have a family life?' but he put family first. There was never a question that after God, his family was the most important thing to him. He never missed events for his kids, never missed birthdays. He loved his wife. She was a little afraid of storms, and I remember one time we were sitting in an important meeting with a lot of the leadership team and he got a call from her. She
reported that there was a storm coming. He got up immediately, left the meeting and went home to be with her because he loved her. If she was afraid, calming her fears was his priority. He was going to go and take care of her first," Hawkins said.
"Now that I've got grandkids, I try to make sure I emulate what I watched him do. He always had time for his kids and his grandkids. As busy as his schedule was, if his grandkids had an event, you weren't getting Doc. He was going to be there for his grandkids, and that's the way he was with his kids too. He always had them with him," Hine said.
Hindson had a difficult time choosing one favorite story to tell.
"There's so many, that's the problem. How do you pull out any? On his 70th birthday, some of us were tasked with keeping him busy so he wouldn't go into the DeMoss lobby because they were holding a surprise 70th birthday party that night. We suggested taking him to lunch downtown. Dr. Godwin, myself and Duke Westover. En route to lunch, on his 70th birthday, he said, 'Well, I have to make a stop on the way at this elderly woman who passed away's house that was an original church member, way back.' We stopped by the poorest, most dilapidated rundown house we could imagine. Usually he would take someone with him when he went in to visit people, but he asked us to stay in the car, and he went in alone. The woman who had died's son was mentally challenged, and he was just thrilled that Jerry Falwell had come to their house. If I remember correctly, I don't even think they could afford a funeral home. I think they had the body in a casket there at the house."
"Jerry rarely carried money in his wallet. He would just stuff cash in his pockets. He stayed in there for at least 20 minutes with them, and when he came out you could see him digging in his pockets, and we all knew what he was doing. He was giving the cash to the son to help them. He came back in the truck, his jovial self, like 'Alright, let's go to lunch. … Anybody got any money?' And we knew he gave away all his money on his 70th birthday to a couple of poor people who desperately needed this help. He didn't want any attention, and he didn't want us to know that. And if we hadn't known him, I wouldn't have known what he was doing, but I had seen him do this several times. That was just him. He was just that kind of person — very spontaneous, but very gracious and very compassionate," Hindson said.