Journey to Israel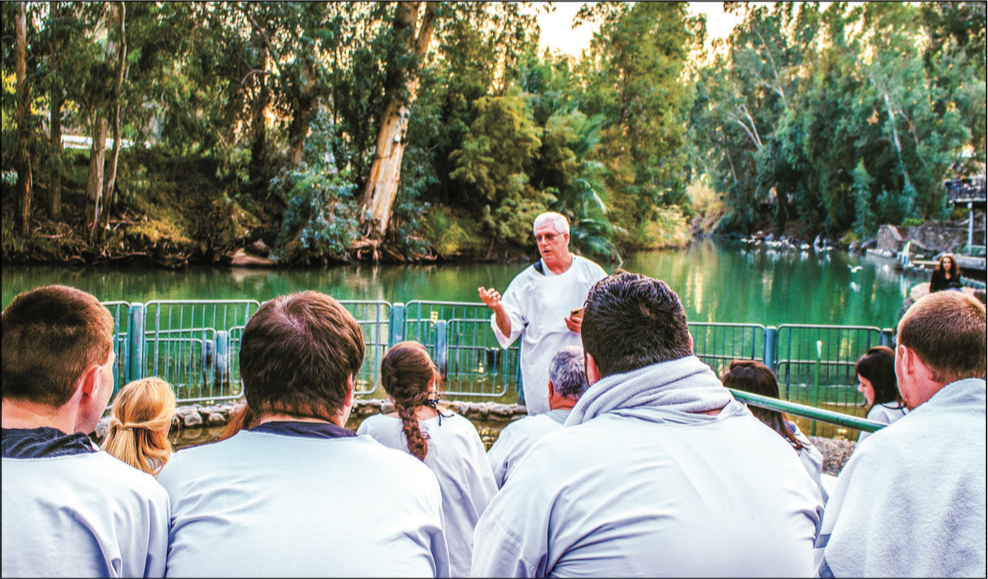 Organization run by former dean of Liberty School of Law gives students the chance to visit the Holy Land
When close to 50 college students gathered at the John F. Kennedy airport one January afternoon, few had met each other in person before.
But they would be off on the adventure of a lifetime in a few short hours which would take them across the Atlantic Ocean to Israel.
These students on Covenant Journey's 12th trip would be visiting biblical and
historical sites around Israel with the goal of strengthening their Christian faith while touring the country.
They would also be bonding as a group.
Run by Liberty Counsel, a nonprofit litigation and policy organization, Covenant Journey is a week-long trip for Christian college-aged students with leadership
abilities to visit Israel.
Mat Staver, the founder of Liberty Counsel, began the trips in 2014 after having traveled to Israel.
Staver first traveled to Israel in 2007 with his wife Anita.
"We had wanted to go to Israel, but we always thought we'd wait 'till everything settles down," Staver said.
"Then we realized it's not been settled for thousands of years, so if we wanted to go, we (had) better go."
From that trip and a later trip in 2010, the Stavers' passion for Israel grew as well as the idea that God would do something long-term with them and Israel.
Covenant Journey would be that connection, with hundreds of college students visiting year after year.
"We did our first trip to Israel called the Liberty Ambassador Counsel trip in September of 2011 that became the template for what was later Covenant Journey, where we combined a typical biblical, spiritual tour with modern (Israeli attractions) as well," Staver said.
On the Covenant Journey trip, students visit the north of Israel while staying in Tiberius.
Sites of interest include the Golan Heights, an abandoned Syrian bunker, a boat ride on the Sea of Galilee, Capernaum and Caesarea Maritima.
Students also have the chance to stay in Jerusalem and visit sites in and around the city.
Highlights include the Mount of Olives, the Garden of Gethsemane and walking through the Old City.
On the final day students travel to the Garden Tomb to culminate the journey.
Though participants on the trip are also exposed to people living in Israel or working in the country, the goal of Covenant Journey is not to change every student into an advocate of Israel, but rather help the students grow in their relationships with God.
"My goal with Covenant Journey is to strengthen their Christian faith," Staver said.
"If we fail there, then the entire program has failed. That's our emphasis. That's our focus. We don't have any other agenda other than to strengthen their Christian faith. I believe by going to Israel and connecting our faith with places and with real people — the Bible becoming alive by your experiences — that you naturally fall in love with Israel and the Jewish people, and you can't help but be an advocate."
Currently, Covenant Journey has around 550 alumni, with the group of students associated with Liberty University reaching almost 70.
Staver, who was a previous dean of the Liberty University School of Law, reached out to Liberty Stand with Israel club members when preparing for the initial Covenant Journey.
Staver said Liberty is the college with the most Covenant Journey attendees.
Though he wants to see Covenant Journey expand beyond the five or six trips each year, Staver said, he would not sacrifice the quality of the trips for a large quantity.
He said he is concerned with making sure the students are led by the best guides and mentors as well as having the right combination of students.
Covenant Journey provides students with the chance to experience a part of the Middle East while learning about the history of God's chosen people with other passionate, college-aged students.
"It has a strong spiritual component to it," Staver said.
"It has a unique blend with past and present Israel too. But, I think in addition to the strong spiritual component, there's the third dynamic and that's the students themselves — the people. You get these young people from around the country. … You bring them all together, and they all have a passion and (are) incredibly talented and exceptionally bright. You put them all together for 10 days, and that in itself is a unique dynamic."
Rodriguez is the editor-in-chief.