Don't take it for granted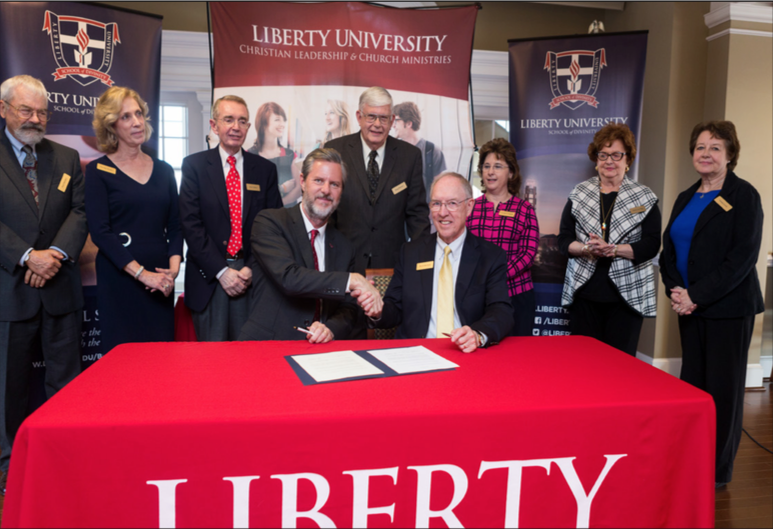 Grant given to school of divinity
Board members of the Charles B. Keesee Educational Fund joined with the Liberty University Rawlings School of Divinity to celebrate the signing of their partnership Thursday, Nov. 3.
The affiliation will allow graduate students in the school of divinity to apply for the grant and receive the financial help needed to further their education and achieve their ministerial goals.
"Right out of the gate, this has unlimited returns," school of divinity Associate Dean Troy Temple said.
"Not only does this provide for their education and training, but it will help them be able to progress at a more efficient rate in finishing their degree programs because they won't have to take smaller loads and extend their time at school. Therefore, they get into the full-time ministry a lot quicker without the stress of academics and finances on their shoulders."
Temple teaches a senior-level capstone course and said he often sees new graduates start their careers with anywhere between $40,000 to $80,000 of debt.
Because of this, he said school of divinity students frequently choose to complete their graduate degrees at other schools where the grant is available.
Temple said the new option will be very helpful for students pursuing further education because it covers tuition, as well as everyday expenses such as rent and electric bills.
"When you're going into full-time vocational ministry, the salary potential is a lot less promising than other majors," Temple said.
"This will go a long way to help eliminate one of the most common barriers … that is that they need to work full-time and it doesn't afford the opportunity for them to pay the tuition necessary for them to complete their degree."
School of divinity Administrative Dean Gabriel Etzel said the scholarship program was initially established in 1940 by Charles B. Keesee for students in Southern Baptist seminaries.
However, he said Liberty was never among the list of approved schools.
"One of our faculty members, Rusty Small, asked us if we had ever considered approaching the Keesee fund to ask if we could become one of the allowed colleges," Etzel said.
"That started a year-long process of meeting with the Keesee board and us demonstrating our commitment to the Baptist tradition and the Southern Baptist convention, as well as the things we do to support and have a strong tie with them."
According to the Liberty University News Service, Liberty is one of two schools to be accepted into the program in 20 years.
"They have historically tried to keep the gate pretty small because they want to be able to contribute significantly to the students who apply," Temple said.
"So if they widen the gate too much, then they can only give students a little instead of helping fewer students with a lot."
Temple said the application focuses on the character and calling of each student, as well as their dreams for ministry.
In addition, each graduate must fill out a detailed financial budget outlining each of their expenses for the semester.
Overall, Temple said the grant is based on need.
"The focus of the Keesee fund is to train individuals who go to work within local church settings," Etzel said.
"We are really interested in helping students reduce the amount of debt they may go into with getting an education."
Etzel said the school of divinity is very excited about the future of their partnership with the Keesee board.
Not only do they hope it will benefit current students in a financial sense, but it will also help them serve and influence others in the ministry.
"I think beyond that, it helps Liberty reaffirm our commitment to training church workers," Temple said.
"The spirit of the Keesee organization is to train church workers, and really, that's at the heart of what we want to do within the school of divinity. It's a great relationship with them."
RUTT is the asst. news editor.