An app of all trades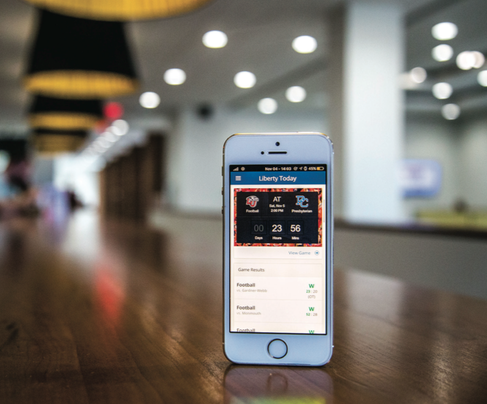 Updated app helps students stay on top of bus route and campus activity
Upon the request of Liberty University students and faculty, a live bus map has been added to the Liberty Today mobile app, allowing users to track the location and ETA of buses.
IT Development (IT DEV) added the "live bus map" module when they updated Liberty Today in October. The new module uses GPS technology to keep up with all the active bus routes on and off Liberty's campus.
The live bus map was designed to make the commute to, from and across campus easier for students, faculty and guests.
Nathan McGlothlin, IT program manager for customer care, said the update has helped users reduce the amount of time they spend waiting for a bus. He said that before the update, users would lose a lot of time waiting for buses because they had no way of knowing when the bus would arrive.
"It was one of the first things I recognized as a need while working here," McGlothlin said.
He said that the app has multiple functions: it provides a real-time view of any bus on the map, gives further information on the bus' current location and ETA to each bus stop, shows all the bus stops, and provides an ETA for the next bus arriving at each stop.
Furthermore, he said that students can also customize the map to show only the route they need. He said this is helpful because there are 13 active bus routes on the map.
Victor Napolillo, mobile team product manager within IT DEV, said the live bus map was a challenging module to develop. He said that Liberty is growing at such a fast pace, it is difficult to keep up with the constant change.
"The simple fact of the matter is Google cannot keep up with us," Napolillo said.
IT wanted the live bus map to be accurate, so they created a map that reflected the campus in its current state. Additionally, they had to update the map regularly to keep up with the constant changes on campus. 
"If you simply use a Google maps overlay, you're going to have buses driving through dorms that aren't even there anymore," Napolillo said.
McGlothlin said that it took IT about two and half months to create the Live Bus Map.
Since releasing the "live bus map," IT continues to find new ways to make life on campus easier for everyone.
McGlothlin said Liberty Today updates about once a month. Based on what students request, the IT staff strives to integrate new modules that fit the needs of the users.
"The students are giving us all of the ideas," McGlothlin said. "When we create something like MyLU or the Liberty Today app, the sole purpose is make the student's experience better."
Napolillo said helping students is what drives him and the IT department to continue developing and updating Liberty Today and to provide the users with tools that can help relieve stress and save time.
"I like to think that, as you are walking around campus, you've got the most useful stuff," Napolillo said. "Before you waste your time walking all the way to a bus stop, to a laundry room, anywhere, you can look down and go 'Hey, the mobile team is looking out for me.'"
According to Napolillo, IT plans on releasing a module to track Math Emporium hours and a dining module that includes a menu, gluten-free options, calorie count and more. He also said that there are plans to improve the Blackboard module, which he said should be released in about three to six  months.
Napolillo said that if the students want it, then IT will create it for them.
"The good Lord willing, and the creek don't rise, we should have that for you by year's end," Napolillo said.
Kehrman is a news reporter.