Acting with the flow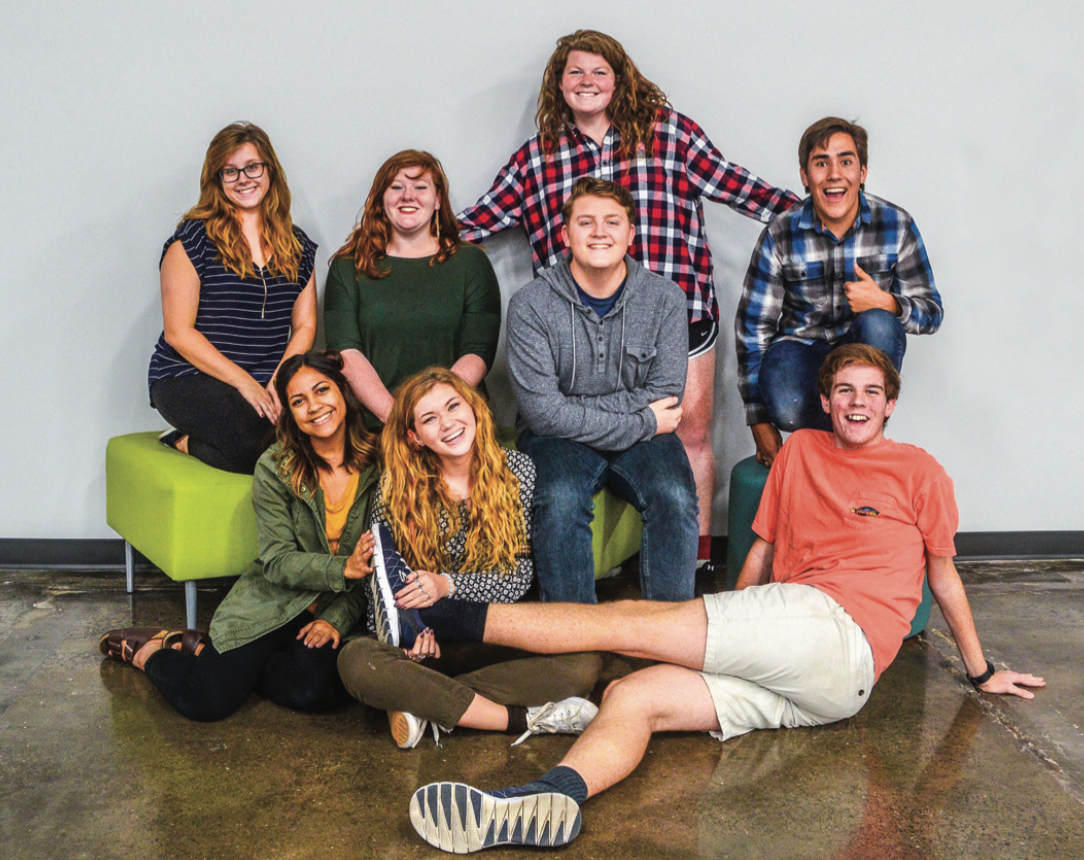 Liberty's first improv club offers a new experience
Millicent Phillips, freshman at Liberty University, was looking through the clubs and organizations that are offered at Liberty when she realized something was missing.
"When I found out I was coming to Liberty I looked and saw they didn't have an improv team, so I knew I wanted to start one," Phillips said.
The summer before beginning her first semester, Phillips contacted club directors and officially became the president of Liberty's first improv team. Phillips gained an interest in improv when she was a sophomore in high school.
"I randomly auditioned and joined a team and was hooked," Phillips said. "I love that it is an outlet for craziness."
She is drawn to the fact that there is always the possibility of anything happening because there are no scripts or lines used.
Improv is a live theatrical performance where the scenes are made up completely in the moment, according to Hide Out Theater's site. Performances are often inspired by suggestions taken from the audience.
"You can be on stage and be silly," Phillips said. "I couldn't do the stress of school without having improv."
Auditions were held at Liberty and Phillips created a group of 10 individuals who hope to perform for the student body once a month.
Stephanie Anderson did not have any experience with improv when she saw the posters for auditions and decided to try it. She is a fan of "Saturday Night Live" and comedian Jimmy Fallon and their style of improv shows.
She was nervous going into the audition because of her lack of experience, but learned quickly.
She believes that being on an improv team will make an impact in other areas of her life as she continues to grow and develop as a person.
"Improv keeps you engaged and always ready for what people throw at you," Anderson said. "I think it's helped me already in opening up quicker and just being myself."
The team meets once a week to practice and prepare for the performances.
Because there are no lines or scripts used, the rehearsals are made up of the different games that take place during performances. Phillips shared that practice allows a time to work on scenes and create characters.
It is also important that the team gets to know each other very well which the small number of members allows. According to Phillips, the nature of improv makes it difficult to have a big group.
"The whole point of improv is listening and being able to understand scene partners, and it is hard to do that with a lot of people," Phillips said.
Knowing each member will also help during performances and make it easier without having scripts, according to Phillips.
Once people are familiar with their teammates it allows them to know when one is about to make a joke or when to move on to something new.
Improv is something that is used to create and develop skills that an individual can use for the rest of their lives.
According to the official website of the Panic and Anxiety Recovery Center, improv is a vehicle for leadership development as it matures crucial life skills.
Phillips believes that improv creates strong friendship bonds and confidence that can be utilized later in life.
She uses the example of public speaking not seeming so scary after performing improv.
"When you walk into a situation and think, 'I've walked onto a stage with no script before so I can walk into this room and talk to people I've never met' — it helps," Phillips said.
The goal of Liberty's improv team is to establish their shows as an anticipated event, according to Phillips.
"We want our shows to be a time of laughing where people can go and enjoy a break," Phillips said. "We want people to come because they know they are going to have a good time."
According to Phillips the first rule of improv is known as the "yes, and" rule.
This phrase means that instead of just answering a question with yes or no, an answer is given to move the scene forward.
It allows the person to accept the information given and to then add to it making the scene interesting.
This idea is something that Phillips hopes to keep in her life even if she stops working in improv.
"That principle of saying 'yes, and' — saying I accept what you've given me in a scene and I'm going to add to it and move forward — is something that can really apply to your life and even your relationship with God," Phillips said.
Whittaker is a feature reporter.