Fan the Flames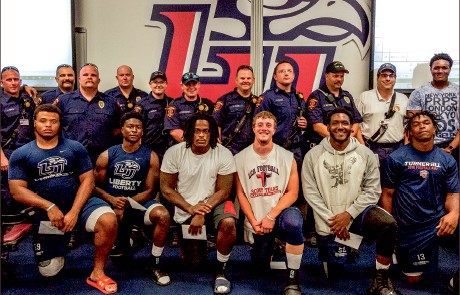 Football players help rescue boy in summer fire
Marquel Franklin sat on the second-story ledge of his burning house with nowhere to go, just seconds before the floor beneath him would crumble.
A group of Liberty University football players stood below encouraging him to jump if he wanted to survive.
Franklin leapt, escaping the flames seconds after the floor underneath him collapsed, and the football players carried him away to safety.
The athletes were riding in a vehicle through a neighborhood in Lynchburg in July with their windows down when they felt a sudden rush of heat surround the car.
They looked over and saw a house almost completely engulfed in flames.
"We felt the heat through the car," Liberty defensive end Juwan Wells said. "We immediately parked somewhere safe, and then we went across the street, and we asked the family if there were any more people inside."
Two children had escaped the house, and they told the players on the sidewalk that Marquel Franklin, a 13-year-old boy, had not made it out.
"We heard a scream from the back of the house, so we ran to the back of the house," Liberty defensive end Javon Frazier said.
The players found Franklin at the rear of the house, trapped on a ledge on the second story of the home as the fire continued to spread.
"He was pretty much sitting in the flames," Frazier said.
Like any 13-year-old, Franklin was afraid of jumping out of his window.
"He was scared to jump," Wells said. "We encouraged him to jump. We finally got into his head that the best thing to do was to jump."
Franklin jumped just in time.
He landed in the arms of his cousin, one of the children who escaped earlier. Marquel injured his foot from the jump and was unable to walk.
"I carried him to the neighbor's house and put him on the ground," Frazier said. "That's when we got him out."
The players also assisted responding firemen by carrying the large, heavy hoses for them across the street so the fire could be put out before it spread to the homes of neighbors.
Frazier and Wells both believe this event serves as an exceptional representation of the Liberty football program as a whole.
"I think it really goes by what Liberty stands for, just serving people through Christ and doing what we can to help the community," Frazier said. "(Head Football Coach Turner Gill) wants good, positive role models in the community. It feels good to say you can help somebody in a situation like that. It's just a blessing you can help somebody's life for a quick second with what you do."
"We have guys that are willing to step out into the community any time something goes wrong," Wells said. "It shows that we have high character for our community and the city we live in."
Franklin's mother, Shalita Franklin, had the opportunity to come visit the Flames football team after a recent practice and told them how thankful she was for their bravery in saving her son.
"She was just thankful that we put our lives on the line to save a complete stranger we didn't know anything about," Frazier said.
"She came out here in front of a bunch of strangers and expressed her gratitude toward us. She was in tears."
What impressed Shalita Franklin the most was the complete lack of selfishness displayed by the Liberty athletes.
"The football players could have been injured or hurt," Shalita Franklin said. "They put their lives at risk and their football careers at risk. They didn't think twice about it. All they cared about was helping my kids, and they helped the firemen to contain the fire. They didn't just save my kids. They helped save the lives of others around me. When I talked to them, I couldn't talk to them without being in tears. They were my heroes. They're a great group of guys."
Marquel Franklin also made the trip to football practice with his mother to show his gratitude to the team.
"(Marquel) was real happy," Frazier said. "He was more excited that there (were) football players around him than anything."
In total, nine players from Liberty's football team were identified by the Lynchburg Fire Department for their service: Javon Frazier, Juwan Wells, Will Brown, Rion Davis, Mitchell Lewis, Malik Matthews, Korell Evans, Michael Anderson and Cameron Jones.
Dillard is the asst. sports editor.