SGA ceremony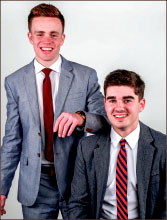 2016 inauguration to be held May 3
The Liberty University Student body elected Jack Heaphy and Luke Welgoss as the 2016-2017 Student Government Association (SGA) president and vice president respectively April 1, and they will be formally inaugurated May 3.
This year's inauguration will be held in the Hancock Welcome Center.
The ceremony will include speeches from Dr. Mark Hine, Liberty University senior vice president for Student Affairs, and members of the current administration including current Student Body President Quincy Thompson and Student Court Chief Justice Jacob Broadway.
"It will definitely be a more formal inauguration than in years past," Heaphy said.
"It is something that Quincy and I had talked about leading back a couple of months even before the election. He said that it would be good for SGA because it would add legitimacy."
After being sworn in, Heaphy and Welgoss will each be giving a brief speech on their plans and goals for the upcoming school year.
"It gives us the opportunity to share our plans are for next year, and I think that is good to just increase transparency with the student body."
Heaphy is currently serving in SGA as vice president and has participated in many of the changes that took place over the past year including changes to how the legislative SGA members are chosen and how the organization is structured.
"Over the last several years we have been working on a new constitution," Heaphy said.
"Overall I think that Quincy laid great groundwork for a system that is built to last, and I think that we will really be able to really capitalize and continue to, instead of focusing on fixing the internals of SGA we will really be able to just stand on that solid foundation that Quincy built over his four years in SGA."
In deciding to run for president, Heaphy felt that his experience working with Thompson made him the most qualified candidate and the best to fill the position that Thompson has held for the past two years.
"I just learned so much over just the course of a couple of months working alongside Quincy," Heaphy said.
"I thought that I was the best equipped to lead SGA after he graduated, and so I decided around Christmas time that I was going to run for president."
Heaphy approached Welgoss about running with him in the vice president slot.
Heaphy said that Welgoss's surprise at being asked sealed the deal as it showed that he was not looking to be moved up in SGA but rather that he was there to service his classmates through SGA.
"It wasn't hard to come to the decision of having Luke as my vice president," Heaphy said.
"I had gotten to know him better over the past year and seen his work ethic and character and I thought he would be someone who would really grow and thrive in the position."
This was Welgoss's first year serving in SGA however his role working as a club coordinator means that he has seen many of the changes to how SGA works with clubs in person.
"Just getting to work together and represent students is something we are both very clearly passionate about," Welgoss said.
"I am very passionate about clubs, I worked in the clubs department this year, so I am interested in seeing the new process that was implemented this past year continue to get better and better."
As the fall school year approaches, both Heaphy and Welgoss are eager to work with both new and returning members of SGA to serve the needs of their fellow classmates.
"(SGA) is really a community based thing where it's a group of students who are passionate about this university and want to see it better," Heaphy said.
"So I'm just excited about seeing more people get involved and being able to walk alongside them to help continue to make Liberty University the greatest campus on earth."
lapp is a news reporter.