Living healthy this semester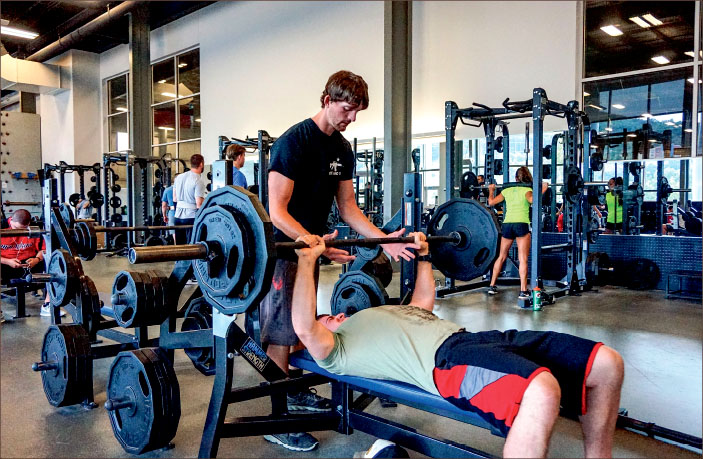 Students sign up for semester-long challenge to encourage positive habits
During the last week of August, the Live Healthy Liberty initiative kicked off a wellness challenge that aims at improving students' spiritual, mental and physical health.
According to the Live Healthy Liberty website, "96% of employees and 91% of students are interested in wellness promotion activities at Liberty.
Live Healthy Liberty is a collaborative campus wide effort in response to these findings and our focus is to promote holistic well-being."
Jamie Swyers, the associate director of Fitness and Programming at the LaHaye Student Union, said Live Healthy Liberty is a revamped version of the pilot program that ran after spring break last semester. Swyers said that this semester's campus-wide health challenge is on a larger scale because it is a full semester long and includes more than 80 different events within the challenge period. The event has a maximum of 2,500 people, and Swyers said she would like to fill all of the spots as soon as possible.
According to the Live Healthy Liberty website, this year's partners include the Campus Pastor's Office, Student Counseling Services, Dining Services, Campus Farm, Student Activities/Outdoor Recreation, Digital Wellness and Liberty Online Communities.
Swyers said the challenge runs from Aug. 24 – Dec. 5 and is open to students and Liberty employees, but they compete separately. The challenge allows the top teams, ranging from four to eight people, as well as the top three individual participants to win prizes that total more than $700 combined. According to the Live Healthy Liberty Website, prizes include gift cards, campus farm produce, personal training packages, race vouchers, T-shirts, workout gear and other various prizes.
"Students and employees will log in with their Liberty ID and receive points for exercise, nutrition and wellness," Swyers said. "Participants will also be able to receive credit for attending wellness-related events on campus."
Swyers said that through the Live Healthy website, participants can track their points and see the leaderboard.
Swyers broke down the purpose of Live Healthy Liberty and explained the first goal of the challenge.
"One of the purposes of the challenge, and the Live Healthy Liberty initiative as a whole, is to create a community of people invested in creating a culture of wellness at our university."
The second goal of the challenge is that it serves to connect students and faculty to resources already available to them such as cooking demonstrations and exercise classes, according to Swyers.
Swyers explained that the third reason for Live Healthy Liberty is to encourage participants throughout the semester and give them incentive to live healthy.
"(Live Healthy Liberty) is a way to encourage students and employees to continue to pursue healthy habits when the semester is stressful or when work is busy and there is a lot going on," Swyers said. "Initiatives like this give support to individuals as they strive to live a healthy lifestyle- which encompasses more than just physical health, but emotional and spiritual wellness as well."
For more information and to sign up for the challenge, visit Liberty.edu/LiveHealthy.
Foley is the asst. news editor.