Fresh start for freshman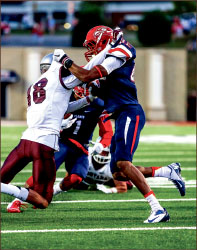 Flames wide receiver looks to turn it around
When Liberty wide receivers stayed late after practice for some extra drills, it was not difficult to notice the lanky, long-armed redshirt freshman wearing the No. 82.
The man in the No. 82, Flames wide receiver B.J. Farrow, always knew college football was close to a guarantee.
A three-time first-team all-state selection for Liberty Christian Academy in Lynchburg, where he was a part of a team that won three consecutive state championships, Farrow knew he would be playing college football. The question was not if, but where.
Many teams showed interest in the 6-foot-2-inch, 170 lb. wide receiver, including the University of Virginia, Virginia Tech, the University of North Carolina and a handful of other ACC schools, but only one school stuck with Farrow through his academic struggles.
Farrow struggled academically through high school, which prevented some of the larger schools from turning their interest into offers.
"They didn't take a chance on me like Liberty did," Farrow said. Liberty extended Farrow an offer, and it was their faith in him that made the decision to come to Liberty an easy choice.
"It was close to home, (and) they put faith in me that I can get through what I was supposed to get through," Farrow said. "They were faithful to me and my first offer, so I just felt like it was the right place for me to be."
The Flames decision to give Farrow a chance is proving to be a good one. They chose to grayshirt Farrow for his first year in order to give him an opportunity to improve his grades. Farrow did just that.
Farrow first took the field for the Flames this season, and he has stepped in and contributed right away. Four games into the season, he is third on the team in receptions with 14, and the immediate impact he has had is certainly gratifying.
"It's pretty exciting, you know, I've been out of football for a year, so it's good to finally get back into the swing of things," Farrow said. "I'm just trying to keep on doing what I'm doing and improving as a player."
It seems as though the transition for Farrow has come easily, considering his early impact, but he does attest to the fact that the game is certainly bigger in college.
"In college, I'd say it's a little bit faster, the guys are a little bigger, so you (have) to put more effort and more time into making yourself a better player," Farrow said.
The extra effort that Farrow is putting into the game is clear not only on the football field, but in the classroom. For Farrow, who is majoring in business administration with a concentration in marketing, the desire to receive an education has become his primary goal during his time at Liberty.
"The main thing is just to get my degree," Farrow said. "If the NFL works out, then it works out, but I'm mainly just trying to get my degree."
As the Flames will lose senior wide receiver Darrin Peterson next year to graduation, the younger receivers on the team will have to step up and replace Peterson's production. Farrow is at the forefront of the young talent on the roster.
If his first four games as a Liberty Flame have been any indication, Liberty's receiving corps will be in capable hands when Farrow and the other underclassmen move into starting roles next season.
Farrow received Big South Freshman of the Week honors for his performance in Liberty's loss to Southern Illinois.
Farrow and the Flames travel to Atlanta, Georgia this week for an FBS clash with the Georgia State Panthers Saturday, Oct. 3 at 3:30 p.m.
Husker is a sports reporter.