Community impacted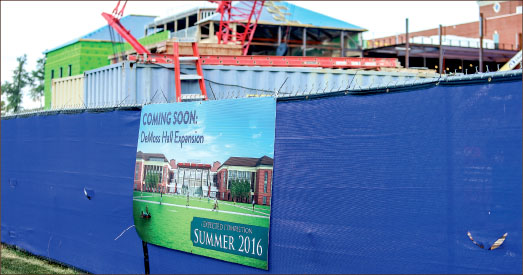 Liberty's substantial enrollment growth causes need for energy adjustments
Appalachian Power began work on a $28 million transmission improvement project this summer in order to accommodate the growing needs of Liberty University and the Lynchburg area.
Liberty's enrollment has increased by more than 800 percent over the past 20 years and is expected to continue growing as the university predicts residential enrollment to exceed 15,000 students by 2020, according to a November 2014 Magnum Economics report on the Lynchburg area. In order to accommodate this growth, Liberty is in the middle of a $500 million construction project, which includes renovations to existing academic and athletic facilities and the construction of new residence halls.
The construction of new buildings and the increased number of students on campus has also led to an unavoidable increase in energy usage. John Shepelwich, a representative for Appalachian Power, said that the company started to see the need for improvements to its system back in 2011.
Liberty's growth and its impact on commerce in the Lynchburg area played a large role in deciding to start the project.
"Liberty is a large customer which uses a lot of energy and needs reliable power," Shepelwich said. "In addition to that, it creates other businesses that also require power and increase the demand on our business."
The project will include the construction of a new substation and approximately nine miles of transmission line to connect it with existing substations, according to a November 2013 Appalachian Power news release. The new Lynbrook substation will provide added service for northern Campbell County while reducing the strain on existing substations.
"We look for weaknesses in that (power) grid because weaknesses in one spot and lack of reliability in that one spot could be caused by increased demand, which creates problems elsewhere in that grid system," Shepelwich said Appalachian Power hopes that the transmission improvements will address the current weaknesses in their system in order to provide a stronger, safer and more reliable service for their customers. The project is also meant as a way to prepare the electrical grid to handle the region's continued growth.
According to Shepelwich, the growing energy needs of the Lynchburg area are also a good sign for the region's economy.
"(The) Lynchburg area is one of the few areas within the Appalachian Power system in Virginia and West Virginia that is actually growing right now," Shepelwich said. "Growth of energy demand is a really good way to measure economic or business growth within an area."
When planning the project, Appalachian Power also worked to make sure that the new power lines would disrupt the surrounding areas as little as possible. According to Appalachian Power's website, approximately 70 percent of the new lines will be built along existing road, railroad and utility right of way.
"You look at a map and you see the existing right of way is the best thing for us and for customers and property owners because it doesn't disturb any additional property," Shepelwich said. "When we do build, and it has to go across some relatively undeveloped property, we do our best to bring it back to within the original shape of (what it looked like) prior to the time a tower was put into place."
Construction for the Lynbrook substation began this past June, and Appalachian Power anticipates that the project will be completed by June 2017.

LAPP is a news reporter.