Broadcasting the truth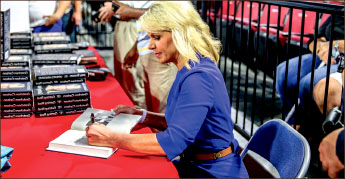 Fox News host Gretchen Carlson visits Liberty to share about her career
Gretchen Carlson, Fox News Channel host and 1989 Miss America, taught students how "God works in mysterious ways" by sharing stories of her successes and struggles in her life and career during Convocation Friday, Sept. 25.
In a Q&A hosted by Senior Vice President for Spiritual Development David Nasser, Carlson began by explaining how, early in her life, her family demonstrated the importance of the Christian faith.
"I spent a tremendous amount of time in the church growing up, whether it was performing my violin … or singing in the choir, or going on mission trips," Carlson said. "It really just became the foundation of my life, and I've been so blessed to keep that as the main foundation of my life."
Carlson, author of her newly-released book "Getting Real" and host of Fox News' "The Real Story with Gretchen Carlson," said she originally planned on pursuing a career as a violinist, but after feeling "burned out" from the violin as a teenager, she chose to attend Stanford University with plans to go to law school. Her career in television was born incidentally when she was featured on the show TV's Bloopers & Practical Jokes after being crowned Miss America.
The show's producers deceived her into thinking she was going to co-host a segment introducing a new product with two other hosts, but just seconds before they went live, she was left alone in front of the cameras.
"All of the sudden, the other hosts get called off — emergency call, the other microphone doesn't work — and suddenly I'm standing there by myself on stage and the floor director … looks at me and says … 'We're coming to you live in 5,4,3,2. Just start talking,'" Carlson said.
Carlson filled the time by introducing herself and trying to explain the product, and after several moments, producers came over the speakers and informed her the broadcast was a practical joke.
Although she was embarrassed by the incident, television agents were so impressed with her impromptu performance in front of the cameras, they offered her positions at their stations.
"Sometimes when we look at the pitfalls and the failures in our life, (it) can end up pointing us in a direction where we see success," Carlson said. "We appreciate success and achievements so much more when we go through those difficult times."
Carlson's new pursuit quickly led her into "the toughest year of (her) life." She was fired from one of her earliest television jobs just weeks after getting married. She later moved to Dallas, Texas while her husband stayed in Cleveland, Ohio. She credits her faith for keeping them strong during that time.
"If you don't have God as your foundation through these difficult times, you don't make it," Carlson said. "Thankfully my husband and I both had that faith, and it kept us going."
She eventually became a co-host of "Fox and Friends," a position that left her open to the criticism associated with being in the public eye. She encouraged the students to ensure their identities were found in their faith.
"Whether it's social media or me being on television talking about my faith and (facing criticism), you have to have self-esteem built from the inside of your soul to be able to take that on," Carlson said.
After serving in that position for close to seven years, the chairman of her company approached her with the opportunity for her to host her own show, the position she still holds today.
"It's so important in life to always challenge yourself and take on a new goal no matter how old you are or how young you are," Carlson said.
Clarke is a copy editor.