Banking on the future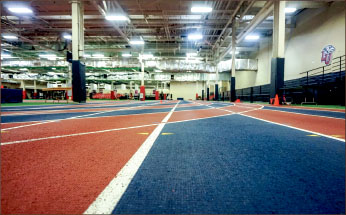 Plans to begin construction on new banked indoor track and field facility
Liberty University is preparing to construct a new 130,000-square-foot indoor track and field facility that is expected to open in the fall of 2016, according to Liberty
University Athletics.
The new facility is dedicated specifically to the NCAA Division I program.
Liberty's Head Track and Field Coach Brant Tolsma said the groundbreaking should take place sometime within the next month.
The indoor track and field facility will be located below the LU monogram on the Liberty Mountain, off of Candlers Mountain Road. It will replace the team's current facility, the Tolsma Indoor Track Center in Green Hall.
"When (the track team) got (the Green Hall facility) originally, (the team) didn't know what it was going to do with all that amount of space," Tolsma said. "Since that time … (it has not been) the best place for an indoor track. … It would have been really great to get a little further (away from main campus) where we (would not) have all the traffic problems, but it's primarily the expanding of the school of communication and the growth of it that's causing (the construction of the new center) to take place at this time," Tolsma said.
The new center will feature a hydraulically banked 200-meter track with curves that can be raised or lowered for different events. Tolsma said this is the most crucial component that really sets the facility apart from any other indoor tracks in the mid-Atlantic region.
"People like to run fast," Tolsma said. "Indoors, it's hard to run fast because the tracks are small, so you (have to) make more turns. A banked track is superior to a flat track."
Not only that, the facility includes accommodations for field events, locker rooms, weight and training rooms, coaches' offices, concessions and seating for 1,500 spectators.
"It will be one of the best indoor tracks in the country, and we believe it will prove to be a huge benefit to our already highly successful track program," Director of Athletics Jeff Barber said. "It will be a facility that will draw the best track athletes in the country. … It will also be a tremendous place for our fans to come and watch us compete."
Phuong is a news reporter.