Leadership laden Lady Flames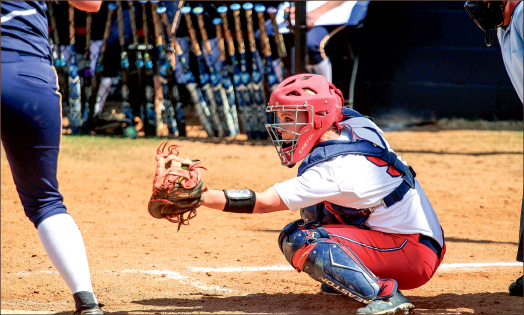 Seniors Jamie Crisp, Kelby Allen and Megan Robinson embrace changes
The Lady Flames softball team has experienced a world of change over the past few years: a new coach, new stadium and lots of new talent. Seniors Jamie Crisp, Kelby Allen and Megan Robinson have certainly come a long way on the journey.
These Lady Flames have been through a lot, including a complete program shift when Dot Richardson was hired as the head coach in July 2013.
"We were going to be juniors, but it was like we were starting all over, so everyone was a freshman again," Robinson said. "That was a little tough at first, … but we learned really quickly that the coaches are obviously so invested in our lives and love us, care about us, and want the best for us on and off the field."
While the change was initially intimidating, the trio is grateful for all that has come as a result.
"Being in the middle of the transition was very different at first," Crisp said. "These coaches came in wanting to take this program to the next level, and that's exactly what they're doing."
Allen noted the motivation that has come under Richardson's leadership has pushed her and her teammates like never before, bringing a whole new level of success.
"Well, we've never won this many games, so that speaks for itself," Allen said. "Everyone's just matured so fast. … There's not a weak spot in the lineup. … It's pretty stacked and it's only going to get better because (many of them) are only freshmen."
Though these seniors were not her recruits, Richardson was able to form a bond and help lead them to their most successful seasons at Liberty. Robinson, Allen and Crisp are everyday starters and currently post career-high batting averages of .319, .320 and .250, respectively.
"Well, (coaching them) was quite easy because all three of them are Christ-centered," Richardson said. "… They're such godly women, (and) I'm living the dream here coaching because I have players like them."
The seniors made it to the promised land that is the Liberty Softball Stadium, which was completed in January 2015. Robinson recorded the first hit and Allen had the first home run, forever leaving a mark in program history.
"Last year, I remember being on this pile of dirt that was the old baseball field," Allen said. "… Then I feel like I woke up one day and this (stadium) is here. It's the biggest blessing to the Liberty softball program."
With so many different bells and whistles, the new stadium is adored by players and fans alike. The locker room is an obvious team favorite, but Robinson did not let her love for second base go unnoted.
"It's honestly the most surreal feeling playing in the stadium and especially under lights," Crisp said. "The past three years, we maybe had 75 to 100 people at our games, and this season we hit 800. It was unreal."
The trio has been able to compile countless memories over the past four years of ups and downs, but there are a few that they remember vividly.
Allen, Crisp and Robinson all agreed that one of their best moments came in a 10-7 win over Charleston Southern April 12, when Crisp hit a grand slam that included all three of them.
Crisp has plenty of great memories as a Lady Flame, but one that she remembers the most went far beyond the diamond.
"One of the best memories I have was last year on April 24 against (East Tennessee State University) hitting my first and second collegiate home runs in the same game on the fourth anniversary of my father's death, who actually lost his life on the softball field," Crisp said.
For this group, softball has been a game that brings maturation both on and off the field.
"(Softball has) been one of the greatest challenges of my life," Robinson said. "It's been a real challenge … in a good way. It's been a great opportunity to be around people that love God and want to use this sport to show others that they love God and show the love of God to others."
Allen emphasized the bittersweet feelings the seniors share, as they know they are approaching the final weeks playing a sport they have known almost all of their lives. She said that long before suiting up in their Liberty jerseys, these girls devoted their time to school teams and travel ball.
"It's been really great to grow up here," Robinson said. "(Those within the program) have been great influences, great teammates, great friends and really it's been a family. … Especially being with Kelby and Jamie, those are friendships we're going to have forever."

Carter is a sports reporter.