Pope affirms evolution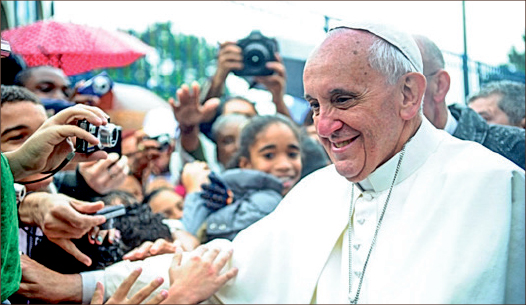 Catholic leader causes uproar as he voices support for 'Big Bang' theory
"When we read in Genesis the account of creation, we run the risk of imagining that God was a magician with a magic wand able to do everything. But that is not so."
These words might sound as if they came from some controversial preacher. But they did not. They were spoken by Pope Francis to an audience from the Pontifical Academy of Science Oct. 27, according to Newsweek. In that speech, he officially affirmed that the Catholic Church believes in both evolution and the Big Bang theory, although with the addition of God into the equation.
"The Big Bang that today is considered to be the origin of the world does not contradict the creative intervention of God," Francis said to his audience. "On the contrary, it requires it."
Merriam-Webster defines the Big Bang as, "the cosmic explosion that marked the beginning to the universe according to the big bang theory." Based on that definition, I am inclined to give that particular point to the pope. Genesis 1:1 (NIV) says, "God created the heavens and the earth." There is no explanation given of exactly how he did that. While I believe it to be unlikely, there is a possibility, however remote, that he chose to create our universe through the rapid expansion of highly condensed matter.
Francis then went into further detail about exactly how the universe was created. He said creation was not one single event, but that it "went forward for centuries and centuries, millennia and millennia until it became what we know today."
That was the part where Francis lost me. His statement brings up two assertions, both of which I disagree with. The biggest issue, of course, is that of evolution. But hidden within that is another assertion — that creation itself took thousands of years.
Back to the first chapter of Genesis. The Bible clearly states creation as taking six days. In the NIV, each set of verses describing a day ends with, "And there was evening, and there was morning — the (fill in the blank) day." According to God and Science, a website dedicated to showing evidence for God, there is some debate among scholars as to the meaning of the particular Hebrew word used to mean "day" because it can occasionally mean a long period of time. However, the fact that each day is described as having an evening and a morning seems to me to indicate pretty strongly that they were, in fact, literal days.
There is another point that convinces me each day was literal. According to Genesis 1:11, plants were created on the third day. However, the sun, whose light plants need in order to survive, did not come into existence until day four. As the Institute for Creation Research points out, that would be fine so long as the days were actually literal. But if each day represented thousands of years, the plants would have died long before the sun came into being, let alone any other forms of life.
Putting all of that aside, the biggest issue I had with Francis' speech was his assertion that evolution actually happened.
"Evolution in nature is not in contrast with the notion of divine creation because evolution requires the creation of the beings that evolve," Francis said.
He went on to say that God has indeed used evolution to create the forms of life we know today.
"(God) created beings and left them to develop according to the internal laws that he gave each one, so that they would reach their fulfillment," Francis said.
This is an argument I have heard quite often in attempts to reconcile evolution and the Bible. Is it not possible that God simply created a handful of life forms and then guided evolution to do the rest? The short answer is yes. It is entirely possible. But is that actually what happened? I believe the answer to be a resounding "No."
When Genesis 1 talks about the creation of the plants, the sea life, the birds and the land animals, the NIV uses a variation of the phrase "God created them … according to their kind" each time. That sounds to me as if each type of animal was created specifically. Rather than making a few birds, a few fish and a few land animals, I believe God carefully created each type of animal.
The pope said God is not a magician, and I agree with him. God is far more powerful than a simple charlatan performing parlor tricks on the sidewalk. God created the entire universe. So why would a God with that much power create a prototype and then sit back and watch for thousands of years as it slowly turned into what he meant for it to be? Would he not simply jump straight to the final model? I know I would.
There is one final factor that leads me to believe God did not use evolution to perfect life. Near the end of each set of creation verses, the NIV says, "And God saw that it was good." To me, that sounds like he was satisfied with his work. This is further evidenced by his resting on the seventh day. He was happy with his creation.
As a creative type myself, I know how critical creatives are of their own work. We slave over a piece until we are satisfied. Just the other night, I stayed up until 2 a.m. working on a Photoshop project because I wanted to be sure every detail was perfect. Only when I was completely happy with my creation did I allow myself to turn off the light and go to bed.
God is the master creator. Would he not be the same way? Why would he paint the canvas of our universe, call it good and then sit back and watch the canvas morph into what he really wanted it to be? As the very standard of perfection, would he not pour his heart into his work until he was completely satisfied? True, this is no scientific argument. It is only conjecture from a human mind whose love of creating is dwarfed into nothingness compared to that of her creator. But somehow I just cannot envision the being who created creativity itself as being satisfied with anything less than exactly what he set out to make.
In the end, the debate is not really about science versus religion or creationism versus evolution. At the end of the day, I believe it all comes down to this — do we accept the Bible, word for word, as the true and inerrant word of God, regardless of what the world tells us? That may be the most important question we ever ask ourselves. Do we believe it? There can be no middle ground, no riding of the fence. Either we believe or we do not. It is as simple as that.
BROWND is a copy editor.