Men's, women's tennis teams fall in tourney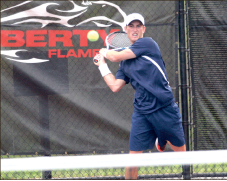 Flames ousted in the quarterfinals as the Lady Flames lose in the semifinals to No. 1 seeded Winthrop
Men's Tennis
The Liberty University men's tennis team lost 4-3 to the No. 2 Campbell Fighting Camels in the quarterfinals of the Big South Championship, Thursday, April 18, after a Fighting Camels rally.
Shea Thomas, won his singles match (6-1, 6-4), giving the Flames an early 3-0 advantage.
"I beat my opponent a couple weeks ago when Campbell was here playing against us," Thomas said. "I knew that his forehand breaks down after four or five shots, so I just kept myself in the points and attacked his forehand."
After a brief rain delay, Campbell mounted a furious comeback, evening the score, 3-3. The match came down to the final point between Liberty sophomore Jorge Azuero and Campbell senior David Clavera.
The first eight points of the third set were split evenly between Clavera and Azuero. However, Clavera claimed the final two points, clinching the match for Campbell.
"Our guys fought hard every match. The whole season came down to a few very close matches," Flames Head Coach Chris Johnson said. "I am very proud of the character that our team has shown the entire year."
Thomas, who has the Flames fourth-best winning percentage in Liberty history, looks forward to continuing his success next year for his senior season.
"I'm looking forward to being a leader on the team," Thomas said. "Our team is always giving 110 percent on the court. I have never been more proud of my teammates than I am right now."
The Flames finished their season 11-11, with a 3-5 conference record.
Women's Tennis
After defeating the Coastal Carolina Chanticleers in the quarterfinals, the Lady Flames tennis season came to a close when they lost to the Winthrop Eagles, 4-0 in the semifinals of the Big South Championship.
"Today, we saw the fruits of our labor as the team played well from start to finish," Head Coach Jeff Maren said to libertyflames.com. "I couldn't be more proud of our girls."
The Lady Flames opened the quarterfinals match with strong play from the No. 1 doubles pairing of Rebekah Jenkins and Nicola Wellman, who defeated the Chanticleers No. 1 duo, 8-2.
The Lady Flames No. 2 pairing of Brittany Yang and Jessie Boda also won their match, 8-4.
Liberty defeated Coastal Carolina 4-2 in singles play with the Chanticleers only point of the match coming from No. 1 Libby Scott, who defeated Liberty's No. 1 Cameron Richard (6-4, 6-3).
In the semifinals, Winthrop's No. 1 doubles pairing defeated Liberty's No. 1 pairing of Jenkins and Wellman, 8-0, and Winthrop's No. 3 pairing were victorious against Liberty's No. 3 Richard and Valerie Thong, 8-5, to give the Eagles an early 2-0 lead.
The loss brought Liberty's record to 11-11 in new Head Coach Jeff Maren's first season.