Spirit of the Mountain ready for debut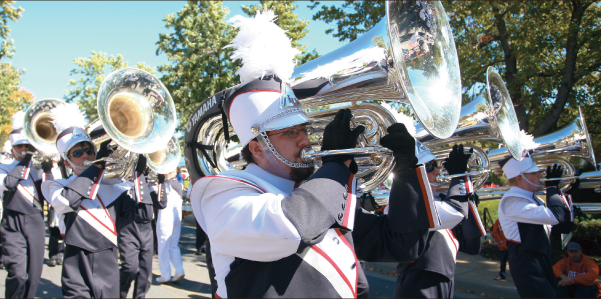 Liberty University Marching Band will unveil its new show, "Just the Way You Are," at halftime Sept. 8
From concessions to cleaning, it takes a substantial amount of planning to put on a Liberty Flames football game, but few things require more planning and practice than a Liberty University Marching Band halftime show.
Weeks before thoughts of tailgating and red T-shirts ever enter the minds of Flames fans, the Spirit of the Mountain has begun work to make every aspect of their show perfect. It's Saturday, and the marching band comes out playing a variety of songs, all synchronized perfectly. The crowd is amazed at how good it sounds, but little do they know the countless hours and late-night practices each band member has put into this routine. The flawless performance and roaring of the crowd makes all the practices and hot days in the sun well worth it.
"The show is called 'Just the Way You Are,' Stephen Kerr, music professor and director of bands at Liberty University, said. "It's kind of about love and relationships. We are doing some Bruno Mars (Just the Way You Are), Cannon in D and Cry Me a River by Ella Fitzgerald— that's more of a Michael Bublé style."
In addition to the main theme of the performance, the band also strives to keep its focus on God by choosing a spiritual theme.
"It's called 'Just Between You and God,'" Kerr said. "It's about those choices we have to make and the relationship between us and God that we need to understand to grow. The most important element is what do we do with Jesus Christ."
According to Kerr, the band council starts with around 10 ideas for show themes, and after selecting four as finalists, the theme that fans will experience during games is chosen. Liberty University junior and marching band member Emily Chastain thinks that audiences will be especially interested in this year's creation.
"I think the show this year can be classified as a pleasant surprise," Chastain said. "A lot of people will hear the title and get an expectation, but the music will be the opposite of what they think. We have a lot of great soloists that give me chills when they play. I think people should be looking out for a more simple beginning, but a really big finish."
Even though the themes may change from year to year, Liberty University junior and band member Brandon Osgood always looks forward to the part of the performance that never changes.
"The show encompasses all things pertaining to love that include romance and break-ups, but what I am most excited for is being able to march into Williams Stadium for the first time and perform in front of 19,000-plus screaming Flames fans," Osgood said. "There is nothing like that feeling in the world."
The Liberty University Marching Band will take the field for its first performance of the 2012 season Saturday, Sept. 8, when the Flames take on Norfolk State University.