Eastbrook Grocery offers sweet treats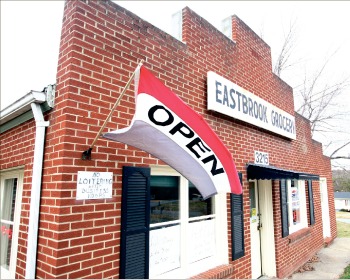 Homemade, old-fashioned fudge sets store apart
Confectionery cooking is helping to reinvent an iconic establishment in the Lynchburg community.
Eastbrook Grocery, a long-standing convenience store located in Campbell County, has become the new home to Kimball's Fudge, a family-run dessert company.
Larry and Joanne Kimball initially established Kimball's Fudge as a way to "share (their) family's rich recipes," according to the company description on their website.
"My aunts were good cooks, and I was able to learn many of their methods," Joanne Kimball said. "My mom was the one who taught me to make fudge."
Beginning with just three flavors, Joanne Kimball first sold her homemade fudge at fairs in her native New Hampshire. The positive feedback and broadening word-of-mouth customer base eventually led to the formation of the company website in 2004.
In 2009, the couple relocated to Lynchburg, along with Joanne Kimball's twin sister, to remain close to their niece, Sandra Rollins, a nursing major at Liberty University.
After the move, Larry and Joanne Kimball decided they wanted a physical location for Kimball's Fudge, and purchased Eastbrook Grocery, intending to turn it into a candy store. However, based on the neighborhood's nostalgic attachment to the building, the Kimballs decided to reopen Eastbrook Grocery as a convenience store Sept. 1, 2010.
Established in 1943 by local resident J.C. Dinkins as J.C. Dinkins Grocery, the building has gone through several changes, the most notable being the addition of a house in 1954 by its new owners, in which the Kimballs currently reside. Joanne Kimball makes her desserts in a commercial kitchen inside a converted trailer behind Eastbrook Grocery, while her husband maintains the store.
With its faded brick exterior, original refrigeration units and antique-lined shelving, the Kimballs have preserved the store's old-time feel.
Since the establishment of Kimball's Fudge in the store, Joanne Kimball's local requests have increased, leading to a variety of other tasty treats including banana bread, sweet potato pie, and a greater selection of fudge flavors, such as white chocolate almond, raspberry cream and orange cream.
Despite the pressures of running two small businesses, Larry and Joanne Kimball remain involved in the Liberty community. Joanne Kimball recently took a ladies Bible class on the book of Jonah, and Larry Kimball meets Gene and Terry Falwell for breakfast each morning at the local Hardee's.
The Kimball's remain committed to their Christian values, faithfully attending the nearby Eastbrook Baptist Church. They also refrain from stocking alcohol, cigarettes and tobacco in the store.
"My favorite part of working here is running a Christian store — I get to meet people and witness to them," Larry Kimball said.
The couple has expressed the desire that their daughter, Rosemary, who lives in Louisiana, will one day take over Kimball's Fudge and Eastbrook Grocery. However, they are currently content in the fact that they are able to work together daily.
"I am proud to make a product nobody else can and am happy that the Lord keeps blessing me with avenues for continuing the business," Joanne Kimball said.
Eastbrook Grocery is located at 3215 Eastbrook Road off of U.S. 501. For more information, visit kimballsfudge.com, e-mail jkimball@kimballsfudge.com or call 603-557-1578.