Brew the Noise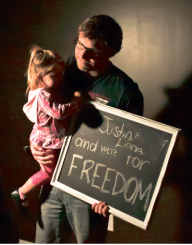 Lynchburg's newest concert venue raises money for freedom
In a large room filled with people and lit mostly by Christmas lights and small candles, a warm ambiance of fellowship, holiday spirit and the desire to change lives managed to fill up any empty spaces.
The Muse 8:30 hosted its first charity event Friday night to raise money for Freedom 4/24. The event, Brew the Noise, was a collaboration of Freedom 4/24, Brentwood Church and The Muse 8:30, combining coffee, music and collecting donations to provide better opportunities for sexually exploited women around the world. It was $5 to get in and by the end of the night, Brew the Noise had raised $1,335 to go to Freedom 4/24's cause.
The Muse 8:30, which only allows Christian music to be performed at its venues and concerts, had more than 20 acts by individuals and bands performing Christmas and worship songs, as well as self-written songs. Allison Seaton, a senior, heard about Brew the Noise in her College Life group at Brentwood Church. She was one of the few artists who performed an original song.
"I like to perform so I thought it would be a good experience," Seaton said. "And I like coffee."
The Muse 8:30 facilitator Brian Wynn said that Brew the Noise was not the first time that musicians have performed there. However, it is the first time that performers have had the opportunity to showcase their talents in order to raise funds for a cause that they believe in and support.
Public relations representative for the Muse 8:30 junior Sarah Knudsen said that they recently announced that 51 percent of their daily profits will be given to the homeless in Lynchburg.
"Our goal for the Muse 8:30 is for it to become Lynchburg's premiere coffee shop and music venue that gives back to the community," Knudsen said.
Before most of the performances, "fun facts" were told about each artist. One of the bands had met only two weeks ago on Craigslist prior to the event, while another band, the Knights Before Christmas, had a drummer who could touch his shoulders together in front of his body, an act that collected gasps from the audience upon its display.
"Feliz Navidad" was sung, the classic "How the Grinch Stole Christmas" was read, espresso was brewed and a table of Freedom 4/24 merchandise offered bags, t-shirts, stickers and Christmas gift-tags for sale, with all of the proceeds going towards rescuing women from prostitution.
Brew the Noise is only one of many events to come that will serve as a way to raise money for charities and other worthy causes. This April, the Muse 8:30 plans to host another music event that will benefit the Cystic Fibrosis Foundation.
"The Muse 8:30 is more than just a coffee shop or a place for great music," Knudsen said. "It is a way to give back to our community and fellowship with friends."
Updates and lists of events at the Muse 8:30 can be found on their Facebook page.