Civil War Seminar
The Civil War Seminar has been Canceled due to COVID-19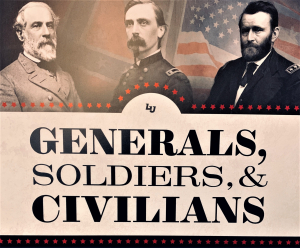 View the latest COVID-19 Update
Information Regarding the 25th Annual Civil War Seminar will be announced soon.
Featured Civil War Experts
Christopher Jones, Liberty University Associate Professor of History
Patrick Schroeder, Appomattox Court House Historic National Park Historian
Christopher J. Smith, Liberty University Professor of History
Steven Woodworth,
Liberty University Graduate and Undergraduate students will be presenting Civil War research papers and projects

Bud Robertson Memorial Luncheon Tickets
Join us for a special luncheon offering tribute to the life of legendary historian James I. "Bud" Robertson. Tickets are $15 per person and available beginning MARCH 23! Tickets MUST be purchased IN ADVANCE at the link below.
Questions?
Contact the Department of History at history@liberty.edu.