Field hockey reloads roster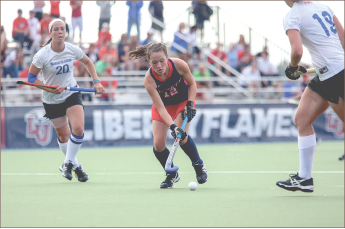 Five new recruits and one transfer join the defending NorPac Conference champions for the 2014 season
A few new faces will take the field for Liberty field hockey next season, as five recruits have signed with the program for the upcoming 2014 season.
The signees include forwards Summer Parker and Amy Wilson, along with midfielders Cassidy Bremner, Alynn Richardson and Rachel Suter. Goalkeeper Hannah Bard will also be transferring in from Ohio State University after spending a year in Columbus.
"We're really excited about this class," Lady Flames Head Coach Jodi Murphy said. "It's a class that has great depth and has a really strong hockey mind. I think they're going to be a pretty potent group when it comes to continuing to build the program into national prominence."
The class does not come without pedigree — Parker scored 150 goals during her high school career, including 58 during her senior campaign, while Bremner is a member of the Canadian under-17 national team. Suter was an all-state selection in Pennsylvania her final two years of high school.
Murphy and assistant coach Jacki Raithel split most of the recruiting duties, according to Murphy. During the infancy of the program, Murphy said she took the bulk of the responsibilities, but Raithel has taken a more prominent role over the past few seasons. Murphy said that while recruiting can sometimes be tiring, it is worth it for the head coach to get out on the trail, because players like knowing what they are getting with the head coach more than anyone else.
"The program is still growing," Murphy said. "There are still a lot of girls who don't know about Liberty, don't know about our success, (and) don't know about our facilities. We still have a ways to go in getting our brand out."
Because of the program's relative infancy, Raithel finds the biggest obstacle in recruiting is getting the Liberty name out there. The Lady Flames 2014 season will be only their fourth while competing at the Division I level.
"It's still been a bit of a challenge trying to tell sophomores, juniors, seniors in high school that Liberty really is a program that is going to continue to be successful," Raithel said.
While freshmen have made momentous impacts right away the past few seasons for the Lady Flames — the top four scorers in 2012 were freshmen, along with two of the four in 2013 — Murphy expects veterans to carry more of the load this upcoming year. All but three players will return for the defending NorPac Tournament champion Lady Flames, who will have more upperclassmen than underclassmen for the first time in team history.
"Over the past couple of years, we've had freshmen come in and take on really big roles that they'll probably hold onto," Murphy said. "But freshmen surprise you every year, and that's the exciting part (of) bringing in a new group."