Law school rated No. 1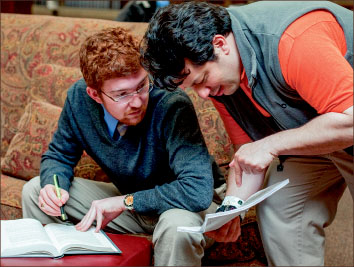 Liberty has the top school for devout Christians
The National Jurist magazine ranked Liberty University as the No. 1 law school out of 52 schools for devout students of major religions Jan. 10.
The magazine stated it considered the integration of faith, faculty and staff, student body and program of the school in determining the rankings.
"We are very pleased and honored by the rating," Mathew Staver, vice president and dean for Liberty University's school of law, said. "I think it reflects the mission of Dr.
Jerry Falwell in training champions for Christ. For us to be number one in the nation is a great testament to the mission of our school and the program of our
education."
Staver said being ranked high on The National Jurist's list did not put any additional pressure on the law school, because the faculty and students were already striving for the best.
"We have always taken the position that in everything, we need to be excellent," Staver said. "We need to be number one in everything. We are not content with settling for mediocrity nor are we content for settling for number two."
According to Staver, the School of Law wanted to have two specific elements to make them unique.
"First of all was our commitment to the Christian mission and the foundations of the rule of law, and secondly our skills program, which is one of the most comprehensive and unique skills program in the country," Staver said. "In fact, many schools are now trying to imitate what Liberty University has done in our skills program, to actually train people to practice law in the courtroom and in the planning rooms."
Staver said the School of Law's goal is to have their students impacting and restoring the foundations of law worldwide, particularly in America.
"We want to influence every area of law and reshape it to its original purpose and foundation, and that is that God created it and that law transcends professions," Staver said.
"So consequently, we want to make sure people, whether it's in business, education, the medical field or aviation, have some kind of contribution to that area of law."
The law school has begun to expand their programs to more than just lawyers, Staver explained.
"Beyond the law degree, we have also launched online programs for non-lawyers that are law related, such as the paralegal studies program, Master of Arts, and public policy and online programs we are launching," Staver said.
According to Staver, some of the online programs that are in development are not necessarily just for people who hold a Juris Doctor degree, the first professional graduate degree in law.
"Our core signature is to train attorneys and lawyers in all different areas of life …" Staver said. "We want to have our students in all different areas, all around the world."