LaHaye encourages fitness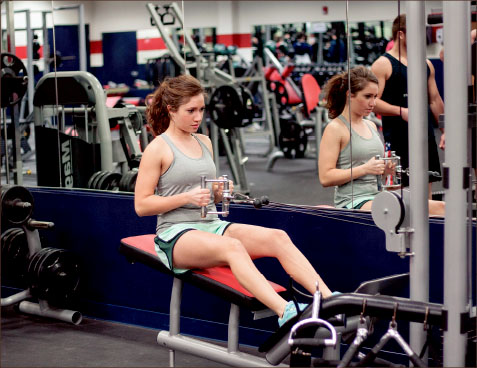 Students sign up to participate in the Fitness MVP Challenge ending in April
For the first time, the LaHaye Student Union is offering the Fitness MVP Challenge for all students and union members Jan. 13-April 29, according to Jamie Swyers, associate director of the LaHaye Student Union.
According to Swyers, the student union usually has an ongoing challenge like the triathlon, but the Fitness MVP Challenge is the first of its kind. It is designed to help people stretch themselves and experience something new in different areas of fitness.
"Everyone can do it," Swyers said. "It is not graded on how well you do. You don't get a certain amount of points for winning an event, but just for participating as much as possible."
According to Swyers, the participants with the top three point totals will get gift cards, with first place receiving a $125 gift card.
There are 600 total possible points according to Swyers, but participants only need to reach 150 in order to receive a prize.
"We will post the winners on our website and contact them via email," Swyers said. "The standings are posted online every Friday."
Students and union members may register for the competition at the front desk at any time during the challenge, according to Swyers.
"There are many different events to attend for points, including the three part wellness series on nutrition, goal setting and living healthy according to the Bible," Swyers said. "We try to encourage our members to get involved in things like the wellness series where you can learn valuable information about fitness, like how to set goals and achieve what you want to do in the gym."
The Fitness MVP Challenge also includes a bench press competition, bouldering class and competition, the Liberty Mountain Trail series, lead and top rope classes and the flow workshops. Also included are the Group Exercise Classes, which count for one point each.
"The Fitness MVP is an opportunity for all of our members to get involved in and stretch themselves to experience different things that they haven't done before in our facility," Swyers said. "If you do group exercise classes, maybe you might try one of the rock wall classes that you haven't tried before. If you have done some races at Camp Hideaway and Liberty Mountain, and you haven't participated in a bouldering competition or the bench press competition, you might try one of those events."
After each event, participants are given a ticket they must take to the front desk, according to the LaHaye Student Union website. Their points are then recorded in their Fitness MVP binder and added to their score. The only exception to this is the Liberty Mountain Trail Races and Adventure Challenge where race bibs count as proof of completion.
For more information about the competition and current standings, visit the LaHaye Student Union website at liberty.edu/campusrec/studentunion/.