Thanksgiving season begins with laughter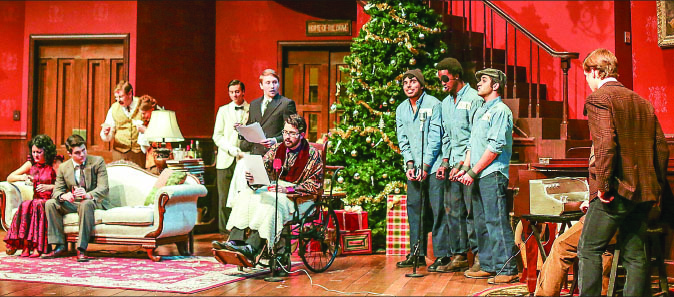 The Department of Theatre Arts cast of 35 students presents 'The Man Who Came to Dinner' Nov. 8-22
"The Man Who Came To Dinner" opened Nov. 8 in the Tower Theater to an audience ready to laugh until their sides hurt.
The cast and crew of more than 35 students, under the direction of Christopher Nelson, told the heart-warming comedy of a gruff New York radio personality, Sheridan Whitehead, who slips on the ice outside the home of an Ohio businessman and his family. He is forced to remain their guest over Christmas until his injuries heal and quickly makes himself at home, running the house like his own.
"It's really about the colliding (personalities) of Sheridan Whiteside, this celebrity who's got a very sharp tongue, versus the midwestern Ohio family who is having their whole world turned upside down," Nelson said.
In Whitehead's invalid state, he celebrates the Christmas holidays by entertaining a host of interesting friends, from an insect expert to a Broadway star. The tone of the play changes when his beloved and charming secretary falls in love with a local newspaperman. Whitehead must choose between his happiness and hers, but he is not quick to give up his selfish ways. Theatre arts major Gordon Lewanowicz plays the surly grouch, but notes that despite his abrasive nature, Whitehead also has a lot of wit and heart.
"I love to make people laugh," Lewanowicz said. "It's so much fun bringing joy to the audience. But the only reason why I'm funny is because of the people in the cast. It would be a very boring show if it was just Sheridan Whiteside."
The show itself was not without its own unique set of challenges. Stage Manager Jacob Wallin explained that most of the upperclassmen and the director also participated in Les Misérables, which closed only a few weekends earlier.
"We have not stopped rehearsing or performing since August," he said. "We are all battling exhaustion."
For Nelson, tackling two shows in one semester was no small feat. While performing as Thénardier in Les Misérables, he was also directing his own cast and crew on "The Man Who Came to Dinner."
"It's been a very busy semester," Nelson said. "But I love directing. I see myself as a coach (helping) the actors find those key moments. I get to be the audience before there is an audience."
Wallin said that a comedy of this nature does not require the audience to do a lot of thinking but instead just gives them a break from reality for a bit.
"You come in. You laugh. You leave," Wallin said. "You get to just enjoy the writing and the acting. Then you leave (saying), 'You know, I've forgotten the world for a few hours.'"
Joel Ledbetter, a theatre arts major who is in the play, said that sometimes in life, people just have to laugh at themselves, which is exactly the opportunity "The Man Who Came to Dinner" provides.
"Sometimes we're just silly," Ledbetter said. "I think this is a moment for people to come in and laugh at the life of all the characters and just realize how silly we all are. We are funny people."
The show will continue to run up to Thanksgiving break. Performances will be Nov. 15, 16, 21 and 22 at 7:30 p.m. and Nov. 17 at 3:00 p.m. Tickets can be purchased in the Vines Center box office, online at ticketreturn.com or over the phone at (434) 582-2085. Prices are $8 for students, $13 for faculty, staff, seniors and active military and $15 for adults.